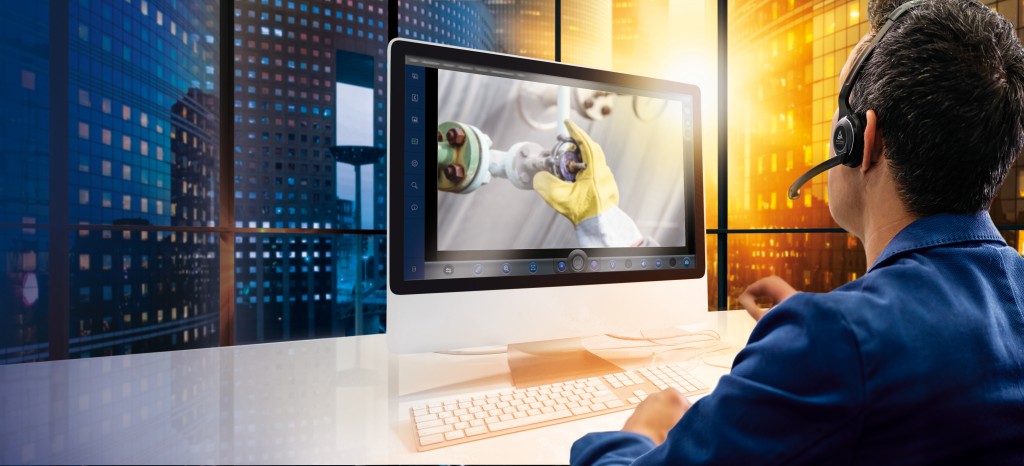 Virtual assessment, inspections and audits. Get the needed support at any time at any place.
What do you do if an involved party delays your supply chain progress? As the person is responsible for supply chain, you are dependent on your suppliers, and if the schedule cannot be met, you will quickly find yourself in an unfavorable situation - at worst threatening the profitability of your project. With our virtual assessment, we offer you a flexible and effective solution to ensure the smooth functioning of your supply chain and support you in time-critical situations.
Without time-consuming preparations and using standard mobile IT equipment such as laptops, tablets or even smartphones, we can virtually inspect your site, check documents immediately and evaluate laboratory tests with the help of our "TÜV Rheinland Virtual Expert" application. This means that we can support you with virtual inspection services at any time, regardless of your location.
Virtual inspections are digital real-time solutions for your industrial asset inspection and -evaluation.
Are you thinking about how virtual inspections work? The TÜV Rheinland Virtual Expert application can be installed on any mobile device such as a smartphone, tablet or data glasses (Smart Glasses). With our application, we bring our expert with you or another contact person on site together. The remote inspection can begin and other participants, such as additional experts, clients, other partners, can also participate as guests. You can thus benefit from the opportunity to exchange opinions through video, audio, chat and augmented reality functions, all that with the highest data security standards.
Procedure of virtual assessment
Software installation

Installation of the TÜV Rheinland Virtual Expert application.
The application can be downloaded in the Apple App Store or Google Play Store.

Appointment

Confirmation of the appointment including invitation link.
Participation in the virtual assessment via the link.

Start Virtual Assessment

At the agreed time, our inspector will start the virtual meeting.
Guests, e.g. other technical experts, can optionally participate.

Virtual inspection of the industrial asset

Together with your contact person on site, the requested service takes place.
Simple interaction of both parties.

Data Analysis

Evaluation of all data.
Documentation of the results in an inspection report.

Report

Sending the inspection report and video recording if required
Performing audits, inspection and tests by the virtual solution of TÜV Rheinland.
Download the recording of our Online Seminar.

With our virtual assessment, we offer you a flexible and effective solution to ensure the smooth functioning of your supply chain and support you in time-critical situations. Nevertheless, these are not the only advantages. In a one-hour online seminar, we show you the trends of the future and the advantages of remote inspection, and we present TÜV Rheinland virtual solution app.

Download now our recorded online seminar "TÜV Rheinland - Virtual Solution" to watch it at any time you want.
Consistent service quality for remote inspections.
As a leading provider of inspection and assessment services, with more than 140 years of technological experience, we are have made our expertise available virtual. In the case of remote inspections, our experts also carry out all tests and monitoring in accordance with the applicable guidelines and with the same care and quality.
Benefit from the advantages of our virtual inspections. Mastering the complexity of industrial supply chains . Right on time.
These topics may also be of interest to you.
Our Sustainability Initiatives
Nothing less than the future is at stake. Companies, institutions, public authorities and each and every one of us can play a positive role in shaping the path to tomorrow. We provide you with comprehensive support to ensure that you operate safely, sustainably and efficiently for many years to come.
This might also interest you
Last Visited Service Pages