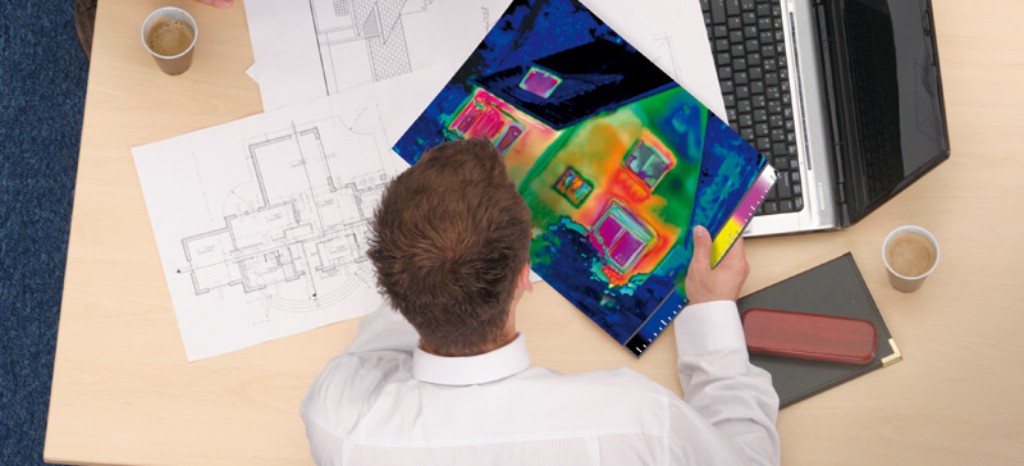 Strong, efficient structures with thermography testing in buildings and industrial facilities
Ensure the structural integrity and energy efficiency of your plants, facilities and buildings. Our experts conduct non-destructive thermographic testing to pinpoint weak materials, internal flaws and installation errors from deep within. We help electrical engineers, investors and operators in both commercial and non-commercial real-estate to maintain property value, increase efficiency and maximize asset service life. Let us take a look inside to make sure your structures are in good health and performing optimally.
Contact a service representative today!
Early detection of problems with thermographic imaging
Identify potential gaps in energy efficiency with non-destructive thermography testing in industrial, public or private settings. Take advantage of our extensive experience in thermography testing according to German civil building codes and international guidelines provided by our broad network of experts. Expose material degradation and hidden defects early to ensure safety, improve facility and equipment availability as well as lower maintenance and energy costs. Our thermography diagnostic testing helps you to protect your operations, secure your investment and add value to your assets.
Thermographic inspection and testing services
Our non-destructive testing (NDT) experts use thermographic diagnostics to test and inspect industrial, public-service and domestic structures. We stabilize internal temperatures disrupted by so-called thermal bridges to reduce energy consumption. We provide comprehensive thermographic testing and inspection services.
Our thermography testing services for industrial settings:
Determine heat loss during heat production and distribution through heat generators and distribution systems as well as flue gas purification units
Measure chimney sooting
Inspect and analyze cooling installations
Monitor electrical systems
Identify damage early on
Analyze the loading of electronic switching circuits
Detect faulty conditions during operation
Optimize production processes and provide quality certification
Troubleshoot and conduct special measurements
Thermographic diagnostic testing for home owners and service facility operators include:
Finding and identifying weak points, such as thermal and sound bridges, insufficient insulation and leaks within the building shell
Locating leaks in water pipes or tanks
Determining thermal loss via heaters, boilers or other equipment
Measuring installations such as cooling ceilings, ventilation and air-conditioning systems
Thermography-aided testing to determine building tightness
We close the gaps for optimizing service life
Our global network of experts provides you access to a rich source of NDT specialists. Our inspectors make sure your structure is sound and tight to ensure safety, increase energy efficiency, decrease waste and eliminate unnecessary energy expenditures. Don't let danger or money seep through the cracks. Put years of TÜV Rheinland experience and know-how to work for you to keep your assets intact, both physically and financially.
Request a quote today!
Our Sustainability Initiatives
Nothing less than the future is at stake. Companies, institutions, public authorities and each and every one of us can play a positive role in shaping the path to tomorrow. We provide you with comprehensive support to ensure that you operate safely, sustainably and efficiently for many years to come.
This might also interest you
Last Visited Service Pages