International manufacturers rely on DAkkS accredited wind certification services
Wind energy already contributes significantly to the global energy fuel mix and is a key technology in the energy transition of most economies.
Manufacturers of wind turbines and components aim to serve global markets with diverse and highly competitive environments. DAkkS accredited certification enables manufacturers to demonstrate the quality of their products to clients worldwide.
Our comprehensive certification services for on- and offshore wind turbines evaluate safety and reliability, as well as your compliance with recognized international standards.
Project developers secure their investments in wind energy projects through the purchase of certified wind turbine types and components. Because investors, banks and other financial institutions require a type certificate or a project certificate as collateral for releasing project financing, project developers rely on accredited certification to attain attractive financing conditions.
It is a key element for manufacturers to achieve certification for their turbine types, platforms or projects to fulfill the demands of project developers, investors, banks and other lenders. Certification ensures successful product development and ultimate product placement on the global wind energy market, which increases the probability of the return on investments from the development phase. We provide comprehensive project certification services to certify wind turbine types and components, as well as site-specific wind turbine design. Based on harmonized standards and requirements, our certification services boost the export potential of products as well as increase investor confidence and reduce risks during the operational phase.
Manufacturers with DAkkS-accredited certified wind turbines stand out among the increasing number of providers joining this fast-developing and extremely competitive market.
Demonstrate your commitment to excellence with internationally recognized wind turbine certification by TÜV Rheinland!
Added value with certified wind turbines and components
Wind turbine manufacturers and component suppliers benefit from certifying their products being considered by project developers for upcoming wind farm developments around the world.
Our experts provide you highly professional, accredited and transparent certification according to your individual needs. We help you to save time in the extensive certification process by clearly defined checkpoints and documentation requirements, immediate and supportive communication, as well as cost control by means of our feedback reports to guide you confidently through the entire process.
This highly unique, flexible and transparent process will save certification lead time, accelerate your time-to-market and save you money. With accelerated time to market, you will gain competitive advantages compared to traditional certification approaches and minimize incorporated risk in the product development.
We strive to help you improve certification lead time and expenditures to support a strong product placement and an optimized time-to-market.
Make sure your turbines and components are properly certified to compete and perform in the lucrative wind-energy sector!
Our wind turbine certification services for types and components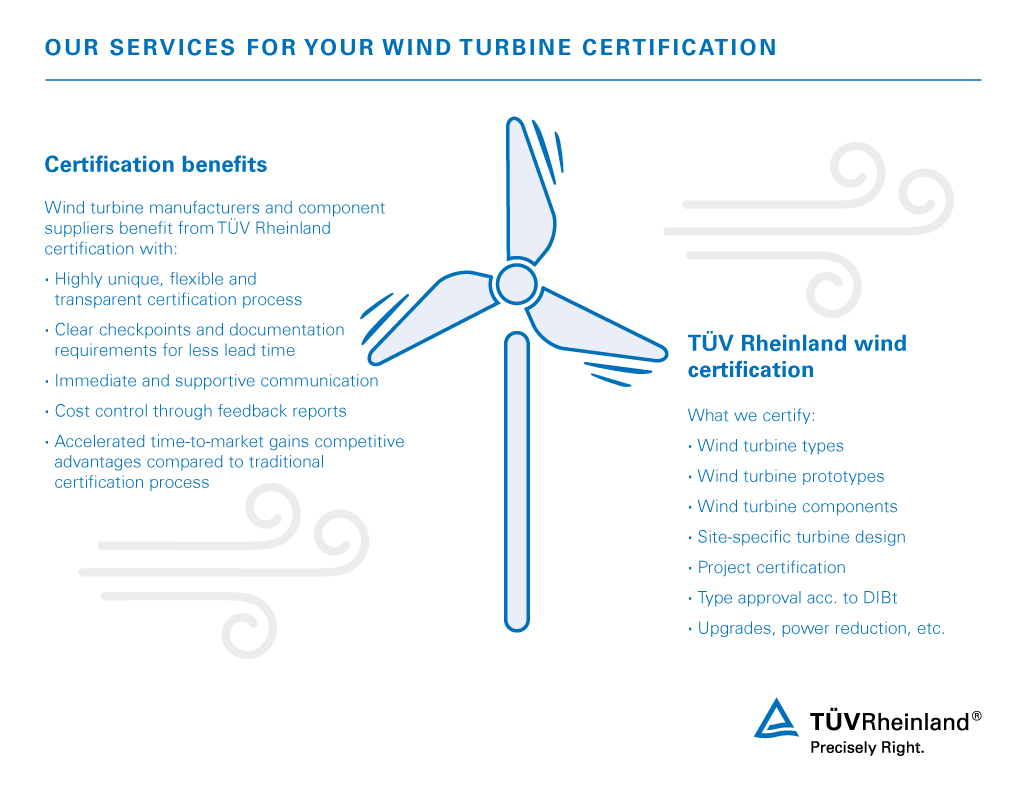 We provide both DAkkS-accredited type and component certification for wind turbines according to the international IEC 61400 standard, GL2010, DNV GL 2015 and the IECRE scheme.
Type certification verifies that wind turbines are designed, manufactured and tested to comply with specific standards or guidelines, technical requirements and market demands.
Certification depends on successful demonstration that turbines can be conceptualized, manufactured and tested as mandated in the design documentation.
Wind turbine type certification includes the following mandatory and optional evaluation modules:
Mandatory
Design basis evaluation
Wind turbine design evaluation
Type testing
Manufacturing evaluation
Final evaluation
Optional
Foundation design evaluation
Foundation manufacturing evaluation
Type characteristics measurements
Component certification verifies that major components (such as a blade or a main gearbox) of a specific type of turbine have been designed, documented, manufactured and tested to comply with specific standards, technical requirements and market demands.
Procedures for component certification are similar to those used for type certification and include the following modules:
Design basis evaluation
Design evaluation
Type testing
Manufacturing evaluation
Final evaluation
Type and component certifications are vitally important for wind projects to achieve certified status advantageous for reduced risk, increased investment and stronger consumer trust.
Applicable standards include:
IEC 61400-22
IEC 61400-1
IS/IEC 61400-22
IECRE
DNV GL 2015
GL 2010
Your trusted partner for wind turbine certification
In line with our competence and quality standard, our certification experts add value to each product with realistic evaluations tailored to specific requirements. We take a non-traditional smart approach addressing the voices of our customers, providing a singular point of contact dedicated to their project who can align things quickly and appropriately. Our flexible staff promptly answer questions and are available for discussion before or during the execution process of your project. As a global services provider, we are able to serve you anywhere in the world at any time.
Put our expertise in wind turbine certification to work for you!
Read more in our brochure
Our Sustainability Initiatives
Nothing less than the future is at stake. Companies, institutions, public authorities and each and every one of us can play a positive role in shaping the path to tomorrow. We provide you with comprehensive support to ensure that you operate safely, sustainably and efficiently for many years to come.
This might also interest you
Last Visited Service Pages