We ensure the operational availability of your wind turbine with our condition monitoring system and service
Every day your wind turbines are exposed to enormous working loads. Take appropriate precautions and minimize risk of damage to your investments. Together with our diagnostic center, mobile measurement system and our condition monitoring services, our condition monitoring systems enable the reliable monitoring of sensitive components and machine parts in your wind turbine. With the introduction of targeted countermeasures, you not only protect your investment but also optimize operating costs.
With us as your partner, you benefit from many years of experience in machine diagnostics. We combine diagnostic with technological expertise and offer specially developed hardware and software for the monitoring of your wind turbine.
Contact our experts in our certified diagnostic center today and learn more about our condition monitoring services for wind turbines.
Avoid unexpected downtimes of your wind turbines with condition monitoring
Our condition monitoring system and services enable reliable, online-based monitoring of sensitive machine parts in your wind turbine – exactly according to your individual needs. Thus damage to components, units and technical systems can be detected early. With real-time monitoring in our diagnostic center, no critical changes of conditions within your wind turbine go unnoticed. This provides you with the necessary time for immediate engagement and protects you against total breakdowns and saves you unnecessary costs.
Condition monitoring: safety and reliability of your wind turbine 365 days a year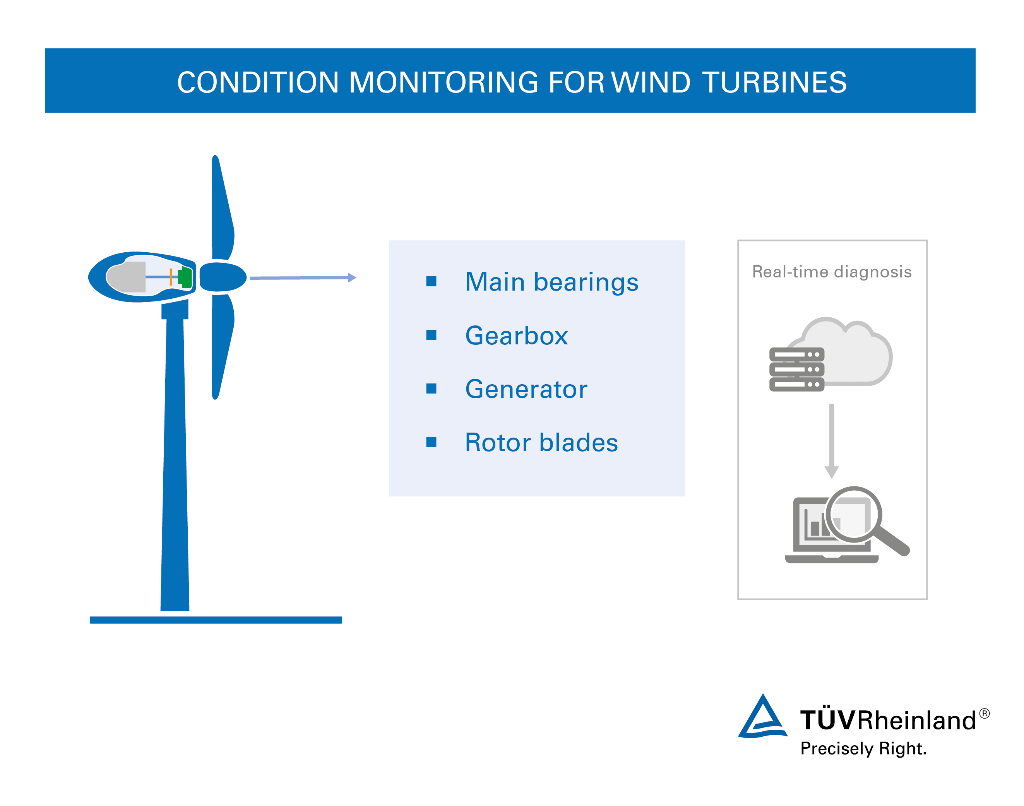 Our services in the field of condition monitoring for wind turbines include the commissioning and parameterization of WKA COMOS systems. Furthermore, we offer a low diagnostic service for WKA COMOS and selected third-party products within the certified monitoring body (according to GL 2013). Services are performed by our experts as follows:
1. Commissioning of condition monitoring systems
The data obtained from your wind turbine are examined and evaluated as part of the commissioning. On the basis of the provided kinematic data of the turbine, parameters for monitoring are established which serve as a baseline study of the turbine after three months of operation.
2. Online analysis and monitoring with the support of WKA COMOS
The WKA COMOS is based on relevant time and frequency selective methods for monitoring relevant configurable parameters. We offer support individually tailored to your needs, for example, in the management, analysis and interpretation of data. In addition to our standard software, we develop customized diagnostic systems for our customers, which make it possible for us to adapt established algorithms to optimally fit different contexts.
3. Data analysis (Offline)
A subsequent data analysis in our monitoring body allows for a significant increase in diagnostic depth. This serves both the extension of advanced warning times as well as the discovery of complex correlations in damage assessment. The data collected, time and frequency ranges and raw data are subjected to intensive analysis.
4. Long-term and secure storage of sensitive monitoring data
Data management is compliant with the standards prescribed by the Germanic Lloyd and the Allianz Center for Technology (AZT). Our certified diagnostic center at TÜV Rheinland provides a data management concept based on fail-safe server architecture.
5. Regular reporting
Upon request, we provide you with a cyclical overview of your wind turbine in the form of an extended report with all the reliable data and information available.
A one-stop shop with experts: condition monitoring systems for your wind turbine
With more than 20 years of experience in diagnostic and safety technology, our highly sensitive systems are optimally equipped for growing demands on equipment and the environment. Benefit from our expertise by preventing profound and safety-related damage and secure the operational availability of your wind turbine.
With our certified condition monitoring system and our diagnostic center, we are the right partner for you for the monitoring and early detection of condition changes in relevant components and parts.
Benefit from the opportunity to plan maintenance and inspections at the right time and avoid unexpected downtimes and their associated costs. Contact our experts today!
Mobile vibration measurement system for temporary use on the wind turbines
For wind turbines without a permanently installed condition monitoring system, we offer mobile vibration measurements. Such instruments meet the requirements of the BWE (German Wind Energy Association).
Measurements can be made by our accredited inspection body or on your own - based on our mobile WKA COMOS CC8. We offer flexible purchase and rental options. Subsequent data analysis is performed in our certified diagnostic center (monitoring body GL 2013).
Further information on condition monitoring for wind energy
| | | | |
| --- | --- | --- | --- |
| pdf | Flyer – Hardware Solutions for Condition Monitoring Systems | 191 KB | Download |
| pdf | Flyer – Perfect Interplay of Condition Monitoring and Wind Turbines | 354 KB | Download |
| pdf | Flyer – Our Expert Service for Condition Monitoring of Wind Turbines | 365 KB | Download |
| pdf | Flyer - 360° Support Wind Energie | 1 MB | Download |
Our Sustainability Initiatives
Nothing less than the future is at stake. Companies, institutions, public authorities and each and every one of us can play a positive role in shaping the path to tomorrow. We provide you with comprehensive support to ensure that you operate safely, sustainably and efficiently for many years to come.
This might also interest you
Last Visited Service Pages