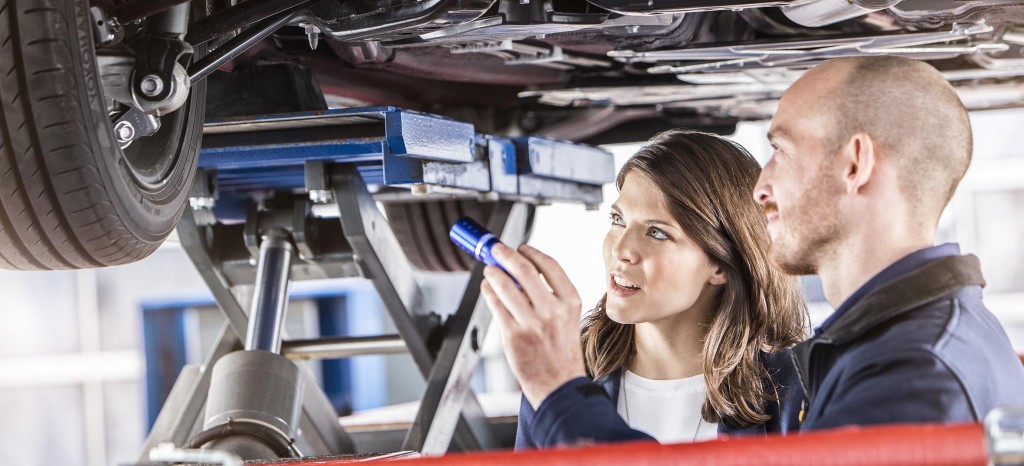 More Road Safety through Vehicle Inspections
As an operator of car dealerships and workshops you offer your customers comprehensive service for motor vehicles. These include statutory vehicle inspections. Our experts can do all the necessary vehicle tests for you. These include the main inspection (Hauptuntersuchung, or HU) and the integrated exhaust emissions inspection (Abgasuntersuchung, or AU). This check takes all previous emissions inspections into account, regardless of where they were done. After successful testing, your customers get the necessary road safety approval for their vehicles. We would also be glad to scrutinize motor vehicles for their racing aptitude and can inspect all manner of vehicles - from classic cars to carnival floats.
Benefits at a Glance
With vehicle testing by TÜV Rheinland:
We achieve continuous quality assurance of road safety
You help your customer meet the legal requirements of regular vehicle inspections
Owners and holders get independent information on the technical condition of the vehicle
You benefit from our one-stop-shop service will receive service from a single source.
You can take advantage of our long-standing experience with vehicle testing and our strong network of participating agencies
Services for Safe, High Quality Vehicles
Our experts can take care of all the required tests and inspections that your car dealership or garage needs for any kind of motor vehicle. We offer:
Main inspections and partial exhaust emissions inspection for all motor vehicles - from two-wheelers to heavy trucks and trailers
Records of vehicle parts
Inspection of vehicles to obtain individual approval, EBE, in accordance with road traffic approval regulations (§ 21 of Straßenverkehrszulassungsordnung, StVZO)
Vintage car approval in accordance with § 23 of StVZO
Export assessment in accordance with § 19 of StVZO
DMSB full approval for race circuit capability – with specific approval for racing motor vehicles
Follow-up inspections, check-ups, and visual inspection
Custom car checks
LPG system checks in mobile homes
Exemption reports in accordance with § 70 of StVZO
Approval for tank vehicles and dangerous goods vehicles in accordance with GGVS/ADR
Bus seal
Fine particulate plaque
Tire specifications
Weighing
New Rules for Exhaust Emissions Testing
Due to an amendment in legislation, which came into effect on January 1, 2010, not all road traffic approval regulations (§ 47a of Straßenverkehrszulassungsordnung, StVZO) apply. The emissions test has since been integrated with the main inspection for all vehicles that require inspection. The plaque in the front registration number plate is no longer needed. The plaque on the rear registration number plate continues to serve as proof of passing the main inspection – which now also includes the exhaust gas inspection. Exhaust emission tests are now only recognized if carried out up to one month before the due date of the exhaust emissions inspection.
Examples of Tested Motor Vehicles and Trailers
Cars
Motorbikes: motorbikes, mopeds, auto cycles, scooters, trikes, and quads
Mobile homes, caravans, and camper vans
Commercial vehicles: small buses and omnibuses, vans, lorries, trucks, articulated trucks
Tractors, tank trucks
Classic cars
Motor sports vehicles (race cars)
Our Sustainability Initiatives
Nothing less than the future is at stake. Companies, institutions, public authorities and each and every one of us can play a positive role in shaping the path to tomorrow. We provide you with comprehensive support to ensure that you operate safely, sustainably and efficiently for many years to come.
This might also interest you
Last Visited Service Pages