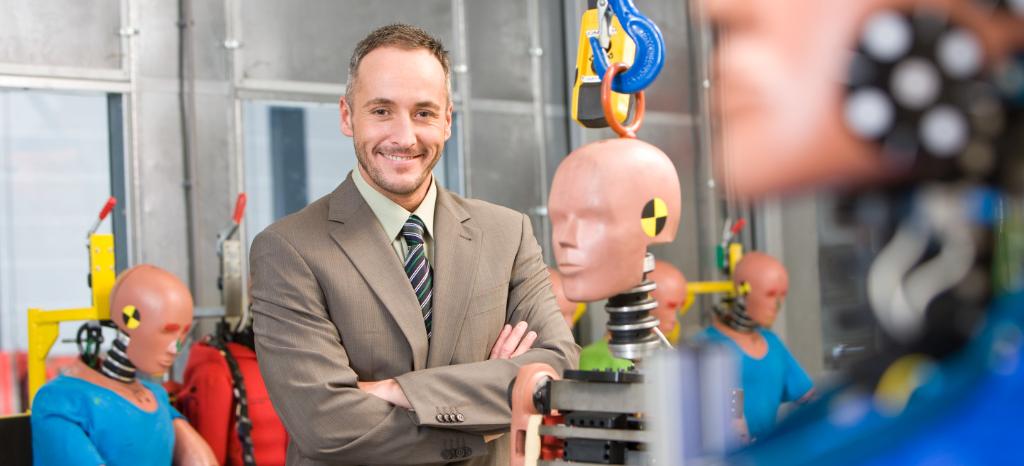 ISO 39001 Certification: For a Safe and Efficient Road Traffic Safety Management System
Road accidents belong to the most common causes of injury and death. A road traffic safety management system (RTSMS) in accordance with ISO 39001:2012 can enable organizations interacting with the road traffic system to improve safety and reduce overall incidents as well as the risk of serious injury or death due to road traffic accidents. Certification of your RTSMS ensures that your system is working effectively and is compliant with its policy and objectives.
TÜV Rheinland is an experienced service provider for ISO 39001 certification and supports you with comprehensive services tailored to your needs. Our experts can help you identify and manage road traffic safety risks and bring about safer working conditions. With our certification services, you can ensure road traffic safety and demonstrate organizational safety as well as social responsibility. Implement a best practice framework in your organization with a road traffic safety management system and meet the requirements of industry and stakeholders according to legal mandates.
Benefits of ISO 39001 Certification at a Glance
Our road traffic safety management system certification scheme is based on ISO 39001:2012 and can offer you:
An improvement of operating processes and the establishment of efficient operating principles.
The establishment and maintenance of an effective system to ensure compliance with its policy and objectives within the organization.
The ability to demonstrate organizational safety and social responsibility to both stakeholders and customers.
The opportunity to cut costs, thanks to the improved efficiency of your RTSMS.
Please feel free to contact us at TÜV Rheinland to learn more about how our ISO 39001 certification service can benefit your company.
Our ISO 39001 Certification Services
Our experienced experts analyze and evaluate your road traffic safety management system in order to optimize your operating processes and to establish efficient operating principles.
ISO 39001 certification is carried out in six steps:
1. Preliminary Audit (optional)
Our auditors conduct a preliminary audit to determine whether any requirements associated with this standard have already been implemented in your company and, if so, which ones.
2. Documentation Review
The auditing team determines the extent to which the documentation for your IT security management system already concurs with the ISO 39001 certification requirements.
3. Audit
Our auditors monitor your company's practical application of its road traffic safety management system to test how effective it actually is.
4. Issue of Certificate
If your company meets all of the criteria, a certificate showing compliance of your road traffic safety management system with the ISO 39001 norm will be awarded.
5. Surveillance Audits
Our annual surveillance assessments help you to continuously optimize your road traffic safety management system processes.
6. Certification Renewal
To renew the certificate, audits must be repeated every three years. Keeping your road traffic safety management system certified ensures its continued improvement and demonstrates your long-term safety commitment to partners as well as customers.
The procedure of the certification process is based on the ISO 9001 certification and ISO 14001 certification . This management system certification scheme adheres to these standards for the certification of road traffic safety management systems, but does not follow the sequence of certification steps.
ISO 39001 Standard
Standard ISO 39001:2012 concerns the development and correct implementation of an appropriate road traffic safety policy and takes road traffic safety action plans into scope. It outlines the requirements for a road traffic safety management system.
The standard was developed by the ISO Technical Committee "ISO/TC241" and was published in October 2012. ISO 39001 standard is applicable to public and private organizations interacting with the road traffic system.
Additional Management System Certifications
Road traffic safety management system certification is based on the ISO 9001 and ISO 14001 certification workflow. Our experts also evaluate other management systems in accordance with a broad range of internationally recognized standards, such as ISO 9001 , ISO 14001 or OHSAS 18001 and offer alternative solutions for certifying your particular management system.
Why is Road Traffic Safety so Important?
Transport companies, vehicle fleet operators and other organizations seek the resources and services necessary to reduce operational and insurance costs. By minimizing traffic accidents, these objectives can be accomplished.
In addition, the numbers for injuries related to road traffic accidents are alarming. According to the World Health Organization (WHO), such injuries are the eighth leading cause of death globally. In 2013, the number of road traffic deaths registered at 1.24 million worldwide. These staggering statistics are making road traffic safety increasingly important from year to year.
This might also interest you
Last Visited Service Pages