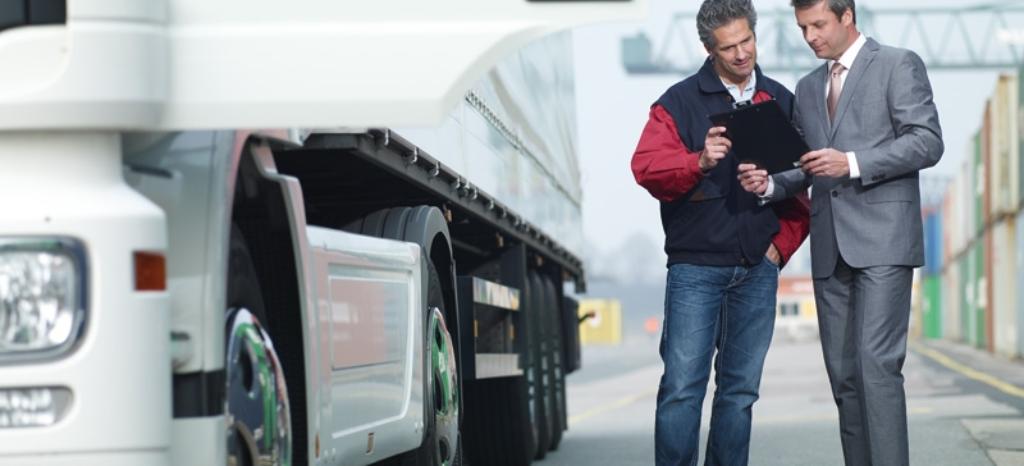 High security for high-value cargo with TAPA's Facility Security Requirements (TAPA FSR)
The safety of goods moving along the supply chain is a key factor in the success of your global business. Freight security is of paramount importance in any industry, but especially in the high-tech sector, manufacturers and logistics service providers are expected to implement strong security standards for the transport and storage of valuable cargo.
To avoid costly losses from theft and other cargo crime, the Transport Asset Protection Association (TAPA) has developed a set of security standards for facilities storage and handling of high-value, theft-targeted assets. TAPA's Facility Security Requirements (FSR) also specify proven methods to maintain these standards through industry best practices. Reduce the risk of cargo crime and gain access to new clients in the high-tech industry with a Class A (highest), Class B or Class C FSR certification.
As one of five organizations authorized to carry out TAPA audits, our specialists are available worldwide to help your organization achieve FSR certification, either for individual facilities or the entire logistics supply chain according to your needs.
Contact us today for further information on your FSR certification!
Join TAPA to lower your costs and open up new markets in the high-tech sector
TAPA FSR defines a set of minimum standards for single storage locations involved in the transportation and warehousing of high-value goods exposed to an increased risk of theft. By consistently applying industry best practices, TAPA-certified companies are able to significantly increase the safety of their supply chains and reduce financial losses related to cargo loss by up to 40 percent, according to member reports. By limiting these risks, you may also be able to reduce the cost of your business insurance.
Demonstrate your commitment to the security of your customers' products and open up new avenues of cooperation with global high-tech producers, many of which require a proven security management system from their suppliers in order to maintain their own TAPA-certified status. In addition, the FSR standard facilitates compliance with statutory and regulatory requirements around the world, including Europe's Authorized Economic Operator (AEO).
Our experts are at your service to help establish an FSR-certified security management system for your transport and storage facilities. Our qualified auditors rely on their expertise and longstanding experience in the field to ensure that your organization reaps the full benefits of TAPA's industry-leading FSR standard.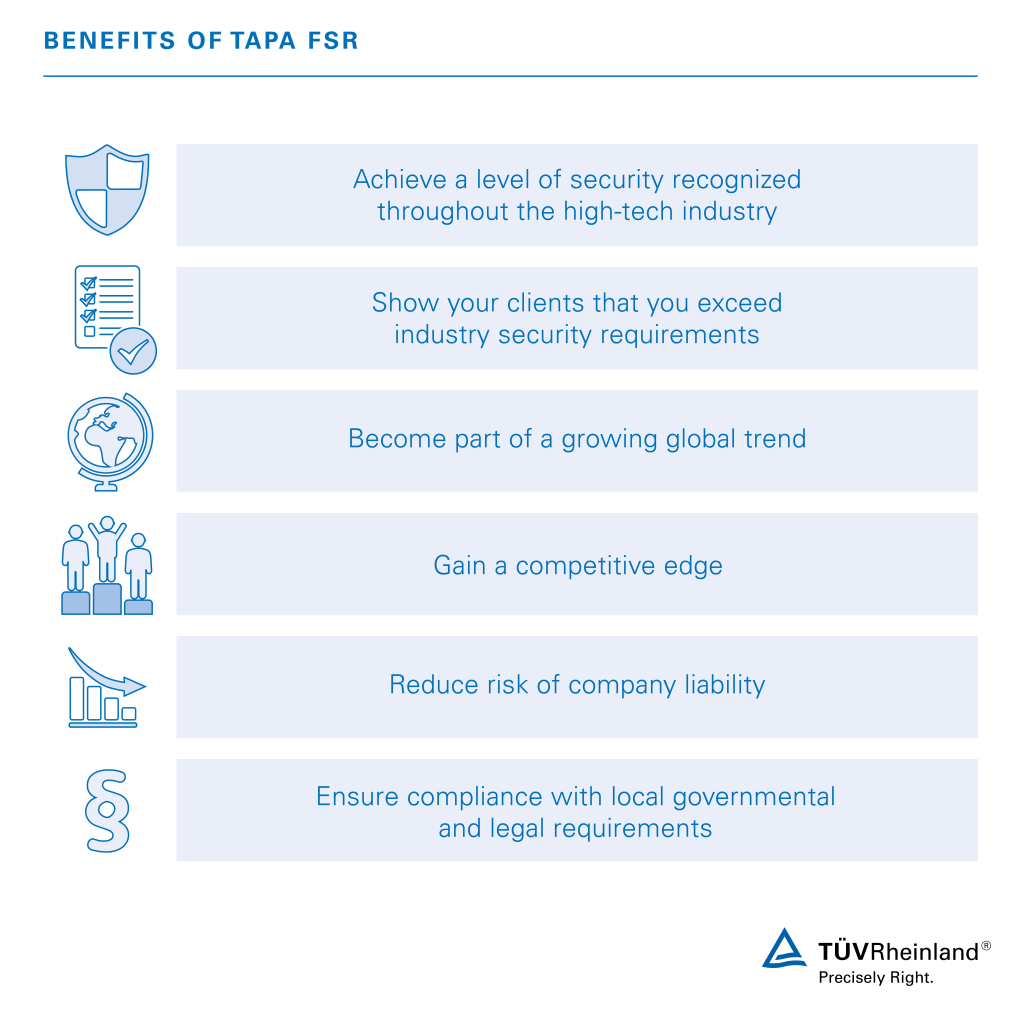 Join the fast-growing community of TAPA-certified professionals
TAPA FSR certifications apply to individual facilities where high-value goods are stored and transported. Only those companies that achieve FSR certification for every one of their facilities can claim to be "TAPA-certified".
As one of the few auditors authorized to issue TAPA certificates, you can rely on our support to obtain your FSR certification and gain access to a community of more than 1,000 certified organizations around the world.
TAPA FSR certification includes the following key requirements:
External protection of the site
Protection of walls, roof and entrances to the building
Security and control of access to warehouse and office space
Security of internal storage areas and offices
Facility alarm systems
Security training and procedures
Requirements for staff
Certifications are carried out on a three-year cycle. The process includes annual on-site audits as well as a self-assessment procedure to be carried out internally by member companies every two or three years.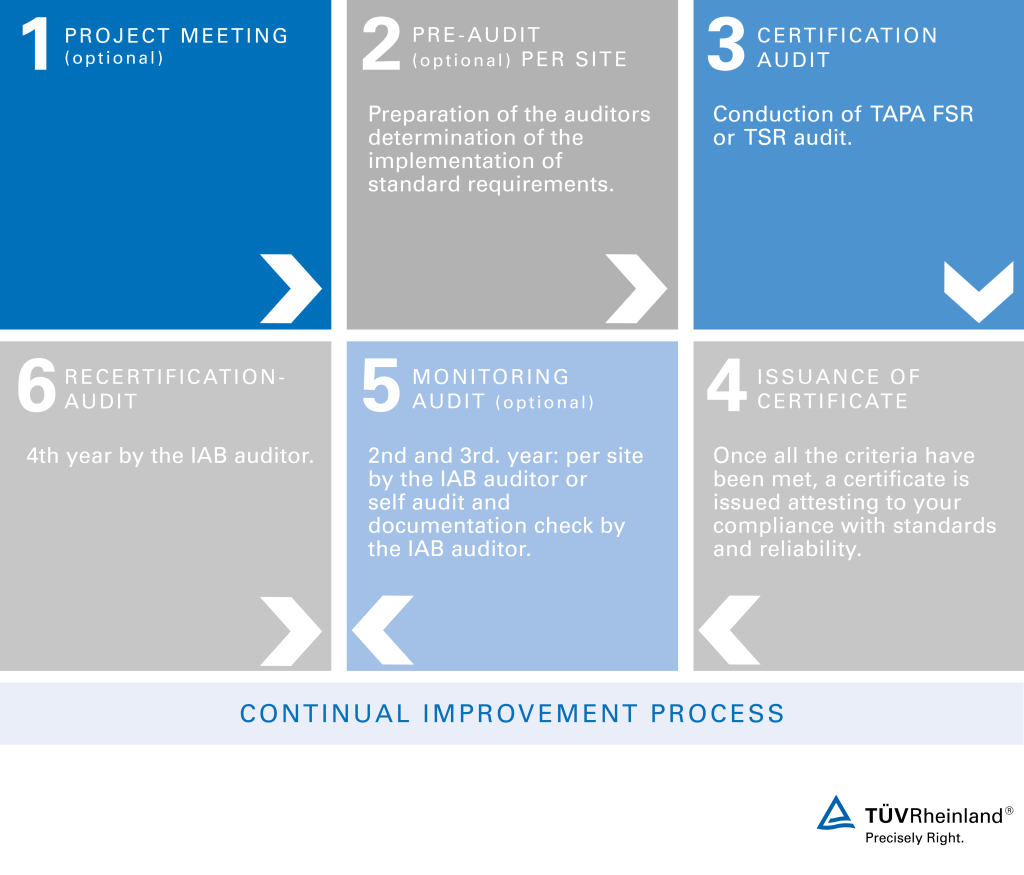 Secure your business with us as your trusted partner
When you obtain your TAPA FSR certification, you are joining an association of the world's leading high-tech manufacturers, global carriers, logistics operators, and security professionals. Our independent auditors can help you get there: With years of experience and training, we are your reliable partner for TAPA-standard cargo security.
Contact us now to find out how TAPA FSR benefits you!
This might also interest you
Last Visited Service Pages