Certification of PV generation units and plants for grid connection
For the planning and operation of photovoltaic (PV) generation plants and their components, a professional inspection of both generation units and the generation plants is essential. Our experts provide manufacturers, planners and operators the appropriate certification for plants and grid connection points to properly meet network operator requirements.
Our seasoned experts check the electrical properties of each PV generation unit according to network connection standards for unit certification. The electrical properties of generation plants are verified in compliance with the legal principles and regulations affecting PV plant certification.
Many years of experience and extensive know-how enable us to provide you recognized certification of your power generation plants. Trust in our work and let us help you document the sound functionality of your PV systems and generation units.
Learn more about our comprehensive certifications for grid connection of PV systems.
Meet legal requirements with unit and plant certification
Legal requirements relevant to your obligations as a manufacturer, planner, or operator in the PV sector can be optimally met with our certifications of generation units and solar generation plants. Take advantage of our expertise to document the proper functionality of your PV equipment and facilities and increase confidence among your customers and business partners. Let us help you save both time and money by following certification guidelines early in the planning phase to avoid unnecessary corrective actions later.
An overview of our certification services for PV generation units and plants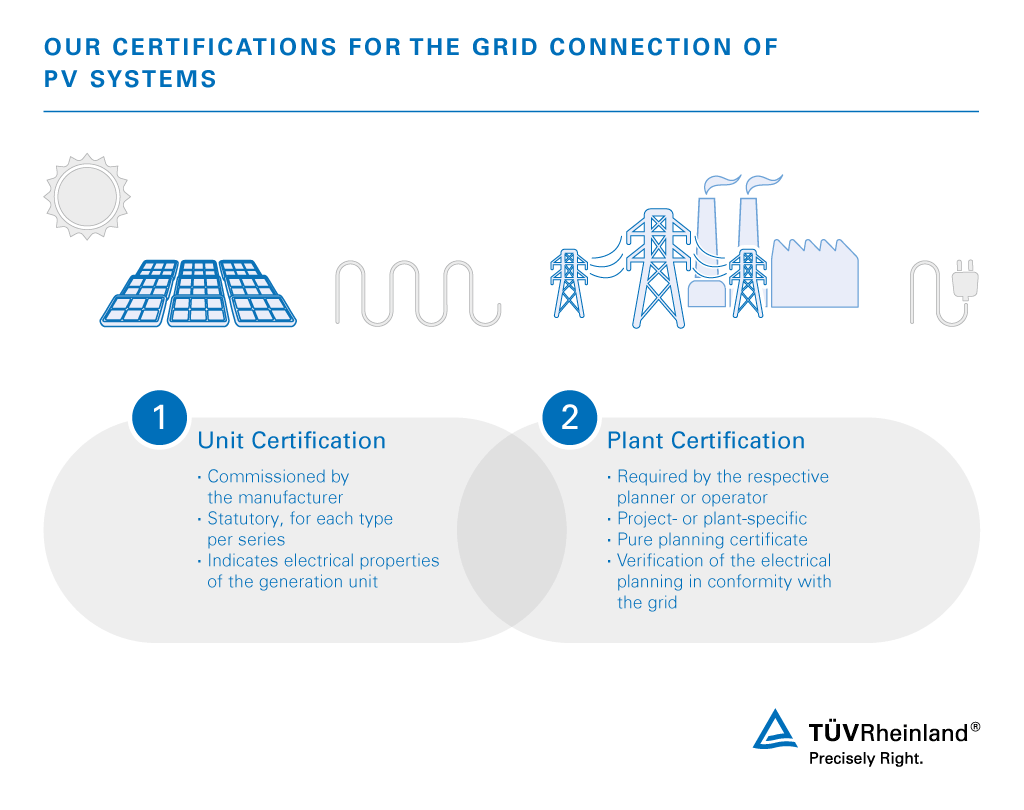 Manufacturers, planners and operators in the solar sector are legally obliged to prove the so-called grid compatibility for the provision of a safe and functioning photovoltaic power supply. Both unit certification and plant certification are required.
Unit certificate:
A unit certificate is required for all PV generation units installed in generation plants with a connection point on the medium-voltage grid. This is independent of the rated power of the units.
Requirements for generating plants are placed on the grid connection point and must therefore be applied to the units. Our experienced staff will support you according to the new rules for grid connection.
The introduction of the new grid connection regulations of the VDE-AR-N 41XX series in 2018 resulted in new systems, extensions to existing systems, conversions, and major changes to existing systems. As of 27.04.2019, the following changes apply:
Introduction of a simplified plant certificate B for generating plants with a capacity of ≥ 135 kW.
From an output of ≥ 950 kW, a complete plant certificate A is required.
Proof of conformity or declaration of conformity must be provided by an accredited certification body for each certificate.
Certificates (unit, component and system certificates must be issued on the basis of the new VDE guidelines (VDE-AR-N 4105, VDE-AR-N 4110 and VDE-AR-N 4120).
Previous certificates, e.g. according to BDEW or VDE-AR-N 4120:2015, are no longer valid.
Commissioning since 27.04.2019 is only permitted with certificates according to the new grid connection rules (exception: purchase of main components of a generation plant proven to the grid operator before 18.05.2018).
Plant certificate:
With the help of plant certification, planners and operators of generation plants can prove that electrical planning conforms to the grid and the existing legal requirements. Our experienced specialists check the electrical properties of your system on the basis of a wide range of criteria.
It is advisable to consider the special requirements of plant certification as early as possible in the planning phase.
After successful certification, operators may connect to the respective power grid to feed in the energy generated in their plants.
Unit and plant certification with know-how
As an approved and neutral certification body, we are the right partner at your side. Our experts have many years of experience in the field of certification of energy units, systems and facilities. Put your trust in our extensive knowledge and our broad network of experts. You can optimally document the proper functioning of your PV generation units and plants with our certification and internationally recognized seal of approval.
Our experts will be happy to inform you about our services relating to the certification of generation units and plants. Make an appointment today!
This might also interest you
Last Visited Service Pages