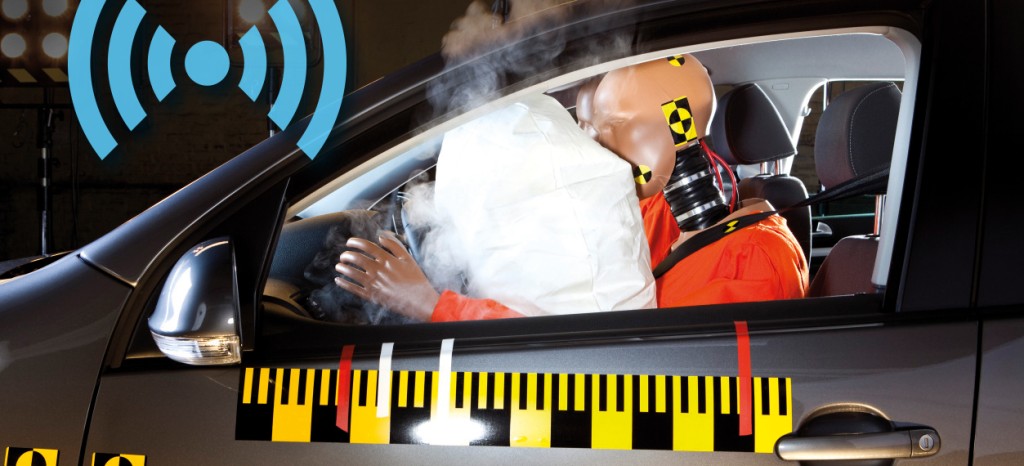 Approval-ready eCall systems with our tests and certifications
eCall, the accident vehicle emergency call service, will be mandatory for all newly homologated models of passenger cars (M1) and light commercial vehicles (N1) from April 2018. But a new eCall system can only be approved if it has been tested and certified. The EU Directive (EU) 2015/758 stipulates that these tests shall be performed by a technical service designated for eCall.
As a professional provider of testing and certification services and designated technical service, we support the automotive industry as a partner in testing and approval of eCall solutions. With our versatile service portfolio we accompany you through the entire process of obtaining type approval for your eCall system.
Simplify eCall approval with our know-how and request an appointment now.
Competent solutions from a single source during development, testing and approval of eCall systems
We support your eCall development process with maximum efficiency by providing everything you need from a single source: with nominated contact persons for the entire process, from initial concept to approval by the authorities, and with professional testing equipment for eCall certification and homologation.
Our experienced professionals support you at every stage, from design to approval by the authorities. If you wish, you can call on our know-how from the very beginning of your eCall development process. Together we can ensure that you only pursue solutions in development that will actually be suitable for approval, saving you both resources and development time.
We test your eCall systems on your premises. And as an experienced provider of all kinds of tests and type testing, we can do more than just test technologies as stand-alone systems: we can combine testing of your accident car emergency call with a dynamic crash and sled test. That way, you receive meaningful test reports about crash safety and eCall functionality from a single source
Experienced test engineers and first-class test equipment for your in-vehicle emergency call system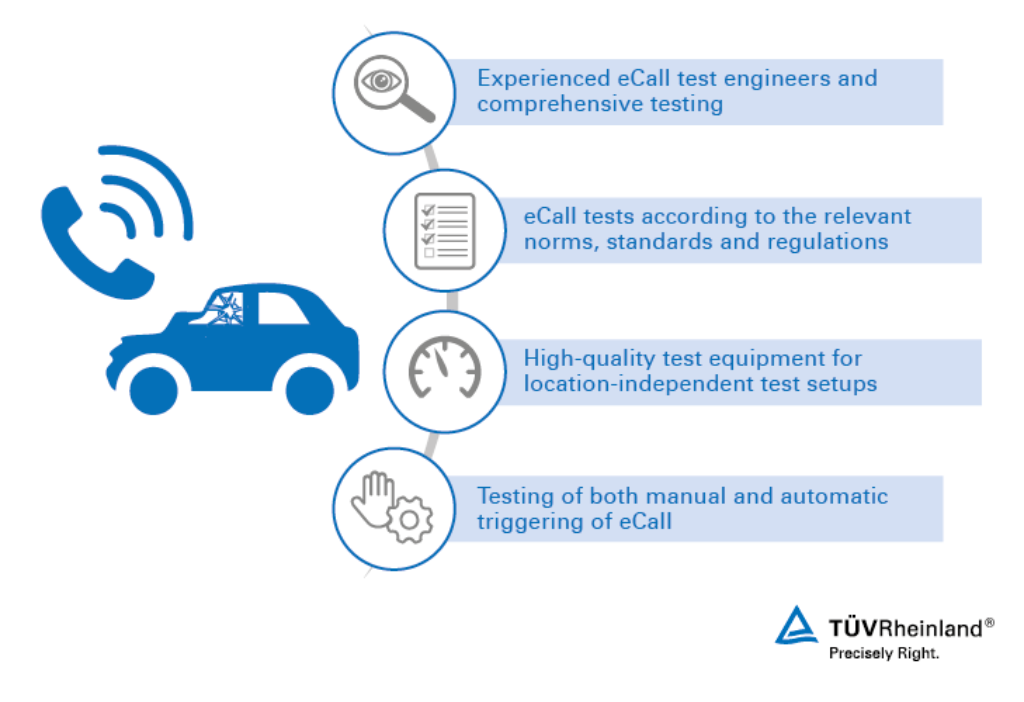 Benefit from our wide range of services, both during the development process and as part of eCall certification or homologation.
Our experienced test engineers evaluate the test process on both sides: on the vehicle, and at the (simulated) public-safety answering point (PSAP).
eCall testing as per


EN 16062
EN 15722
3GPP TS 26267
3GPP 26268
CEN 16102
CEN 16454 and ETS TS 103412
GOST R55530-2013

High-quality test equipment that we use for our location-independent test setup, including:


GNSS simulator in case the real signals from the global navigation satellite system are too weak
GSM network simulator in case the signals from public networks are too weak
Certified PSAP simulator
Simulator from a third-party service provider (TPS)
Output meter, aerial performance analysis, SWR meter (standing wave ratio)

We test manual initiation of the eCall system as well as automatic triggering in a simulated accident scenario.
Highly detailed tests, such as:


Does the radio antenna have the necessary range for a successful eCall emergency call after an accident?
Does the fallback solution between the TPSP and the 112 public emergency call center (emergency call numbers differ by country) work – including detailed documentation for the manufacturer?

We test your emergency call technology for all areas specified in Annexes I to VIII of the EU specifications.


The installation of the vehicle's on-board eCall systems.
The hardware, i.e. the test procedures for EC type approval for the components of the on-board eCall system based on the European 112 emergency call number.
eCall testing for in-vehicle STUs (separate technical units).
Your partner for the development, testing and approval of your in-vehicle emergency call system
When it comes to new technologies for the automotive industry, we are always the right port of call. We cover the entire testing and approval process for vehicle emergency call systems from A to Z, making us a real one-stop shop.
We combine the eCall crash tests required by the EU with approval testing in line with standards set down in UN Regulations 94 and 95. As a result, no additional crash test is needed for your eCall system.
Our test equipment allows us to conduct all our tests at your development site, and we have a dense global network of specialist test labs.
We test eCall on your premises – learn more about our services and contact us.
This might also interest you
Last Visited Service Pages