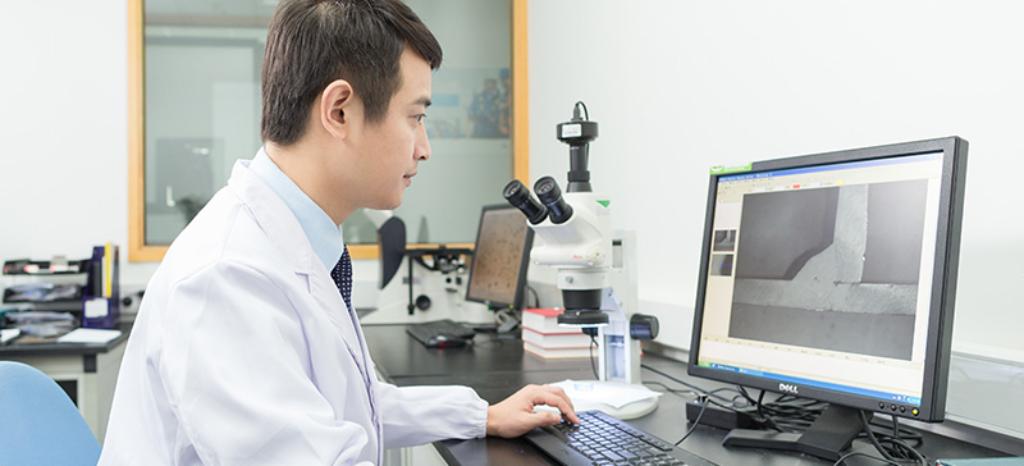 Putting Plants and Components to the Test
In the area of maintenance and materials testing, our experts at TÜV Rheinland can support you with integrated solutions designed to assess the condition of your plants and equipment. They also recommend preventive action to minimize risk. We offer you comprehensive advice, professional materials testing, precise failure analyses, and detailed expert reports – all to enhance the quality of your products. We work together with you to enhance the availability, safety, and profitability of your plants and equipment.
Benefits at a Glance
Services for maintenance and materials testing from TÜV Rheinland help you:
Enhance your legal security and reduce liability claims
Take advantage of our many years of industrial experience
Maintain and enhance your quality standards through fast, precise investigation results
Reliably determine the root causes of failure and identify responsibility in the event of loss or damage
Our Test and Measurement Services
Non-Destructive Testing
Manual ultrasonic test methods, such as wall thickness measurement and crack testing
Automated ultrasonic test processes, such as P-scan, phased array , Synthetic Aperture Focusing Technique (SAFT) and Time of Flight Diffraction (TOFD)
Surface-crack testing using color penetration and magnetic powder methods
Mechanized tank bottom inspection and magnetic flux scanning
Potential probe testing for crack depth measurement
Noise emission analysis, especially on pressure vessels
Visual inspections and endoscopy
Inspections to locate leaks
Mechanical Engineering Tests
Impact tests
Folding and bending tests
Creep tests
Corrosion Tests
Development of corrosion control concepts
Analysis of corrosion damage
Metallography and Fractography
Analysis and evaluation of production- and operation-related effects on material structure using macro- and micro-sections
Analysis of fracture surfaces, enclosures, and deposits using light-optical methods, electron microscopy, and an energy-dispersive X-ray micro-probe
Determination of the type and cause of fractures
Evaluation of microstructures in-situ using portable metallography replica methods
Strain Measurements
Resistance and capacitance foil strain gages in all temperature ranges to determine single-axis or 2-axis strain conditions
Fracture Mechanics
When a crack is found in a component, the component does not always need to be replaced immediately. We assess whether the crack will remain stable or continue to grow, and whether the component can continue to be operated safely despite the crack, for example, with the help of fracture mechanics.
D-PEC Offshore Well Inspection
This might also interest you
Last Visited Service Pages