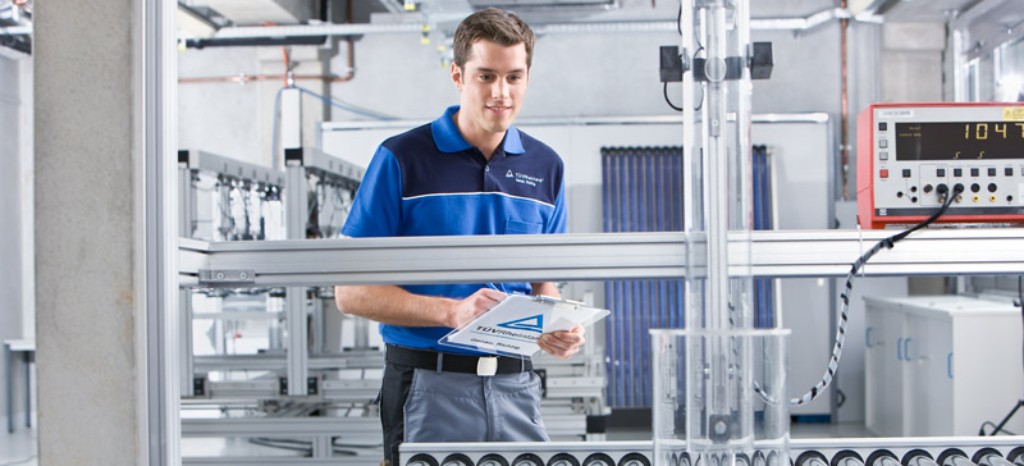 Reliable inspection and certification for solar thermal systems
In an increasingly competitive field, solar collector and systems manufacturers, operators and distributers strive to prove the superiority of their products and conformance with international norms.
Our inspection teams provide expert testing in accordance with EN 12975 and 12976 and can support you in gaining access to global markets. You can choose from our standard, special or expanded testing services, or we can design a custom-made package tailored to your needs.
Our goal is to ensure the quality, safety, reliability and performance of your solar thermal product. As part of our continuous improvement efforts, we have shortened testing times, expanded the global distribution of our outdoor testing areas and invested in cutting-edge testing equipment. These measures, coupled with a solid reputation and years of experience make us a valuable partner in the field of solar thermal energy.
Make an appointment to learn more!
Assure quality and international market access for solar thermal collectors
Partnering with us enables you to gain access to the expertise and experience of our inspection teams, who can help you lower costs and increase solar-thermal yield. At the same time, the testing services we provide can result in certification attesting to the performance and safety of your components and systems.
With testing methods based on current standards across Europe, North America, Australia, New Zealand, South Africa and beyond, we support your entry into international markets and help boost sales potential. Our laboratory's services comply with the DIN/EN/ISOIEC 17025 norm. We are also an accredited test laboratory for DIN CERTCO for Solar KEYMARK and by the Solar Rating and Certification Corporation (SRCC).
Comprehensive and flexible solar thermal collectors testing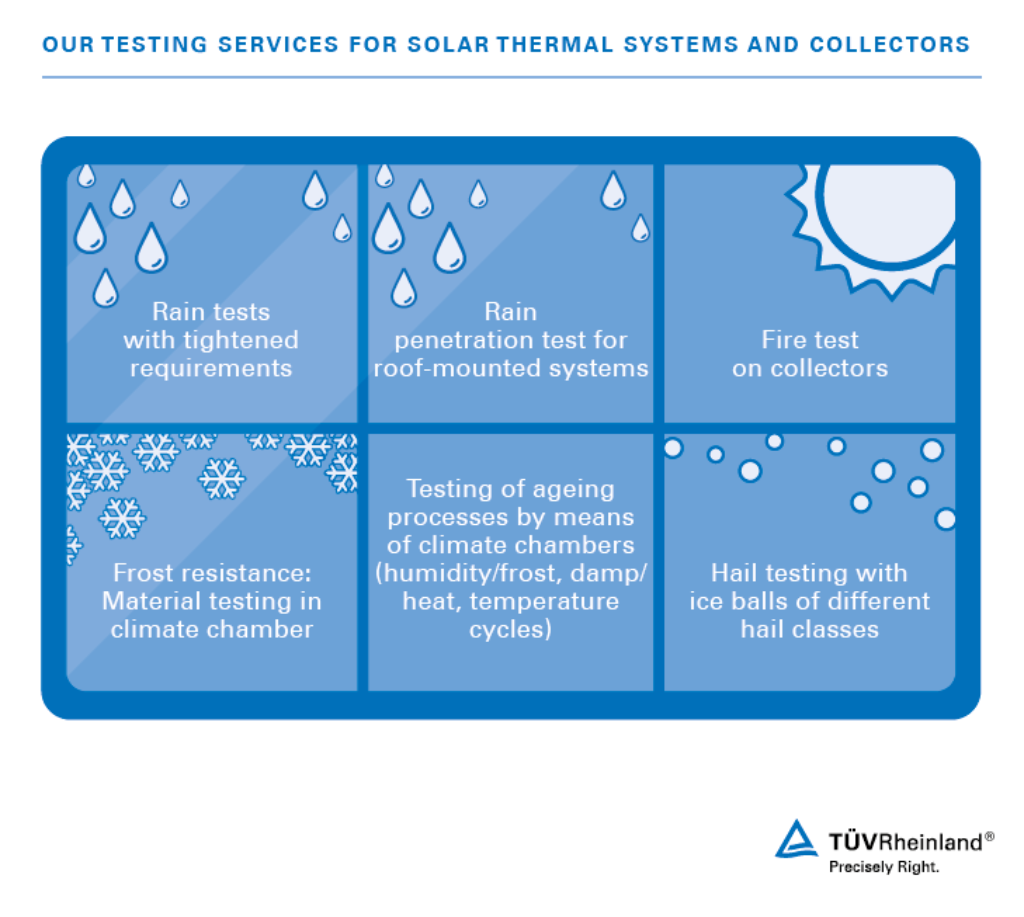 We have designed a portfolio of testing options taking into account customer needs, market demands and international regulations. The following is an overview of our inspection services:
Collector testing on flat and vacuum tube collectors that comply with European standard EN 12975 and SRCC standard 100:
- Reliability and performance tests and manufacturing site inspections
- Evaluation of open-air weathering in Germany
- Pressure testing
- Temperature testing
Performance testing of warm water storage in compliance with European standard EN 12977-3
Inspection of absorbers and internal thermal shock test
Inspection of standardized systems
Performance and quality testing based on European standard EN 12976, for example, for integrated storage collectors and thermo-siphon systems
Inspection of customer-specific systems
Testing of collectors, controller, and storage systems with component testing system simulation (CTSS) based on the European prestandard ENV 12977
Experience and expertise in solar thermal systems
Our reputation as an international leader among independent testing bodies is based on experience and expertise in the field of solar energy . National and international companies rely on our tests and certification to ensure the safety, functionality and reliability of their solar systems and components. In response to the high demand for our services, we have expanded both our global presence and capacity to meet the needs of our customers and provide exceptional, customized testing and consulting for solar thermal energy companies.
Schedule a meeting with one of our experts!
Learn more about our testing services for solar thermal products
| | | | |
| --- | --- | --- | --- |
| pdf | Flyer – Solar Thermal Systems - Testing and Certification | 573 KB | Download |
Our Sustainability Initiatives
Nothing less than the future is at stake. Companies, institutions, public authorities and each and every one of us can play a positive role in shaping the path to tomorrow. We provide you with comprehensive support to ensure that you operate safely, sustainably and efficiently for many years to come.
This might also interest you
Last Visited Service Pages