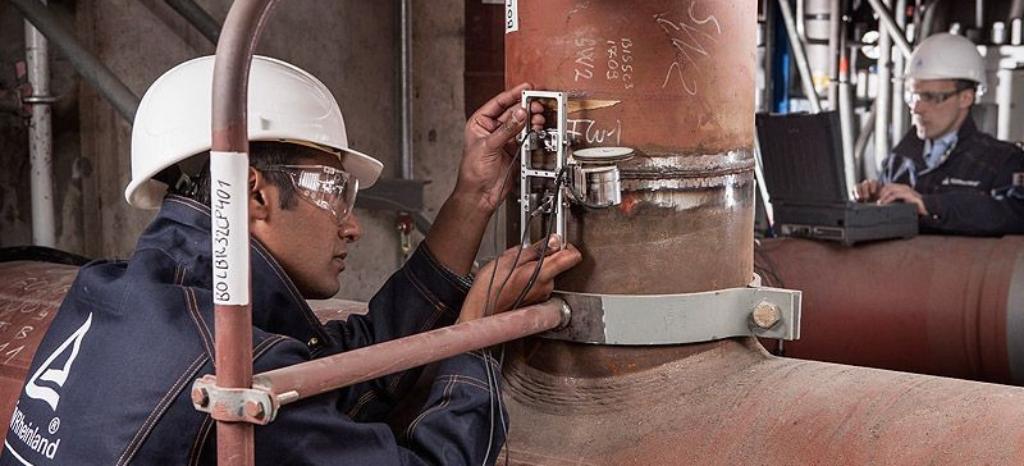 Haute précision des inspections de soudure avec TOFD
Un défaut de soudure peut compromettre la stabilité et l'intégrité d'une structure soudée. Lorsque vous nécessitez une confiance absolue dans les tests de soudure, time of flight diffraction (TOFD), une technique de haute performance de tests non destructifs (NDT) permet la detection precise des fissures, des scories et l'absence de fusion.
Depuis le début des années 1990, TOFD a été utilisé à plusieures exercices internationaux circulaires, où il a été comparé avec le radiographique plus traditionnel et les essais de soudures manuels et automatisés d'échos d'impilsions classiques. Les résultats de ces esais démontre la performance supérieure du TOFD. Nous, à TÜV Rheinland, avons plusieures années d'expérience avec les essais de soudure à l'aide de TOFD. Notre équipe d'inspection est l'un des meilleurs muni de moyens dans le monde. Notre implication dans le développeùent des 'équipement, de solutions d'inspections et des formations TOFD agréer démontrent notre engagement dans l'utilisation de cette technique.
Nous vous accompagnons tout au long de votre projet d'essais avec des solutions indivuduelles. Nos compétences comprennent, en outre, des conseils avant l'inspection, essais de soudure à l'aide de la technique TOFD, traitement de données avec notre propre logiciel, l'assistance de 'interprétation des caractéristiques des contrôles. Nous estimons que l'utilisation de service d'inspection TOFD conduira à des gains de temps importants pendant la durée d'une nouvelle construction ou de reconstruction. . L'enrégistrement de tous les données de contrôles est un pré-service excellent et outil d'inspection reconnu au niveau international avec des codes définis, des normes et des critères d'acceptation disponible pour l'utilisation.
Bref apercu de nos inspections TOFD
Nos inspections TOFD vous offrent:
Plus grande probabilité de détection des défaillances comparé aux procédures classiques comme les tests radiographique (RT) et essais ultrasoniques (UT).
Des frais réduit, étant donné que les contrôles TOFD peuvent avoir lieu pendant la production.
Pas de difficulties logistiques comme avec les essais radiographiques
Des résultats rapide, étant donné que le temps de l'inspection ne depend pas pour autant à l'épaisseur du matériel comme avec les tests radiographique.
Des tests et contrôles des matériaux sont possibles même avec des températures au dessus de 400°C
Des données d'inspection précis presents dans un format facile à assimiler et mémoriser sous forme numérique pour une future reference fourni par notre logiciel ScanPlan®.
Réduction des risques pour la responsabilité de l'entreprise grâce aux norms de sécurité établies.
Des inspecteurs certifies en conformité avec le programme de certification TOFD base sur EN473.
La commodité d'une solution exclusive one-stop shop.
Our TOFD Inspection Approach
We at TÜV Rheinland are dedicated to finding the optimal non-destructive testing method that will perfectly meet your needs. Whether or not the TOFD inspection technique is suitable for you depends on many different factors. You can rely on our experience to ascertain your requirements and you can be confident of our expertise in TOFD, a technique we have utilized in testing for the past quarter of a century.
The TOFD inspection approach begins with two ultrasonic probes, which are positioned on either side of the weld, one acting as a transmitter and the other as a receiver. The longitudinal sound beam will then encounter obstacles along its path, which cause signals to be reflected and diffracted. When the probes are moved in a parallel motion along the weld, the resultant waveforms are digitized, stored on hard disk and displayed on the video-screen as a grey scale image. The image built up is in effect a through sectional view of the examined weld and can be used for accurate measurement and detection of indications. All data collected with the TOFD system is stored for future reference.
If further analysis is required on inspection data, our in-house developed custom analysis software ScanPlan®, is available. Alternatively, we can provide you with read-only data in a format compatible with the most commonly used inspection and maintenance data management systems.
TOFD Application Range
Our TOFD service can be used for:
Construction weld inspections.
Intermediate inspections to examine partially filled welds at the preheat temperature.
In service inspection at ambient or high temperatures.
Examination of steam drums used in power generation.
Root corrosion detection in piping vessels.
High temperature weld inspection of up to nearly 500°C.
Inter granular stress corrosion cracking in welds.
Pre-service inspection of piping welds, duplex pipeline welds and spherical storage tanks.
Nozzle inspection.
Dernières pages de service consultées