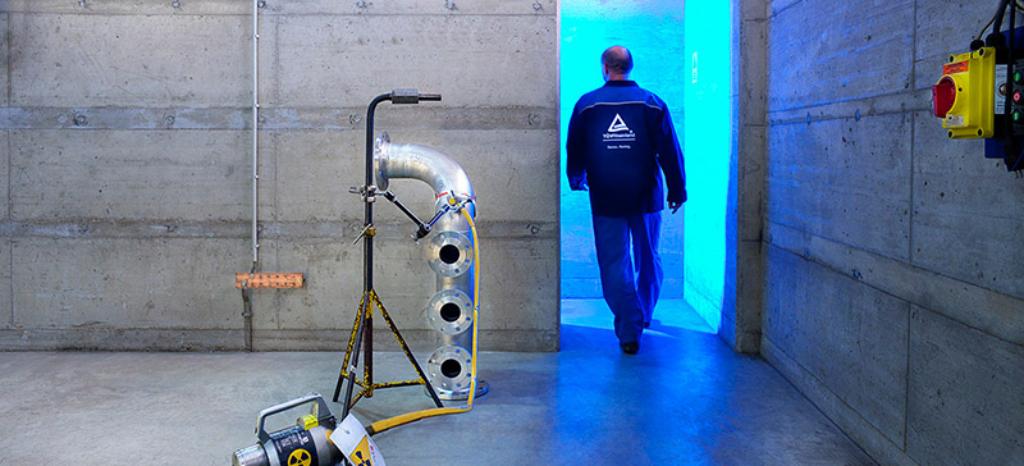 View Your Material from the Inside, to Ensure Quality Composition
Radiographic testing (RT) is a non-destructive testing (NDT) method used for materials testing and inspection. With radiography, you can use X-rays to view inside objects, determine thickness or composition of material, and to detect hidden discontinuities in the material.
TÜV Rheinland provides experienced, qualified employees with extensive training in radiographic testing, including on-the-job training – ensuring an accurate and safe work environment. All industrial radiographers are certified in accordance either to American Society for Nondestructive Testing (ASNT) or EN (European Norms) standards and are capable of providing accurate films and precise readings. Our high-quality, state-of-the-art equipment also provides exposures quickly and accurately.
Benefits of Our Radiographic Testing Services at a Glance
With radiographic testing services from TÜV Rheinland, you can be sure of:
Detailed imagery for more precise results.
Mobile or in-house service.
No destruction of the part being tested.
A permanent record for future reference.
Detection of volumes or voids.
A lead against the competition with a neutral audit seal.
Reduced risk of company liability with documented safety standards.
Fast audit times and our long-standing experience.
TÜV Rheinland's exclusive, one-stop shop service.
Compliance with local government and legal requirements.
Radiographic Testing Approach
The part in question is exposed to radiation. The image is transposed to either film or a digital detector, which can be utilized to detect and measure the density of the material – the variations in the densities will show up as discontinuities or flaws in the product.
To see through complex parts, a varying amount (or intensity) of radiation is used to determine exact thicknesses and detect discontinuities in the material being exposed on the film or digital plate. This process can be performed through different methods of exposure (for example, real-time, gamma, or x-ray tube), depending on the density and thickness of the product in question.
The data can be stored either on film or as a digital image. The images can then be viewed and compared to the standards of the American Society for Testing and Materials (ASTM) or the German Institute for Standardization (Deutsches Institut für Normung - DIN). Through viewing the variations in density that appear in a black-and-white contrast on film or in a series of differing color contrasts on the digital images, the trained certified inspector is able to read and grade the films and then determine if parts are of acceptable standard.
More Information on Radiographic Testing
Radiography is the use of X-rays on cross-materials to view inside objects. A heterogeneous beam of X-rays is produced by an X-ray generator and is projected toward an object. According to the density and composition of the different areas of the object, a portion of the X-rays are absorbed by the object. The X-rays that pass through are then captured behind the object by a detector (film sensitive to X-rays or a digital detector), which gives a two-dimensional representation of all the structures superimposed on each other.
Detected and measured to determine the density of the material, variations in this amount (or intensity) of radiation are used to determine thickness or composition of material and detect discontinuities in the material.
Related Services from TÜV Rheinland
If you are interested in TÜV Rheinland's radiographic testing services, you may also be interested in our services covering these areas:
Time of Flight Diffraction (TOFD)
Reference Cases
| | | | |
| --- | --- | --- | --- |
| pdf | Reference Case: Safety Testing of Generators at Dam of Aswan, Egypt | 96 KB | Download |
This might also interest you
Last Visited Service Pages