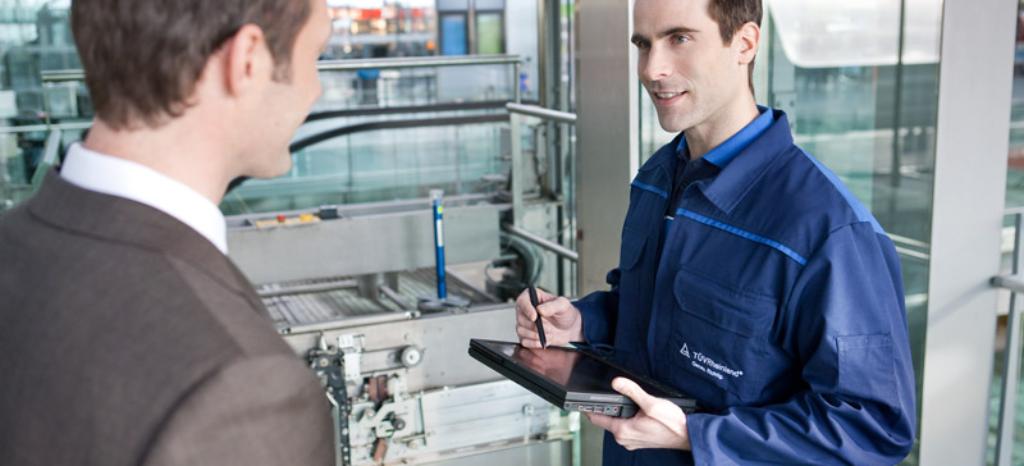 Prevent accidents and malfunctions with our conveyor inspection
Manufacturers of conveyor and mechanical systems as well as those who use such equipment in either a work environment or public facility must be absolutely certain that safety standards are met and maintained at all times. We provide you specialized testing, inspection and maintenance services for conveyor systems and mechanical technology. Make sure your conveyor and mechanical systems are in the best possible condition and working properly to avoid any risk of personal injury or operational failure, lower liability and reduce loss of revenue.
Make an appointment with our experts today!
Conveyor system safety benefits both personal and machinery
Inspection and preventive maintenance help ensure conveyor system safety
We support manufacturers and operators of conveyor and mechanical technology with a wide range of services to test, assess and verify that equipment is functioning properly and effectively, and adheres to all relevant safety standards. Our support includes:
Type test approvals for machinery
Testing prior to initial commissioning, periodically and after change
Inspection to ensure compliance to accident prevention and occupational safety regulations
Assessments of risk (GBU) and remaining service life
Tracking inspection dates, expirations and renewals
Providing information on safety requirements and technical design options in planning, construction and modification phases
Assistance during times of repair, conversion or complete overhaul
Making sure manufacturer documentation is prepared according to EC legislation on CE declarations of conformity, hazard analyses and operating manuals
Investigating accidents and damage and preparing reports
Services are provided for:
Escalators and moving walkways
Power windows, doors and gates
Cranes and winches
Lifting platforms and power machines
Warehouses and logistics
Vehicle parking systems and double-parking units
Stage equipment and temporary structures
Cable railways, ski lifts and airlift systems
Safe and effective conveyor systems are productive and profitable
By following conveyor system safety guidelines and practicing preventive maintenance, both manufacturers and operators can provide safe environments to employees, customers and the general public while ensuring asset integrity and value. Benefit from the TÜV Rheinland global network of experts and their collective experience to make sure your conveyor systems are safe, compliant and maintained.
Call now to find out what we can do for you!
This might also interest you
Last Visited Service Pages