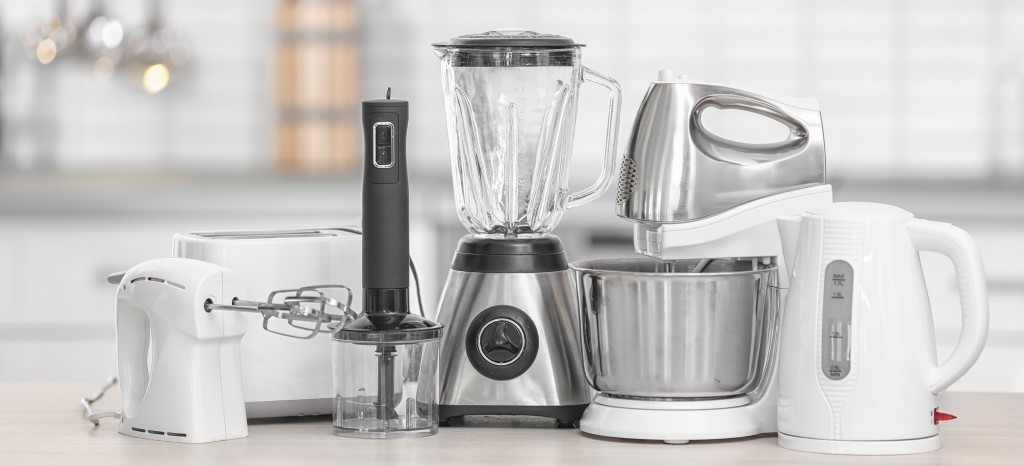 Safety at home with household appliances tested to recognized standards
Quality and safety standards set strict requirements for small appliances such as kitchen utensils, personal hygiene devices and large appliances used every day in households around the world. Independent and neutral testing by a recognized provider ensures, that products meet industry quality expectations and regulatory safety standards.
We conduct all testing and inspections for household appliances as mandated by relevant laws and regulations. Our experts check everything - from functional properties including energy consumption and efficiency, energy class labelling, and electrical safety to electromagnetic compatibility (EMC).
Thanks to our many years of experience and our comprehensive know-how, we are the right partner to stand at your side. Our globally recognized tests help you sell your products on world markets and secure a decisive competitive advantage.
Prove your household appliances safe!

Building trust with our services for household appliances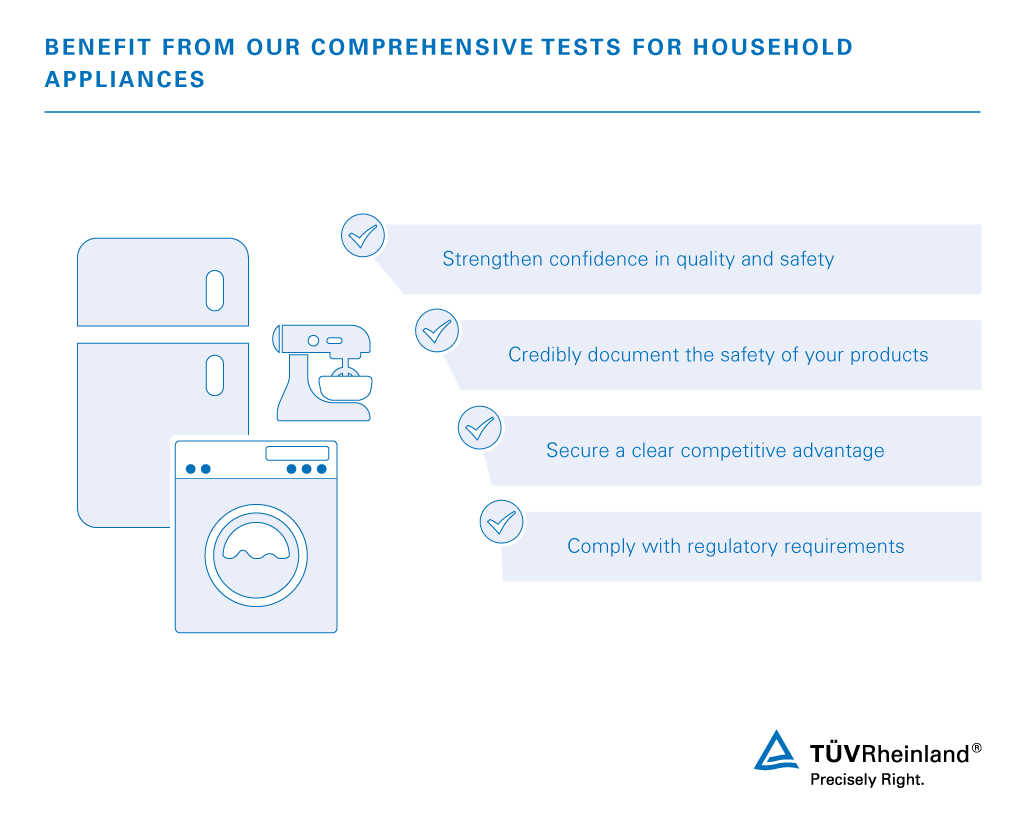 We conduct expert testing and certification to help you comply with the required guidelines and legal regulations. With us at your side, you can document the safety of your household appliance products and strengthen your position in the market. Our recognized neutral test mark provides you an effective marketing tool for a decisive competitive advantage.
At a glance: Our comprehensive tests for household appliances
Our extensive testing portfolio provides appropriate testing for your products according to your individual requirements.

We test your products for:
Performance characteristics according to relevant regulatory and in-house test standards
Assessment according to the requirements of consumer magazines ("Stiftung Warentest", "Selbst ist der Mann", "Öko-Test"...)
Electrical safety according to relevant EN and IEC standards and the Low Voltage Directive
Electromagnetic compatibility according to EMC directive
Electromagnetic fields according to EN 62233
Selected chemical parameters according to the German Food, Commodities and Feed Code (LFGB)
Sound/noise level according to IEC 60704
Operating instructions according to DIN EN 82079-1
Safe household appliances tested by our experts
Thanks to our extensive know-how in the field of product testing and a broad network of experts, we are able to provide you with optimum support. We conduct product testing according to established regulatory standards in accredited state-of-the-art laboratories. As your trusted partner with many years of experience, we provide you comprehensive services with short testing times from a single source anywhere in the world.
We would be pleased to inform you personally about our comprehensive tests for household appliances.
More information
| | | | |
| --- | --- | --- | --- |
| pdf | Brochure - Safety and quality at the highest level | 882 KB | Download |
Ensure the safety and compliance of your Food Contact Materials – across your entire value chains.

Legislation as well as consumer demands regarding food contact safety have become increasingly stringent and diverse. Let us support you with our comprehensive FCM compliance management services.
Singapore S-Mark
The Singapore S-Mark is a voluntary test mark that confirms the safety of products that are imported to or manufactured in Singapore. Electronics manufacturers and distributors use the mark to gain a competitive lead, by proving their products are tested and certified for sale in Singapore and that they comply with the test mark's requirements. The Singapore S-Mark takes conditions at the manufacturer's facilities and plants into account and tests products on the basis of a detailed test plan.
TÜV Rheinland is recognized as a certification body by the Singapore Accreditation Council (SAC) and can provide the testing and certification needed for your product. As the Singapore S-Mark is frequently monitored for the applicable conditions of its validity, TÜV Rheinland also offers follow-up testing to ensure that owners of the certificate are not only informed of changes, but that their certificate stays valid.
Singapore COC
Singapore's Consumer Protection Registration Scheme (CPS) has identified a list of 45 "controlled goods" which cover electrical household goods (e.g. refrigerator, vacuum cleaner, washing machine), electrical and gas cooking appliances and accessories (e.g. kettle, microwave oven, rice cooker), audio video equipment (e.g. television).
To be able to sell these controlled goods in Singapore, you need to obtain a Certificate of Conformity (CoC) for your product through a Conformity Assessment Body (CAB). The Singapore CoC shows that these products meet the specified safety standards, before they are given the Singapore SAFETY Mark and can be sold in Singapore.
TÜV Rheinland is accredited by the Singapore Accreditation Council (SAC) and designated by SPRING Singapore (which manages the CPS scheme) to provide testing and certification services for your products. The Singapore safety mark is mandatory for all electronics manufacturers who import products to Singapore, which fall under the CPS scheme.
This might also interest you
Last Visited Service Pages