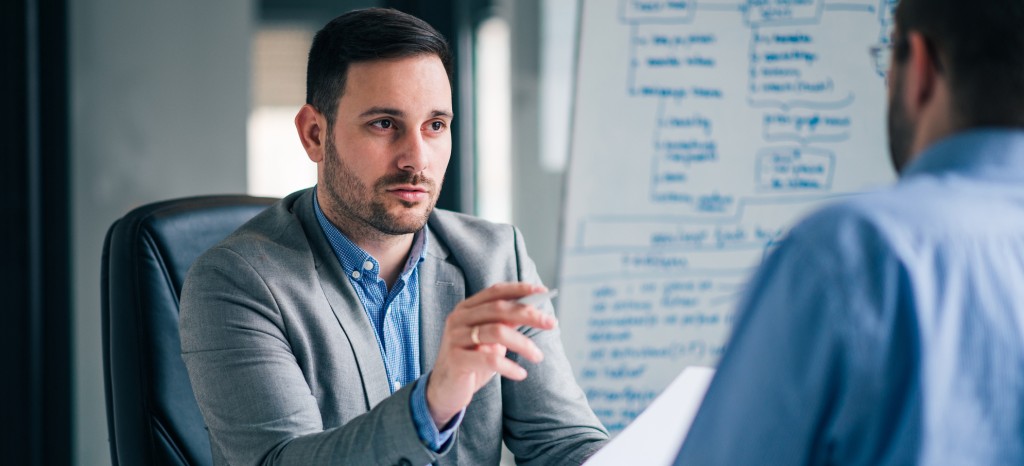 Transparency and legal certainty thanks to an experienced data protection officer
For many businesses it is essential to nominate a data protection officer. Data protection is a complex task that requires much time and resources. By appointing an external data protection officer, you can avoid this complexity and concentrate fully on your core business.
Our experts analyze and assess the data protection in your company based on current legal requirements. Their analysis hinges on the European General Data Protection Regulation (EU GDPR), which must be implemented as of May 25, 2018.
We assist you as a recognized and independent partner. Use our expertise and experience to increase transparency and legal certainty towards the regulating authorities.
Would you like to learn more about appointing an external data protection officer? Contact us, we are happy to help!
Protect your data and organization with the support of external data protection experts
By choosing one of our external data protection officers, you show that the protection of personal data is particularly important to you. This increases the trust and confidence of both your partners and your customers.
Our services save you time and money. We offer custom solutions that are optimally tailored to your needs. Thanks to our support, you spend less time and effort on data protection, so you can concentrate fully on your core competences. With the comprehensive expertise of our experts you meet the relevant legal requirements, including those relating to the EU GDPR.
Four steps to improved data protection as per EU-GDPR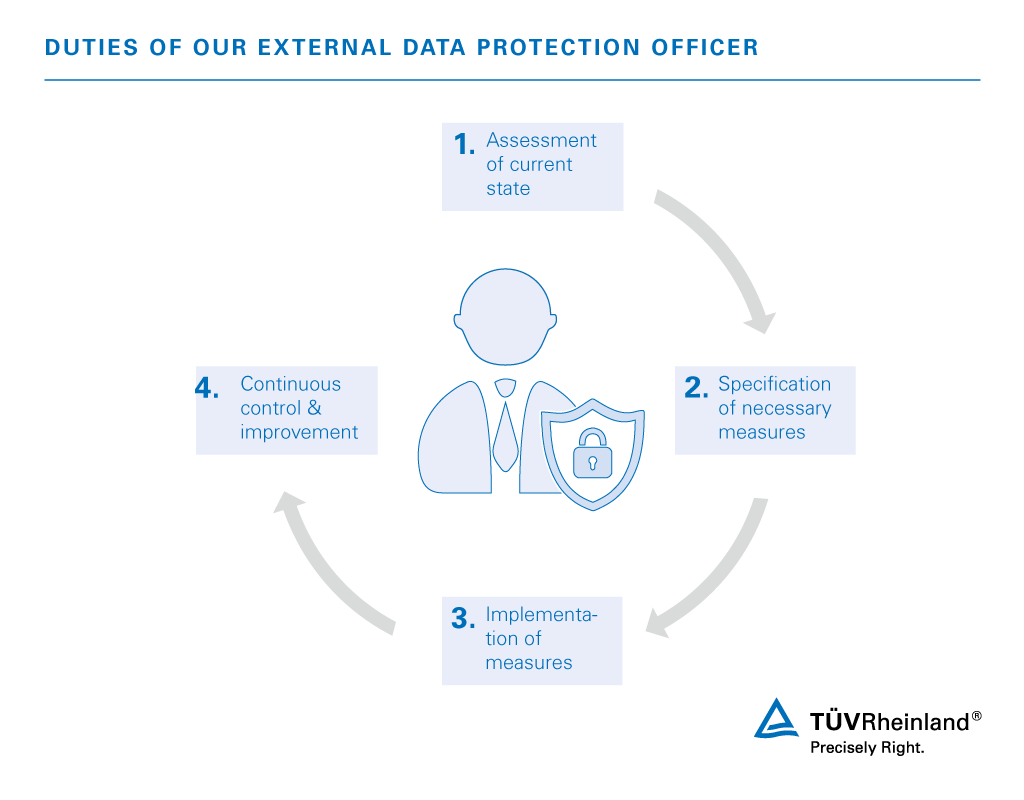 Our experienced data protection officers analyze and assess data protection at your business. They work with you to develop suitable measures that optimize your corporate data protection.
Four steps are involved in this process.
1. Assessment by means of a data protection check-up
We perform a check-up to assess the current condition of data protection at your business. We analyze the current state of your corporate data protection, efficiently identify potential vulnerabilities and non-compliances, and provide you with documented recommendations to close any gaps. This check-up is performed based on current requirements, such as the EU GDPR.
2. Prioritization of measures
The data protection officer creates a prioritized list of recommendations according to their urgency. This list documents the order in which the measures will later be implemented.
3. Implementation of measures
Our expert works through the list of items based on priority. Implementing the recorded measures will help you achieve a level of protection that is appropriate for your business.
4. Continuous improvement
The state of data protection is continuously monitored and improved. This will allow us to maintain optimal protection for your personal data going forward.
GDPR-expertise thanks to external data protection officers
To help you handle the challenges of data protection management, we can call on our expert team in data protection. With extensive experience and expertise, our specialists raise data protection awareness among your employees and management. They are always current, so they can accurately inform you on what you need to know about matters relating to personal data. We expertly analyze your processes, identify vulnerabilities and help you optimize your processes.
Learn more about appointing an external data protection officer and request an individual offer today!
Downloads
| | | | |
| --- | --- | --- | --- |
| pdf | Flyer: External data protection officer | 1 MB | Download |
Our Sustainability Initiatives
Nothing less than the future is at stake. Companies, institutions, public authorities and each and every one of us can play a positive role in shaping the path to tomorrow. We provide you with comprehensive support to ensure that you operate safely, sustainably and efficiently for many years to come.
This might also interest you
Last Visited Service Pages