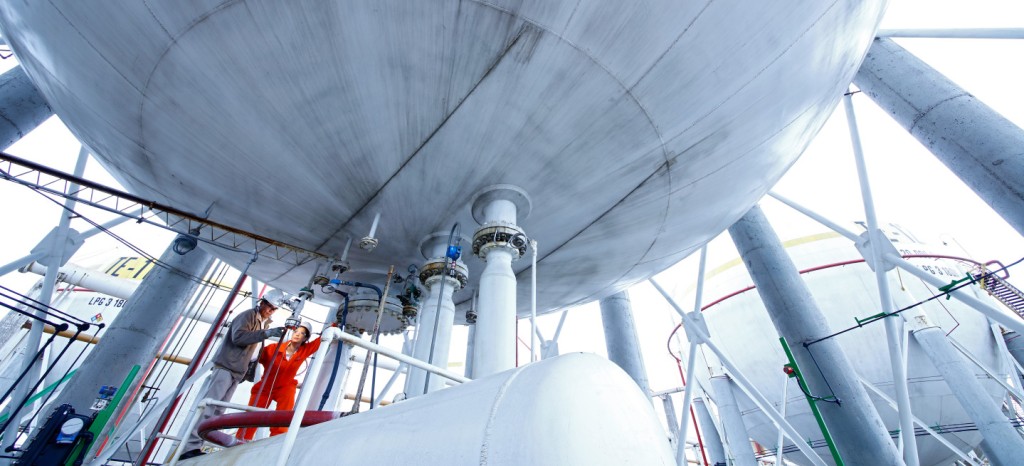 Acoustic emission testing for safe, sound pressure equipment
Verifying the integrity of pressure equipment under stress is essential to maintaining its safety and protecting your assets. When a material undergoes stress or a series of internal changes, it generates energy from localized sources which produces sound waves.
Our acoustic emissions testing, carried out in accordance with industry standards EN 15495:2007 and EN 14584:2005, is a non-destructive method for detecting growing metal deformations, cracks, corrosion and defects at an early stage. This technique pinpoints the active defect or stressed area, significantly developing within the structure which could endanger equipment integrity or safety.
By monitoring sound waves emitted as a result of changes in materials, our inspections can provide you with the information you need to guarantee optimal safety. With our acoustic emission testing services, we help you detect, prevent and implement measures against any failure in your pressure equipment.
Our many years of experience in the field combined with the expertise of our service engineers enable us to offer reliable, time and cost-efficient inspections tailored to your needs.
Schedule a meeting with a service engineer to get started!
Non-destructive testing (NDT) for corrosion and flaw detection
With innovation and the introduction of more complex geometries in pressure vessels, keeping your equipment in safe working order has become more challenging. We implement acoustic emissions methods that bypass the difficulties often faced when carrying out this type of maintenance. Firstly, our comprehensive method requires no operational interruptions, decommissioning or shutdown; it can be carried out during material operation, making it a time-efficient option.
In addition, our method does not require the introduction of personnel, water or energy into the vessel. It enables you to monitor and inspect your entire pressure equipment, from tanks to welds. We detect energy emitted by the equipment itself, obtain immediate feedback and analyze the results, enabling you to take protective measures, such as determining appropriate pressure levels, at an early stage. Finally, ours is a holistic approach, which monitors the global area of pressure equipment structures, not only a localized area.
Non-invasive acoustic emissions inspection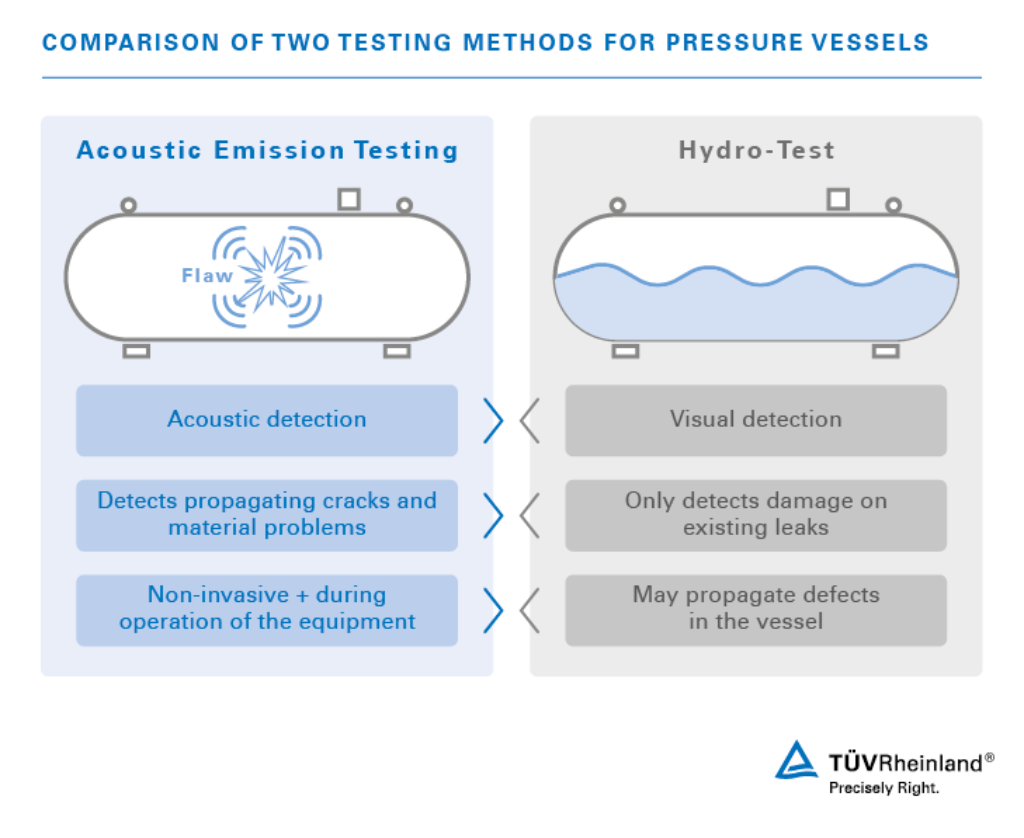 Acoustic emission testing requires a minimum of three acoustic emission sensors installed on the outside of the structure via rope access to locate expanding defects by triangularly detecting the acoustic waves being emitted. There are three principal phases involved:
1. Prior to testing, an attenuation survey is performed to plan the positioning of the sensors.
2. Sensor responses are checked and collected data is recorded in order to provide a complete and understandable evaluation.
3. Upon completion of the data evaluation, the client is provided a report listing the specific areas requiring follow-up non-destructive testing.
Acoustic emission testing is a method which can be applied to a wide range of areas and pressure equipment:
Tubes
Tanks
Spherical reservoirs
Fiber-reinforced materials
Gas station tanks and containers
Gas and hydrogen reservoirs
Unparalleled expertise in acoustic emission methods
We have over twenty years of experience in advanced NDT techniques and special applications. Our inspection team is one of the best-resourced in the world, and our extensive involvement in equipment development, inspection solutions and accredited training courses demonstrates our commitment and leadership in this sector.
Learn more about custom acoustic emission solutions for your company.
Learn more about our acoustic emission services
Our Sustainability Initiatives
Nothing less than the future is at stake. Companies, institutions, public authorities and each and every one of us can play a positive role in shaping the path to tomorrow. We provide you with comprehensive support to ensure that you operate safely, sustainably and efficiently for many years to come.
This might also interest you
Last Visited Service Pages