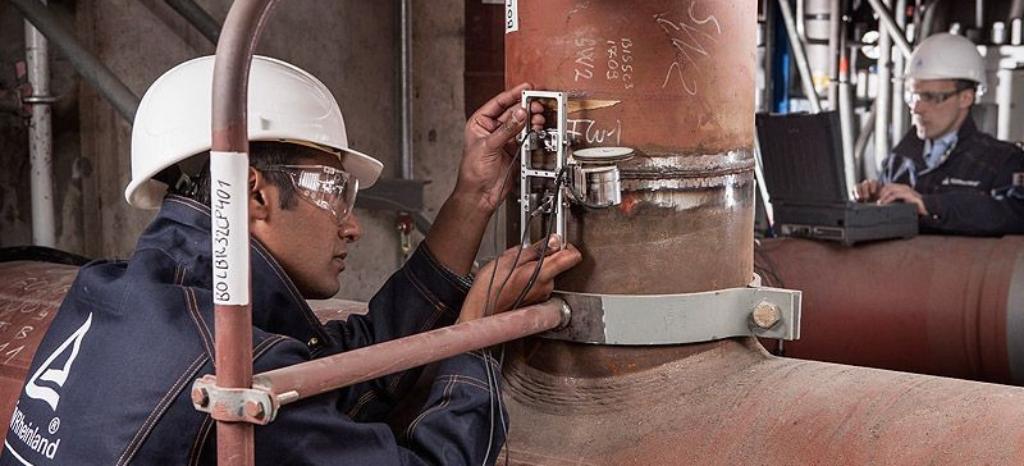 Ensure a secure and high-quality welded structure through our Time of Flight Diffraction (TOFD) technique
Welding is an extremely crucial part of fabrication processes in the automobile, shipping, railroad and transportation, aviation, construction industries and many more. Welding defects can compromise the stability of a welded structure. In order to detect and subsequently avoid such flaws, there are various testing methods available. The Time of Flight Diffraction (TOFD) technique is widely used as the most reliable inspection method during the construction of process equipment and piping.
TOFD is a high-performance non-destructive testing (NDT) technique, which can be used to accurately detect and size cracks, slag, fusion faults and other defects in a welded construction. Our specialists can accompany you throughout your testing project and offer you individual solutions according to your requirements. Our services include weld testing using the TOFD technique and data processing with our in-house developed software. Recognized internationally with defined codes and standards, TOFD is an excellent and widely accepted pre-service and in-service inspection tool.
Our experts have extensive experience in TOFD based weld testing. We can provide you with a one-stop-shop-solution for weld testing. By using our TOFD inspection service, you will be able to save time over the duration of new build and replacement projects.
Get in touch with our experts to achieve high-quality and precise weld inspection!
Ensure your weld quality with the help of our highly trained and experienced experts
There are multiple benefits of our TOFD measurement service including a higher probability of detection compared to conventional radiographic and ultrasonic testing. Importantly, on-site inspections can be conducted in parallel to normal production in part due there being no significant logistical difficulties unlike for radiographic testing, thereby reducing costs. As the method is also less sensitive to sample thickness compared to radiographic-based methods, it provides comparatively quicker results. Inspections can also be carried out at temperatures of 400°C and higher.
Our documentation, clear data presentation and digital storage using the ScanPlan® software come together in the convenience of a one-stop based solution. Our experts are qualified in accordance with the TOFD certification program based on ISO 9721. Combined, these provide a safety standard record which benefits our customers by reducing their company liability risks.
Attain a reliable and effective weld inspection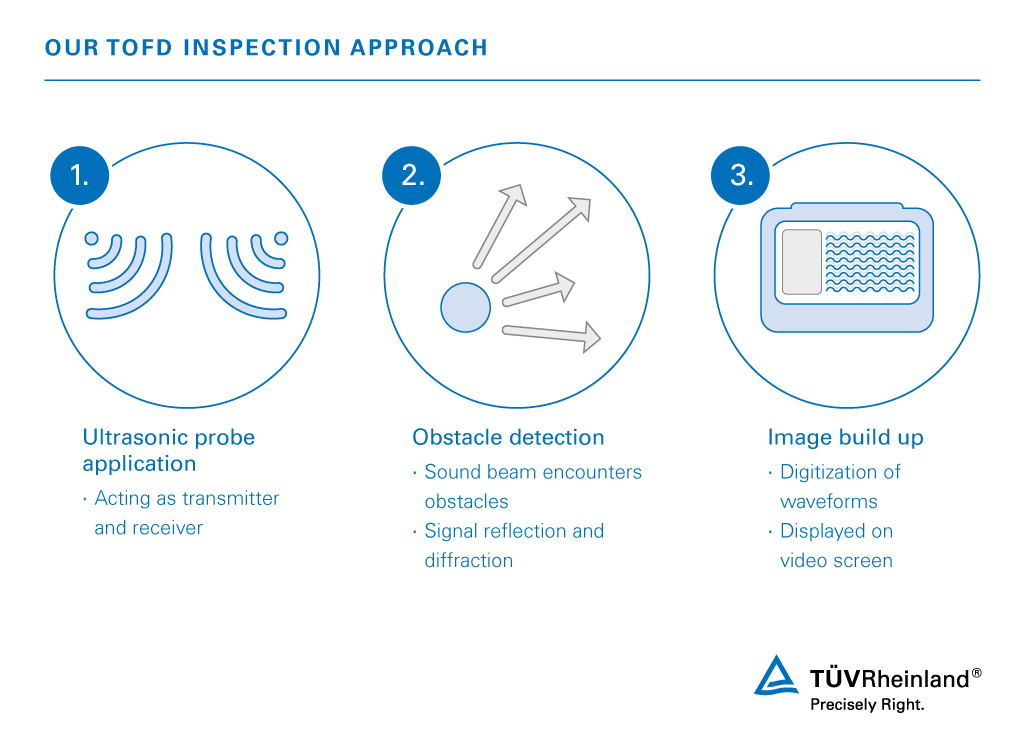 We are committed to work with the optimum and most accurate method of non-destructive weld testing. The principle of a TOFD inspection can be described with the following steps:
The TOFD inspection begins with the positioning of two ultrasonic probes on either side of the weld, where one acts as a transmitter and the other as a receiver.
A longitudinal sound beam is transmitted into the test object. Part of this will be reflected or diffracted by any obstacles along its path before it reaches the receiver.
As the probes are moved in a parallel motion along the weld, the resultant waveforms are digitized, stored on hard disk and displayed on a video-screen as a grey scale image. The image that is built up in this procedure is, in effect, a cross-sectional view of the examined weld. This can be used for the accurate measurement and detection of indications. All the data that is collected with the TOFD system is stored for future reference.
Our TOFD service can, for example, be used in:
Pre-service inspections of welds in:


Pressure vessels
Piping
Storage tanks and spheres
Other constructions made out of low alloyed carbon steel
Intermediate inspections, used to examine partially filled welds at the preheat temperature
In-service inspection at ambient or high temperatures for the detection of damage mechanisms such as:


Root corrosion
Inter-granular stress corrosion cracking
High Temperature Hydrogen Attack
Fatigue cracking
Monitoring of indications detected during earlier inspections
Our experience and expertise in the field of weld inspections makes us your perfect partner
Over the past quarter of a century, we have been a pioneer in the field of weld inspection and collected extensive experience. Our TOFD inspection services provide a higher probability of defect detection compared to conventional procedures such as radiographic testing (RT) and ultrasonic testing (UT). This method not only reduces costs, as TOFD inspections can take place on-site alongside continuing production work, but can also provide quick and accurate inspection data in an easily understood format. Our inspections are conducted by certified inspectors. Our proficient team members are there for you, thereby ensuring a credible and quality service.
Request more information about our weld inspection services!
Learn more about our time of flight diffraction services
| | | | |
| --- | --- | --- | --- |
| pdf | Flyer – Time of flight diffraction | 483 KB | Download |
Last Visited Service Pages