Earn your expertise in hazardous building materials
Buildings new and old can suffer the effects of mold and other dangerous substances related to construction techniques and materials, making certified specialists in hazardous building materials a precious commodity. Our seminar qualifies you as an expert in recognizing, evaluating and removing hazardous materials found in building construction.
Architects, civil engineers, real estate appraisers, master builders and craftsmen and women are among the professionals taking part in this seminar designed to deepen the participants' knowledge of a complex topic. We arrange in-house seminars and open seminars for construction materials manufacturers as well as dealers and their customers.
We have designed the seminars to reflect our methodical, logical approach to the topic, and favor a practical approach, featuring a learning-by-doing philosophy, case study-based instruction and lecturers active in their field. Our stature in the building industry attracts qualified personnel and gives weight to certifications earned with us.
You are interested in our seminar on hazardous building materials? Please register.
Know-how to handle hazardous construction materials with our professional seminars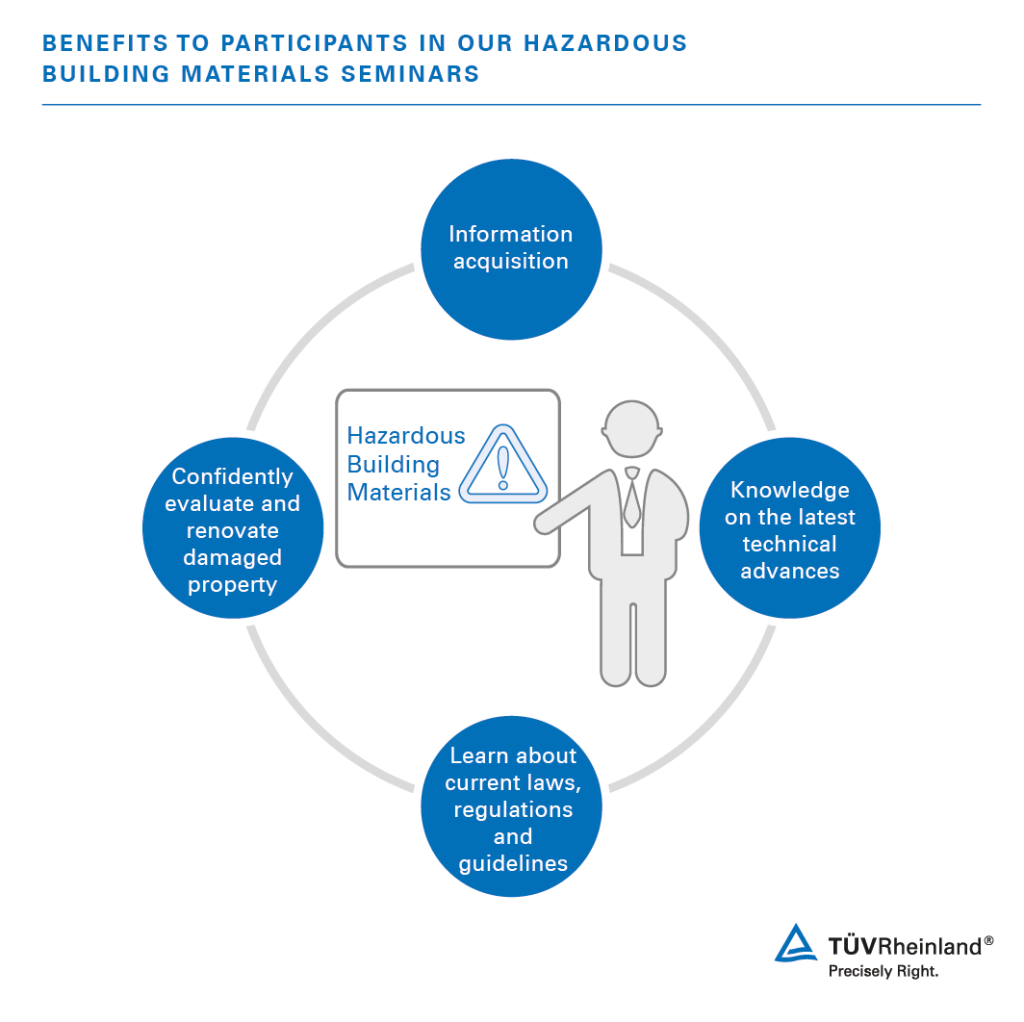 The central benefit to participants in our hazardous building materials seminars is information acquisition. Our instructors, themselves leaders in the industry, transfer their knowledge on the latest technical advances and know-how when it comes to recognizing and evaluating hazards related to construction materials.
This includes current laws, regulations and guidelines. Armed with this knowledge, you can confidently assess and renovate damaged property within the proper legal and economic framework.
Flexible training for hazardous building material specialists
To earn your certification in hazardous building materials, one of two training scenarios are available:
Take part in pre-arranged seminars
Arrange an in-house event tailored to your needs, i.e. as a building materials manufacturer for staff and customers
Learn from leaders in the building materials and construction industry
As a well-respected presence in the construction safety industry, we attract the best and brightest in the field to share their experience and knowledge in handling hazardous building materials. Our conferences on construction hazards, mold, asbestos and more have featured respected experts who contribute to creating healthier, safer living and working spaces. This practice-based knowledge exchange informs our seminars as well and is the reason our certificates earn recognition and respect across the industry.
Contact a service representative to find out more!
Last Visited Service Pages