Strengthen your company's compliance with our work environment assessment
Gone are the days where scratches, bruises and occupational illness are taken for granted. As countries around the world enact legislation requiring stricter regulations on occupational health and safety, companies that can prove compliance are at a competitive advantage. In fact, a failure to comply not only means legal penalties, but also risks putting employees and assets in danger.
Our Workplace Environment Measurement (WEM) is designed to respond to these challenges. This tool allows us to measure physical, chemical & biological hazards present in the workplace that may affect employees' well being, including ventilation verification. The report we issue following WEM analysis can be submitted as proof of compliance with the Philippines' new Occupational Safety and Health Standards, Rule 1077.02, as well as with OHSAS 18001 and ISO 9001.
Our experts are accredited WEM providers based both in the Philippines and around the world. Industry leaders recognize our high standards and credit our services with effectively protecting and promoting our customers' brands. We know how to create the conditions for better performance and sustainable growth worldwide.
Contact one of our account representatives to learn more about WEM!
Measuring workplace health sends the right signals
You are dedicated to your employees' health and safety, and our Work Environment Measurement is one way to demonstrate this dedication. It allows you to reduce accidents, illness and employee fatigue, which in turn boosts morale and improves company culture. The resulting report also helps you earn customers' trust and protects your company's reputation.
A streamlined approach to workplace assessments
We put a premium on fast turn-around. You are six steps away from a work environment report:
You submit a completed WEM application form.
We perform a visual inspection of the area.
We submit a proposal to you.
We schedule the service once the order has been confirmed.
We carry out the work environment measurement.
We issue the report.
On request, we can provide a closing presentation.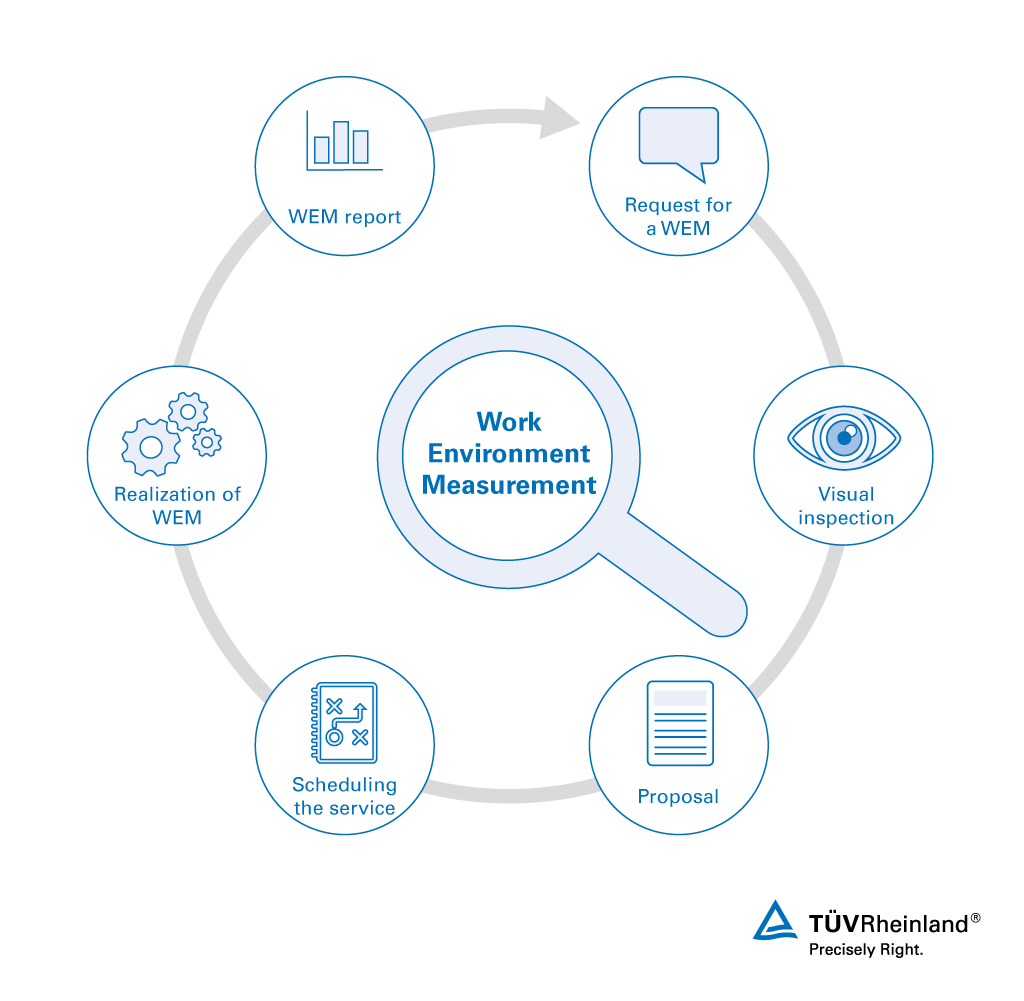 Reliable, credible, flexible work environment assessors
We have drawn on our substantial experience to develop a tool notable for its reliability. All WEM equipment is calibrated and traceable, and our WEM reports are automatically archived for future reference. We also pride ourselves on our credibility as international third-party inspectors whose services never miss the mark when it comes to regulatory compliance. We provide all these advantages while remaining flexible and responsive to our clients – not to mention fast. Within five days upon WEM completion, the report can be made available.
Request a quote on WEM now!
Our Sustainability Initiatives
Nothing less than the future is at stake. Companies, institutions, public authorities and each and every one of us can play a positive role in shaping the path to tomorrow. We provide you with comprehensive support to ensure that you operate safely, sustainably and efficiently for many years to come.
This might also interest you
Last Visited Service Pages