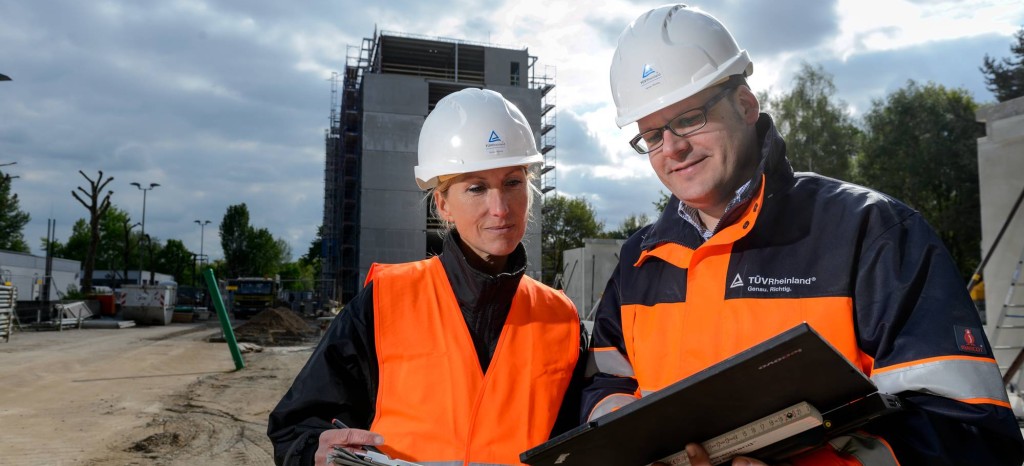 Documented occupational safety with our SCC*, SCC**, SCCP or SCP certification
A functioning health and occupational safety system is of key importance for the overall success of your company. The Safety Certificate Contractors (SCC), Safety Certificate Personnel Leasing (SCP) and Safety Certificate Contractors for Petrochemicals (SCCP) standards are globally recognized management systems. Certification of occupational safety in accordance with SCC*, SCC**, SCCP and SCP aims to reduce and prevent accidents.
We inspect and certify your company on the basis of a question catalog. The scope of the audit and the number of compulsory questions is based on the number of employees in your company. The standards set out clearly defined threshold values for the frequency of accidents and place your up-to-date accident statistics at the center of the evaluation. Your management activities relating to health and safety are inspected directly at the place of work. Technical service providers in the petrochemical industry or in refineries are required to meet additional specific standards.
SCC*, SCC**, SCCP and SCP occupational health certification attests to the fact that your company adopts a holistic approach to occupational health and safety, and environmental protection.
Our experts are happy to answer your questions and provide more information on SCC*, SCC**, SCCP and SCP occupational safety certification. Feel free to contact us!
Secure international competitive advantages with an occupational health certification
With our internationally recognized SCC*, SCC**, SCCP and SCP occupational safety certification, your company can reduce the risk of accident and injury for your employees. This means that you can offer your employees and managerial staff a special level of protection and improve your company's safety awareness through targeted training. You also demonstrate to your clients and business partners how important occupational health and safety is to your company, offering them valuable assistance in making their decision. As a personnel service provider, SCP certification offers you a major advantage as far as your clients are concerned as it saves you the costs of providing individual verification. Would you like to learn more about occupational safety certification? Download our FAQs for free!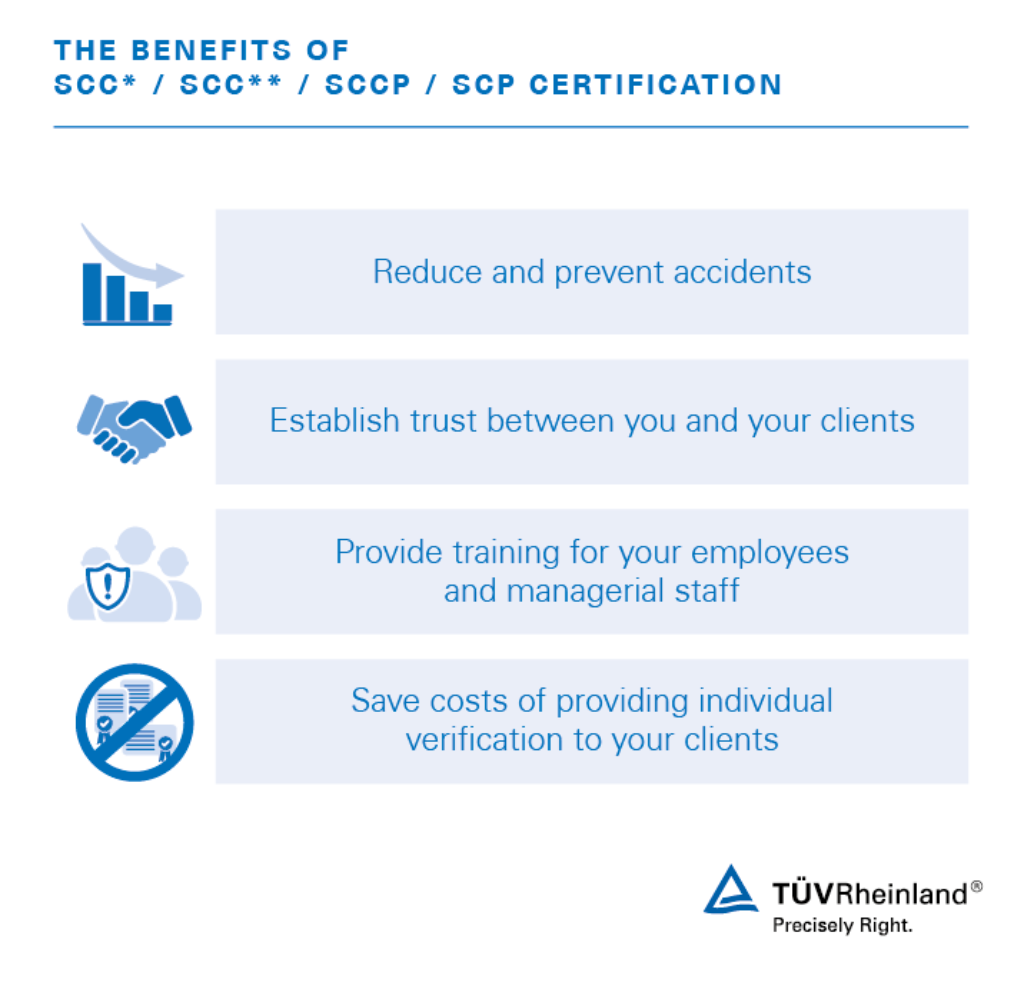 Which certification is best for my company?
Various types of certification are available in the field of occupational safety. Which is suitable for your company? Please feel free to contact us for further information on the various types. You can also download our information sheet on the different certification options here.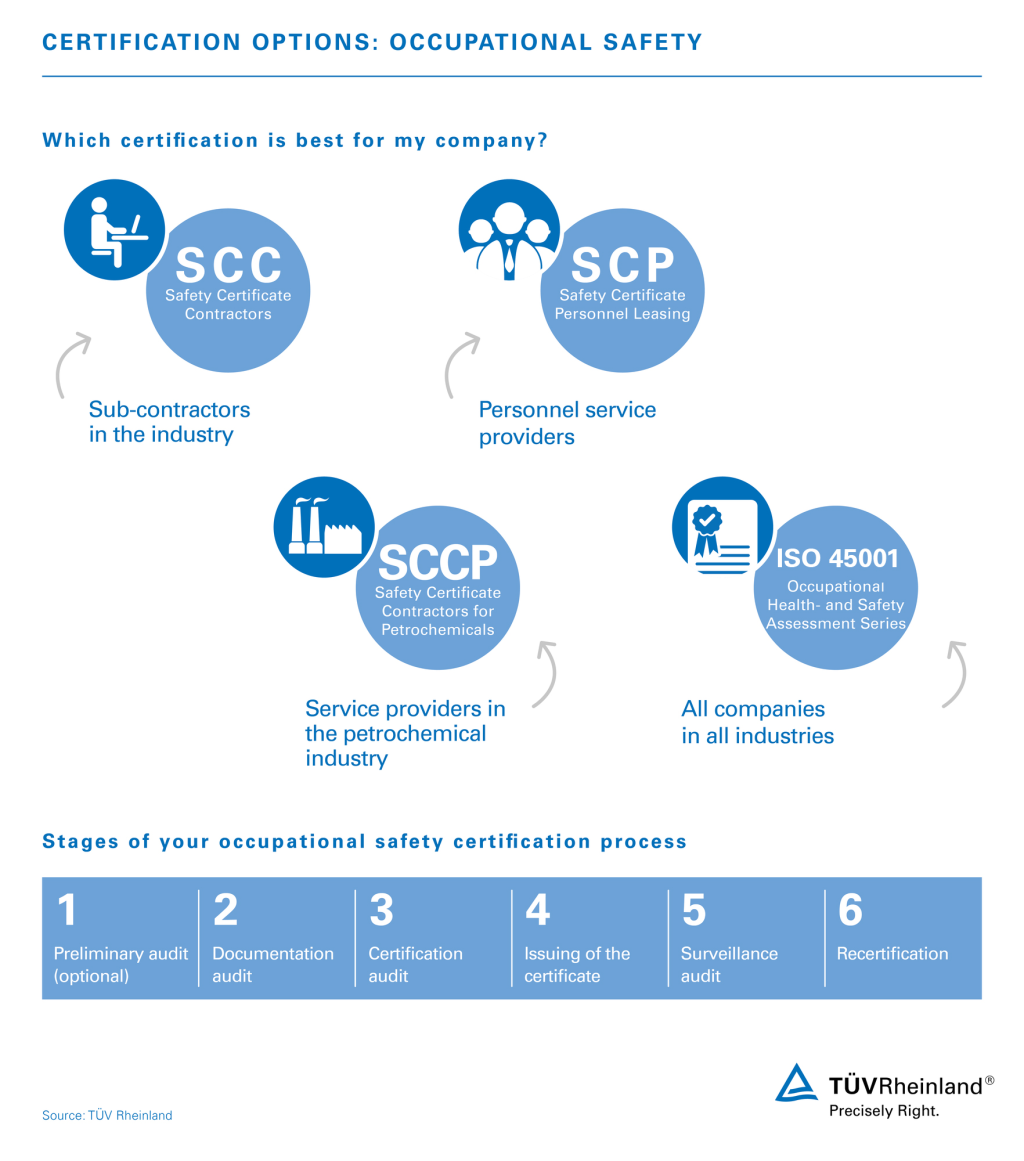 Obtaining your SCC* / SCC** / SCCP / SCP occupational safety certification
The inspection and certification of occupational safety in accordance with SCC* / SCC** / SCCP / SCP ensures that your company has a functioning health and safety protection system in place. The scope of the audit depends on the number of employees. Our experts proceed as follows: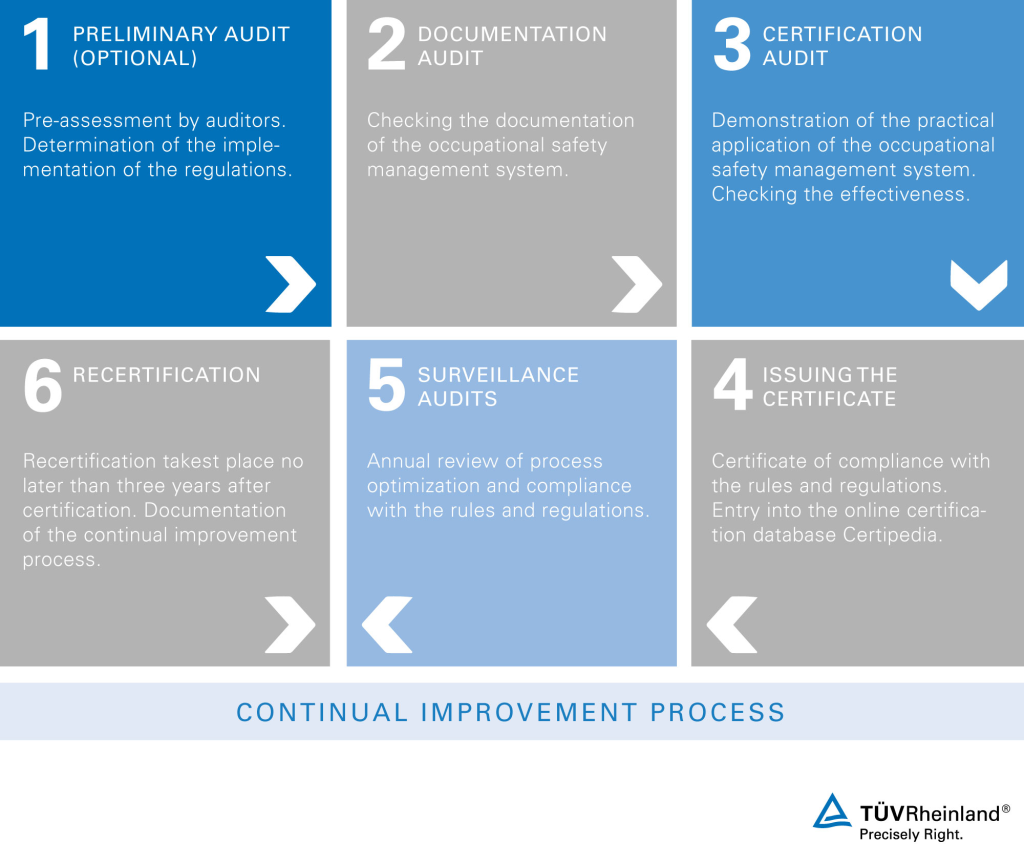 Your reliable partner for your occupational safety certification
Thanks to our skilled experts, we are the right partner when it comes to the neutral and reliable auditing of your occupational safety. As personnel certifiers accredited by the Deutschen Akkreditierungsstelle GmbH (DAkkS) accreditation body we also offer HSE exams. Our globally recognized certification in accordance with SCC*, SCC**, SCCP and SCP documents your high standards in terms of occupational health and safety. A daily update of your certificate can be viewed in our online certification database Certipedia.
Do you have any further questions about our occupational safety certification? Contact our experts now!
Answers to frequently asked questions on occupational safety certification
| | | | |
| --- | --- | --- | --- |
| pdf | FAQ on the SCC* / SCC** / SCCP and SCP certification options | 279 KB | Download |
Interesting downloads
| | | | |
| --- | --- | --- | --- |
| pdf | Occupational safety certification options for companies | 80 KB | Download |
Our Sustainability Initiatives
Nothing less than the future is at stake. Companies, institutions, public authorities and each and every one of us can play a positive role in shaping the path to tomorrow. We provide you with comprehensive support to ensure that you operate safely, sustainably and efficiently for many years to come.
This might also interest you
Last Visited Service Pages