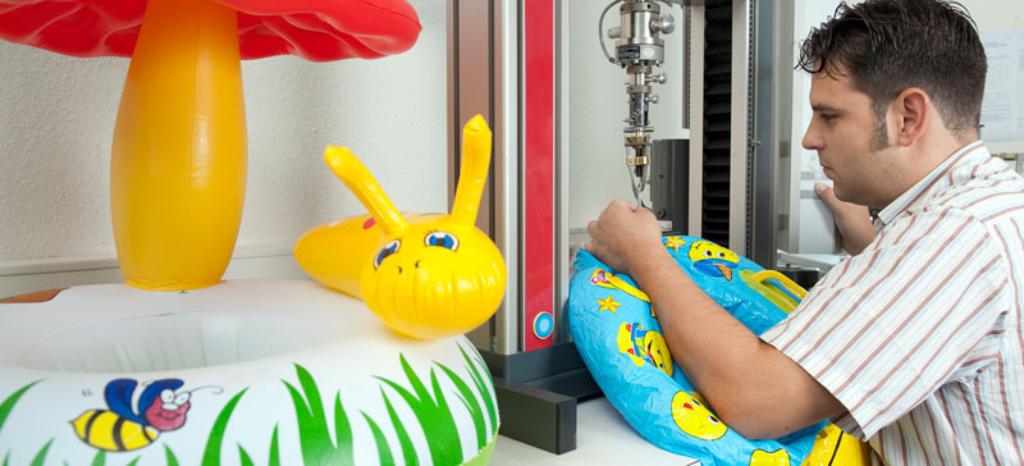 Performance Tests for Plastics
Thermoplastics, elastomeres, thermosets, composite materials, and foams: tomorrow's products are based on innovative plastics and polymers. But are your materials tough enough to withstand stress? We evaluate your products and test for legal compliance - covering everything from flexibility and abrasion resistance tests, impact tests, ozone resistance tests, melting point tests, and scanning electron microscopy analysis.
Benefits at a Glance
Independent products tests by the experts at TÜV Rheinland enable you to:
Gain greater confidence when it comes to product liability
Give customers clear guidance and improve your market position with an independent test mark
Boost customers' confidence in the quality and reliability of your products
Show that your products are certified and meet legal requirements
Chemical and Physical Tests
Thermal analysis
Differential scanning calorimetry, or DSC, to determine melting points, proof of thermosetting, and other thermally induced changes
Thermogravimetric analysis to determine the composition of materials, such as rubber, or to determine filler material concentration, etc
UV exposure
Ozone resistance
Chemical resistance
Infrared spectroscopy (e.g., to identify plastic)
Viscosity measurements, melt index, solvent viscosity
Mechanical tests
Tensile, pressure, and flexural tests
Creep tests
Hardness tests, Shore A and D; IRHD; micro IRHD and ball hardness
Impact tests
Abrasion resistance tests
Tear resistance tests
Long-term behavior tests
Other tests
Microstructural examinations of microtomy sections to optimize processing conditions and improve quality
Light microscopy
Scanning electron microscopy
Special problem-based tests of all kinds
Our Test Standards
Our team tests your products based on the following standards and norms:
Determination of tensile characteristics (DIN EN ISO 527)
Determination of flexural characteristics (DIN EN ISO 178)
Thermogravimetric analysis of polymers (DIN EN ISO 11 358)
DSC, melting and crystallization temperature (ISO 11 357-3)
Our Sustainability Initiatives
Nothing less than the future is at stake. Companies, institutions, public authorities and each and every one of us can play a positive role in shaping the path to tomorrow. We provide you with comprehensive support to ensure that you operate safely, sustainably and efficiently for many years to come.
Last Visited Service Pages