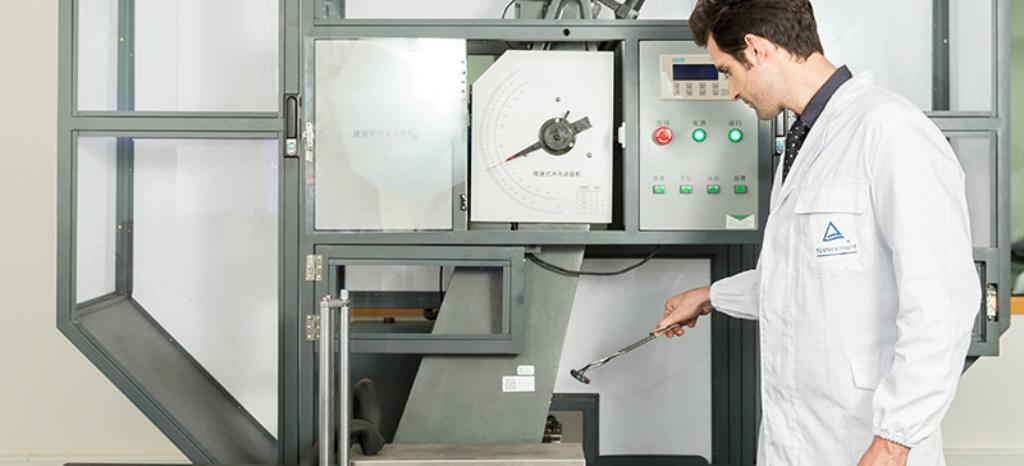 Ensure Product Quality with Charpy Impact Testing
Material fracture and material toughness testing are imperative to ensure the quality of your products.
TÜV Rheinland can accurately machine-measure numerous samples, quickly and effectively, using the Charpy impact test, or the Charpy v-notch test. Accredited by Nadcap and National Accreditation Body, our laboratory personnel are experienced and certified to machine the specimens and also test them.
Benefits at a Glance
With Charpy impact test services from TÜV Rheinland, you can be sure of:
Reliable results verifying that the material meets fracture toughness specifications
Verification that weld procedure meets requirements in accordance with the American Welding Society (AWS), American Society of Mechanical Engineers ASME EN standards and numerous other specifications, and numerous other specifications
Quick test results
Accurate proven process to help qualify weld procedures
A lead against the competition with a neutral audit seal
Reduced risk of company liability with documented safety standards
Showing how high your high-quality standards are
TÜV Rheinland's exclusive, one-stop service
Compliance with local government and legal requirements
Approach
The Charpy test involves striking a suitable test piece with a striker mounted at the end of a pendulum. The test piece is fixed in place at both ends, and the striker impacts the test piece immediately behind a machined notch, causing it to sever.
The specimens (five in total) are machined to a small notched piece and placed into the Charpy tester. Then the arm of the striker is released, and the striker falls in a pendulum arc, striking and recording the amount of energy absorbed during the fracture.
More Information
The Charpy impact test, or the Charpy v-notch test, is a high strain-rate test that determines the amount of energy absorbed by a material during fracture. This absorbed energy is a measure of a given material's fracture toughness. This test is performed on a Charpy impact test machine. The materials tested are usually parent material, weld material, and interface material.
Related Services from TÜV Rheinland
If you're interested in TÜV Rheinland's Charpy impact test services, you may also be interested in these services:
Dynamic tear and drop weight testing
Tensile testing
This might also interest you
Last Visited Service Pages