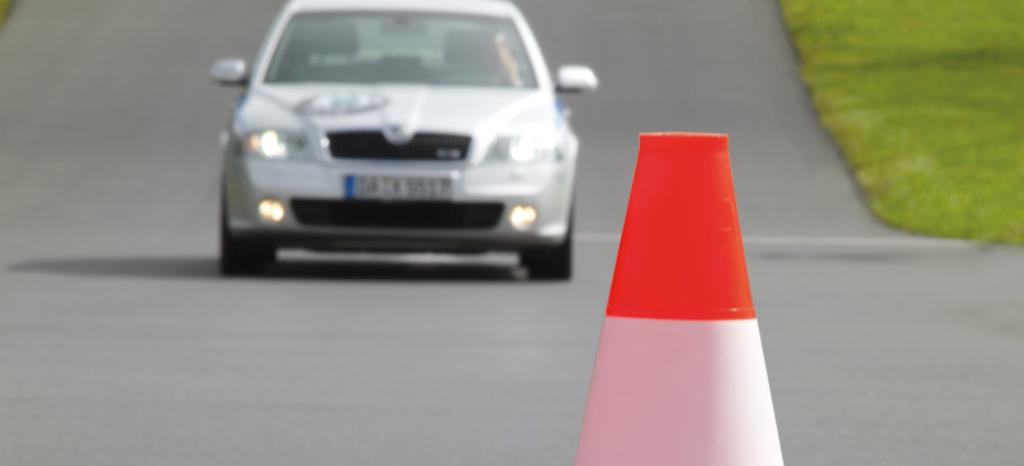 Safety Courses at TÜV Rheinland Driving Safety Centers
Whether you're a frequent driver, only get behind the wheel occasionally, or only just got your driver's license – our driving safety training courses have something for everybody. You can learn how to assess your vehicle's performance and handling accurately. And how to react properly in difficult or dangerous situations. The training is fun and is great practice for real-life situations. Have one of our experienced trainers by your side at all times, providing useful tips and advice on greater traffic safety.
Looking for the perfect present? Why not give the gift of traffic safety with a gift certificate for a driving safety training course from TÜV Rheinland.
Benefits at a Glance
With a driver safety course from TÜV Rheinland, you can:
Learn from experienced trainers how to avoid and handle dangerous situations on the road
Increase your skill, confidence, and enjoyment of driving your vehicle
Choose your training course from a catalog of programs tailored to all ages and levels of experience
Benefit from the expertise of TÜV Rheinland; our training courses come with the quality seal of the German Traffic Safety Council (Deutscher Verkehrssicherheitsrates (DVR)), in Bonn
Driving Safety Training Course for Car Drivers
Under the guidance of experienced trainers, you will practice techniques you can apply in difficult and dangerous traffic situations. Our driving safety training courses are tailored to every kind of motorist. You can choose from a range of courses:
Basic training course
Further training courses for car drivers
Training courses for young drivers
Training courses for women
Training courses for specialized car drivers
Driving Safety Training Course for Motorbike Riders
Our training courses for motorbike riders make you more aware of the dangers present on the road. The driving safety courses help beginners and experienced drivers become one with their bikes. Simple balance exercises increase your confidence and improve your driving skills.
Driving Safety Training Courses for Drivers of Trucks and Other Vehicles
Our driving safety courses teach drivers (private or professional) of trucks, articulated trucks, or other vehicles how to handle critical situations. While you bring your own knowledge and experience to the course, our expert instructors provide their technical knowledge of driving physics. You work together to identify everyday dangers and the right response.
Traffic Awareness for Children
Children are particularly vulnerable to the dangers of road traffic. That's why our traffic courses for children teach your kids all they need to know about traffic safety. As well as raising awareness of traffic dangers, we also provide practical bicycle training courses and balance training, as well as training speed and reactions.
Tips for Beginners
Just got your driver's license? Then you've come to the right place. Sign up for our driver training course for new drivers and we'll help you gather experience with professional instruction. We can teach you your vehicle's limitations, the dangers of certain driving habits, and how factors like loud music or talkative passengers can affect your driving ability.
Professional Drivers' Qualification
Drive trucks or buses professionally? On July 7, 2006, to implement EU Framework Directive 2003/59/EU, the German Bundesrat passed new professional drivers' qualification regulations (Berufskraftfahrerqualifikationsgesetz, BKrFQG), requiring regular additional training for professional drivers. Besides a basic qualification course for all drivers, TÜV Rheinland also provides all legally required further training courses.
Safety Training Courses at TÜV Rheinland Driving Safety Centers
Besides driver safety courses, the TÜV Rheinland Mobility Training Centers also provide training courses based on the latest expertise for companies and at events for the whole family.
You can find us at:
Traffic Safety Center, Cologne/Bonn (Bornheim)
Mobility Training Center, Oranienburg, OT Lehnitz near Berlin
EuroSpeedway Lausitz (Klettwitz)
Upon request, we can provide mobile training courses and in-house events for companies all over the country.
Last Visited Service Pages