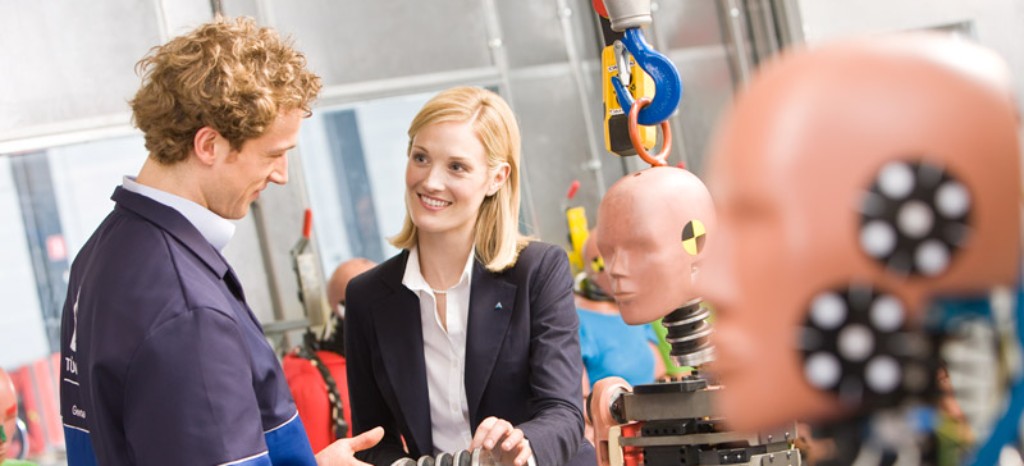 Vehicle Elements – Thoroughly Checked and Ready for Operation
Thoroughly tested vehicle elements are much safer and get the required approval for the road easier too. Our staff can test components for you - from brake assemblies to chassis, steering units, and shock absorbers. Whether it's laboratory or driving tests, strength tests, or environmental simulations - with our surveys and assessments, you are en route to national and international approval.
Benefits at a Glance
With strength tests and environmental simulations from TUV Rheinland:
Your products fulfill all necessary laws and regulations required for approval
You get one-stop shop service for laboratory and driving tests and environmental simulations
You benefit from fast and reliable testing and expert assessments due to our extensive experience and expertise in homologation, and due to our close cooperation with the motor transport authorities
Any questions? Would you like an individual, non-binding offer? Then write to us now. We will respond to your request as quickly as possible.
Services for Homologation of your Products
Our experts can provide comprehensive consulting and testing services. We can do the following:
Establish a homologation strategy together with our manufacturers, importers, and retailers – where necessary, we can also provide support for official producer status
Type testing in accordance with national and European regulations
Checks and road trials
Free economy assessments and partial assessments for applications for general operating permit (Allgemeine Betriebserlaubnis, or ABE) from motor transport authorities (for example, the Kraftfahrt-Bundesamt, or KBA), or for the EC operating approval, EC-BE
Our Inspection Procedure
Load data identification for

Component stress, forces, moments, paths, and acceleration
Endurance tests on poor roadways
Field or fleet testing
Data evaluation and analysis

Visualization of results
Loading condition analysis
Counting, classification, and presentation of frequency distributions
Laboratory experiments

Static strength tests
Leak testing
Dynamic oscillation fatigue tests
Determination of fatigue
Experimental stress analysis
Stiffness measurements
Shaker tests
Temperature testing
Corrosion testing
Full vehicle conditioning
Tests on interior components
Serial tests

Airbag testing at high / low temperature, in the complete vehicle too
Product feature analysis
Error analysis
Some of the Products we Test
Custom
Braking units
Luggage racks
Shock absorbers
Trailer hitches
Chassis
Steering wheel, steering column
Frame
Any questions? Would you like an individual, non-binding offer? Then write to us now. We will respond to your request as quickly as possible.
Last Visited Service Pages