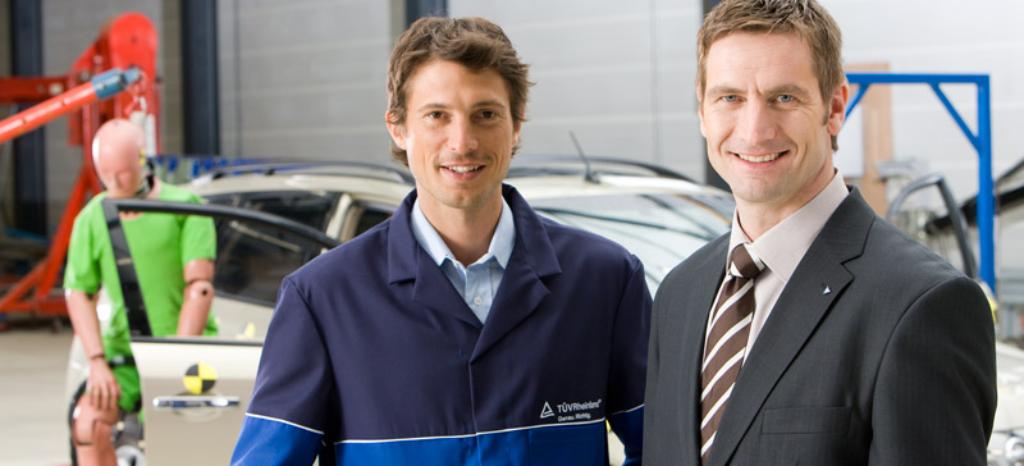 Occupational Health and Safety, Environmental Protection, and Monitoring of Testing Equipment in the Automobile Trade
Any and every auto dealership or auto repair shop needs to abide by a whole set of statutory norms. Be it for occupational health and safety, environmental protection, as well as regular monitoring of testing equipment – these are all normal procedures for the automobile trade. Our employees provide support for fulfilling all current regulations in these fields, from hazard reports to audits of your systems and advice for environmental protection and management. Whatever it is, we will make sure that quality and safety presides in your repair shop.
Benefits at a Glance
With advice and monitoring of testing equipment, occupational health and safety enforcement, and environmental protection by TÜV Rheinland in your business you can:
Fulfill statutory requirement basics in preventing occupational accidents, implementing primary assessments, and maintaining environmental protective directive specifications
Optimize your occupational health and safety
Maintain quality standards and your regulatory operational obligations
Concentrate on your core business using outsourcing
Aim at saving costs with online, paperless administration of technical systems
Benefit from our extensive experience in the auto industry
Our Audit and Advice Service for Your Auto Workshop
Our experts provide the support you need in the fields of occupational health and safety, medical services, testing equipment monitoring, and environmental protection and management. Our range of services in detail:
Occupational Health and Safety
External experts for occupational safety in compliance with accident prevention regulations (Betriebsärzte und Fachkräfte für Arbeitssicherheit (DGUV 2))
Training and induction of employees in occupational safety
Hazard reports
Advice for implementation of statutory directives such as workplace safety regulations (Betriebssicherheitsverordnung (BetrSichV))
Accident prevention regulation audits based on trade association rules
Monitoring of Testing Equipment
Evaluation-based homologation audits of brakes and an evaluation-based audit of headlamp installing equipment for carrying out primary inspection in compliance with road traffic regulations (§ 29 of Straßenverkehrs-Zulassungs-Ordnung
Audit and measurement monitoring of quality management systems
Environmental Protection and Management
Preparing and issuing of permit documents for construction and operation of sewage technical systems
Regular monitoring of light-liquid separators in compliance with the DIN 1999-100 norm and in connection with the DIN EN 858 norm
General inspection of light-liquid separators in compliance with the DIN 1999-100 norm and in connection with the DIN EN 858 norm
Issuing of drainage plans
Removal of sludge collector and light-liquid separator content and cleaning
Sewage technical systems
Environmental protection consulting and certification of car businesses in consideration of manufacturers' auditing criteria
Our Sustainability Initiatives
Nothing less than the future is at stake. Companies, institutions, public authorities and each and every one of us can play a positive role in shaping the path to tomorrow. We provide you with comprehensive support to ensure that you operate safely, sustainably and efficiently for many years to come.
Last Visited Service Pages