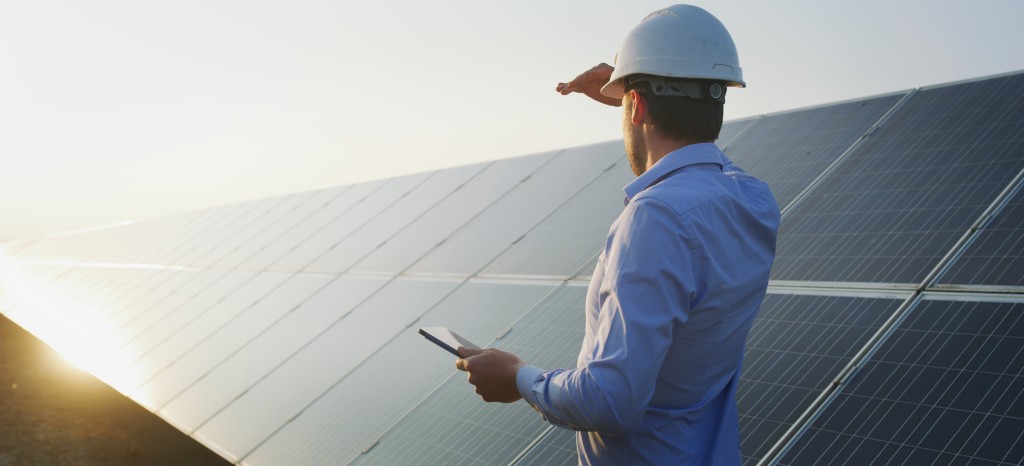 Protection against hazardous reflection with solar glare assessment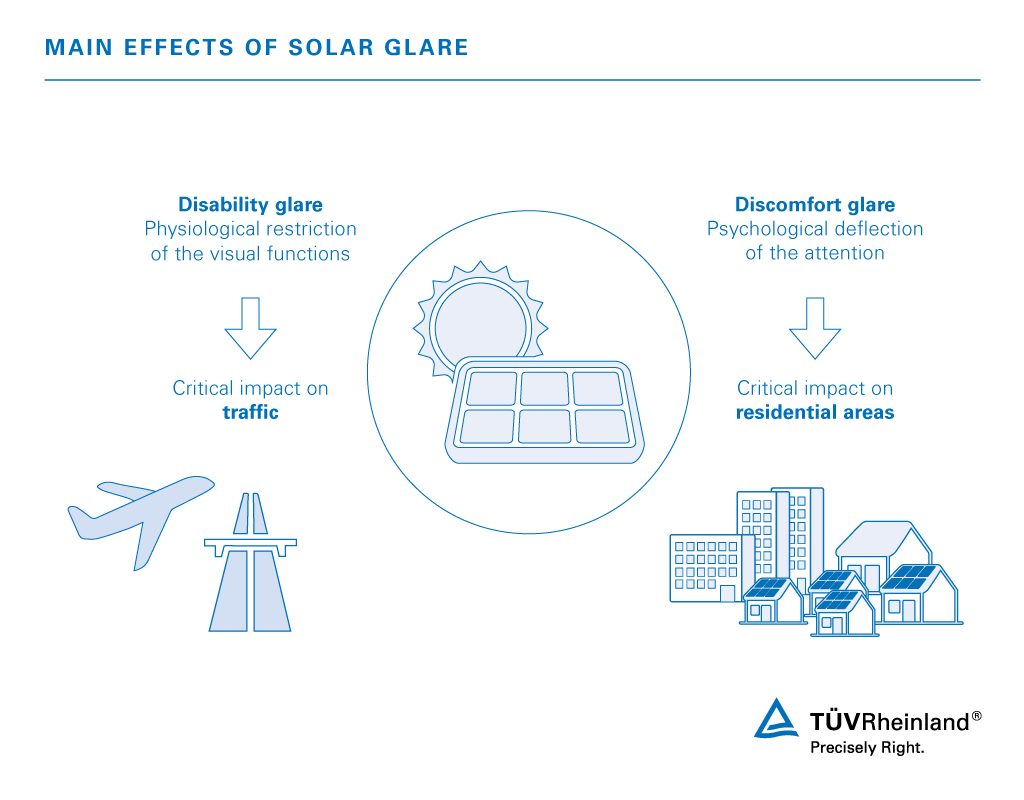 Sunrays reflecting off solar modules can unintentionally cause annoying and even hazardous glare. In particular, the traffic-hazardous glare of active road and air traffic participants must be avoided, but persons in windowed buildings or on residential premises in the neighborhood must also be protected from massively disturbing light immissions caused by sunlight reflections.
The lack of generally applicable guidelines or binding limit values for the evaluation of glare regularly leads to uncertainties regarding the reasonable amount of glare.
For larger plants as well as for plants close to traffic roads or airports, the local building authorities usually require independent glare assessments before the start of construction. However, even for small installations solar glint and glare assessments have proven extremely helpful in preventing sudden flashes of bright light, blocked vision, or temporary blinding of persons and thus in avoid expensive legal proceedings and reconstruction needs.
Each individual case must be investigated and evaluated separately. As the extent of the disturbances depends not only on measurable technical parameters but also on concrete environmental features as well as subjective sensations.
Our glint and glare assessment addresses reflection safety issues early on. We conduct cutting-edge simulation to accurately identify and analyze reflection risks affecting people in the workplace, in both public and private spaces and on roadways and traffic hubs.
Protect profits and community with competent reflection assessment
We provide glint and glare assessment services to help you minimize risks from surface reflections that, in worst case scenarios, can have life-threatening consequences. These services enable you to comply with airline and highway rules as well as emission laws. Our experts offer solid safety solutions that reduce liability and protect profits. We conduct comprehensive solar glare services from a single source to save you time and money.
Our glint and glare analysis for PV modules and systems
Our comprehensive services determine direct reflection parameters using simulations based on the specific sun path, the solar azimuth angle, and individual module orientation. Results are evaluated taking landscape, obstructions, daily and seasonal dazzling periods, and the type of glass covering the module into consideration.
We conduct glint and glare assessments for solar panels to be used in commercial sites that could affect aircraft, train and automobile safety. These assessments may also be used to ensure the comfort and safety of people in public or residential buildings. Our analysis determines glint and glare impact based on geographic location and the design specifications of the PV system. We can simulate numerous design variants to minimize glare risk.
Our specialists provide a final expert report with customized solutions aimed at improving the quality of your products and plants and reducing risk to your business and the communities in which you operate.
Your trusted PV partner for solar glare assessments
Our extraordinary team of experts with extensive experience in the solar industry is ready to serve you anywhere in the world. We use a state-of-the-art simulation tool specially developed to imitate year-round reflection and pinpoint potential glare times. Based on our precise and reliable solar glare assessment, we are able to provide design variations and effective recommendations for minimizing risks affecting your PV modules and systems.
Put our experience to work for you. Contact us now for more information!
Comprehensive service portfolio
Our Sustainability Initiatives
Nothing less than the future is at stake. Companies, institutions, public authorities and each and every one of us can play a positive role in shaping the path to tomorrow. We provide you with comprehensive support to ensure that you operate safely, sustainably and efficiently for many years to come.
This might also interest you
Last Visited Service Pages