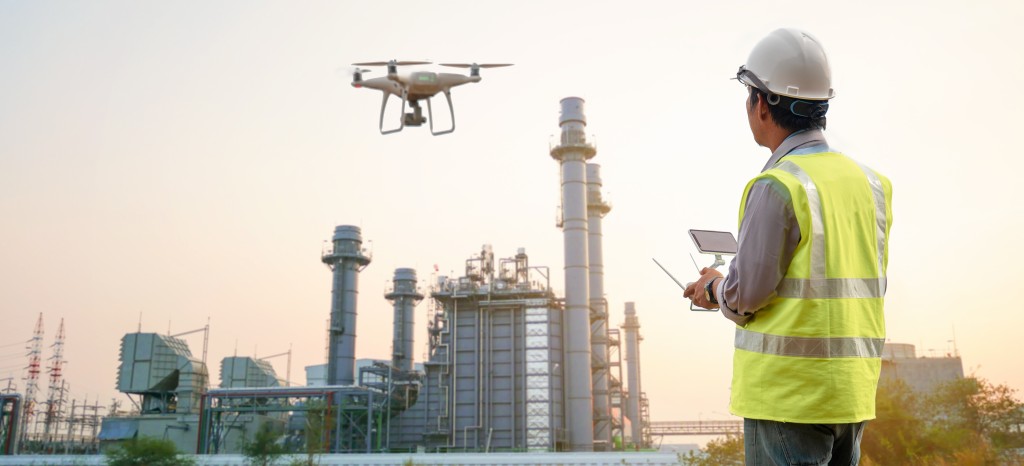 Safe and efficient display, measurement and analysis with our UAV services
Inspection and maintenance services used to evaluate critical infrastructures, such as electricity or telecommunications masts, wind turbines and photovoltaic plants, as well as assess the agricultural, logistic and public safety sectors are very time-consuming and cost-intensive. Specially trained personnel protected by a high level of occupational safety have traditionally been required to ensure appropriate and reliable management of impassable buildings, locations, or large areas in all climate or weather scenarios.
Now, imaging and surveying of critical assets and infrastructures provided by UAV (unmanned aerial vehicles/drones) technology help you master these challenges with minimal personnel and logistical effort. Digital Infrastructure Management (DIM) strategies are used for the professional evaluation and analysis of drone collected data.
Our experts provide you with reliable support in recording and evaluating critical assets and infrastructures using UAV. We determine and coordinate appropriate procedures and actions according to your requirements to provide you optimum results. Data and analyses, including 3D models, thermal images, videos, etc., are securely stored and processed in our DIM platform. Our DIM cloud solution ensures that the recorded information is available to you at any time anywhere in the world.
Call today to learn more about our DIMflight UAV-based digitization services!
High flexibility and efficiency with UAV technology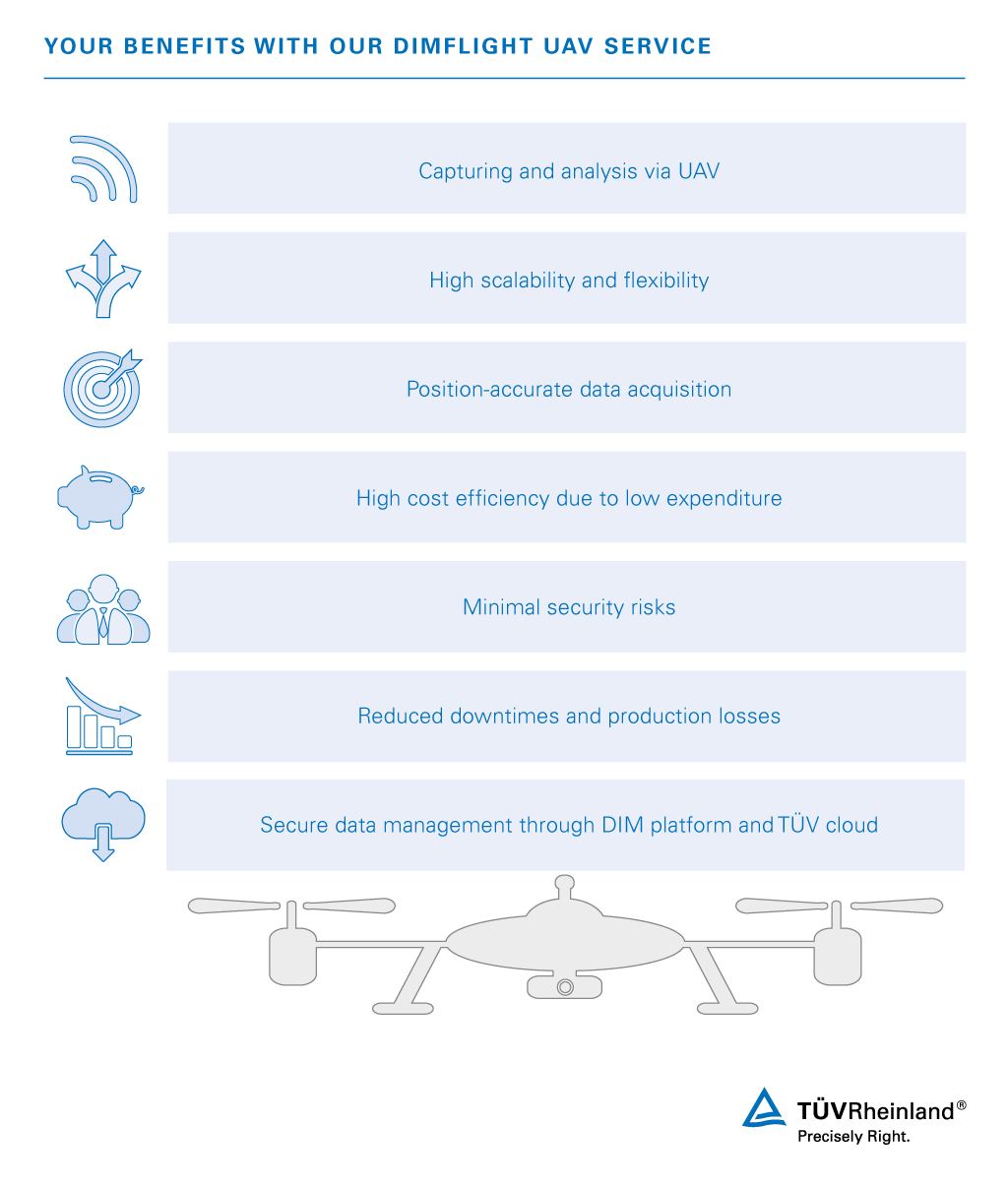 Eliminating the need for expensive lifting platforms, cranes and scaffolding as well as specially trained personnel and regulated safe workplaces, drones can be used according to your individual needs to save you significant time and money. UAV technology allows you to easily access even hard-to-reach areas in the shortest possible time. High scalability and position-accurate data acquisition provide you with reliable results. Our DIMflight services enable you to inspect areas quickly, inexpensively and non-destructively, to reduce your downtimes and associated production losses, or to optimize your interests in the areas of agriculture, logistics and public safety. Benefit from the structured data management in our modern and secure DIM cloud solution. Our digital and interactive DIM platform provides you a holistic information and data pool including evaluation and workflow management.
Our UAV service for your critical assets and infrastructures
We offer you a comprehensive end-2-end UAV service for the scanning and analysis of critical assets and infrastructures. Large areas as well as buildings that are difficult to access can be quickly and accurately recorded. UAV-provided images can be displayed in a 3D model via Drone2Map and are securely stored in the DIM platform.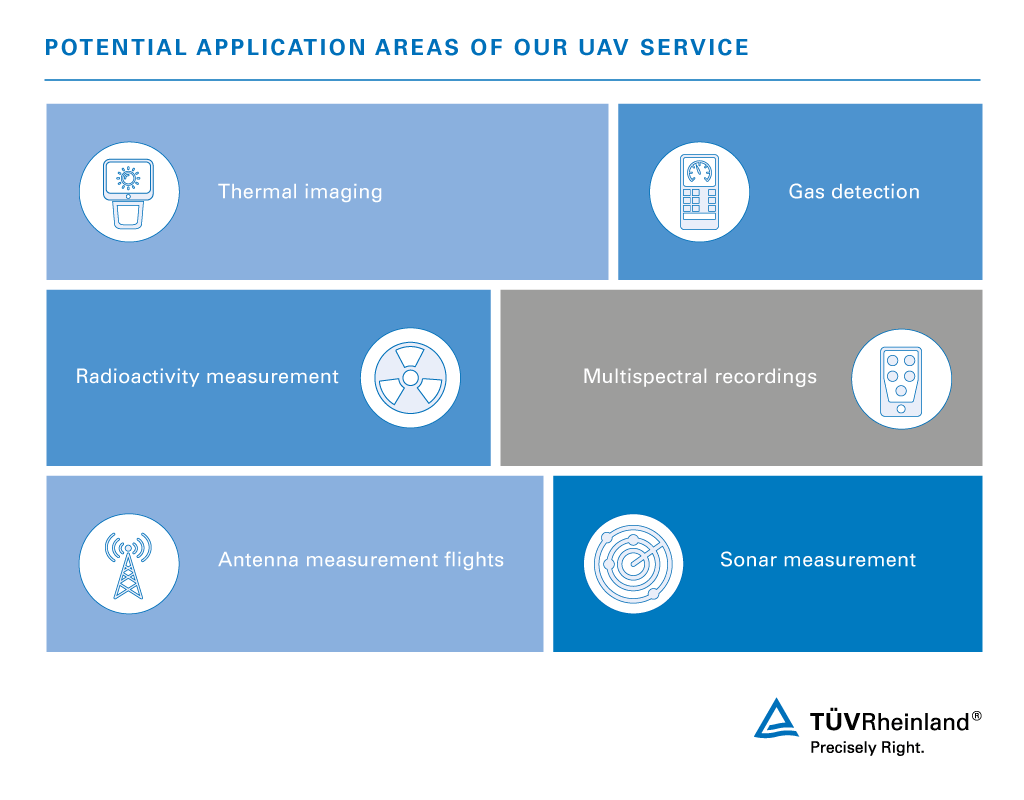 Our UAV service is suitable for the following areas of application:
Thermal imaging
Capture of individual images or videos (no surveys planned)
Dual system: Merging captured temperatures and the shaded RGB image captured by residual light cameras
Requirement evaluation: Recognition of temperature differences on color basis; leakage detection, analysis of cumulative energy balance
Gas detection
Recording and documentation of the determined gas values according to UAV position
Radioactivity measurement
Photography of the Geiger counter attached to the UAV depending on the position of the drone
Application: Inspection of import-export logistic areas, e.g. container harbors, airports, industrial areas
Multispectral recordings
Recording for the acquisition of data with different wavelengths
Application: Agriculture
Requirement Evaluation: Condition comparisons, pest plant / useful plant recognition, volumetric and positioning dosing for pesticide and fertilizer
Antenna test flights
Measurement of radio antenna transmission power and radio wave distribution
Radio field and network planning

Exchange with specialized company advised
Sonar measurement
Locating objects under water using sound impulses

Water corpses, missing persons search, object identification
Our modern and secure DIM platform provides you the possibility to optimally visualize, structure and evaluate your data. Our DIM cloud solution simultaneously offers you flexible worldwide access to your data.
Our UAV services overview
Requirements management
Coordination of your requirements
Selection of measurement methods
HW- & SW-Payload
UAV Service Planning
Preliminary planning
Obtaining permits
Site survey implementation
Detailed planning
UAV service execution
UAV flight preparation
UAV flight execution
Data capture
Data Management (DIM Platform) & Hand Over
Your reliable partner for handling your critical infrastructures and assets
We support you with professional inspection and maintenance of your infrastructures and assets. Drawing upon many years of experience, our experts implement state-of-the-art technology as well as tried and tested methods tailored to your requirements. Our interactive DIM platform enables optimal individual visualization and management of your data. We obtain the appropriate flight permits from the responsible authorities, providing you comprehensive UAV services from a single source.
Contact our experts to learn more about our UAV services now!
Our Sustainability Initiatives
Nothing less than the future is at stake. Companies, institutions, public authorities and each and every one of us can play a positive role in shaping the path to tomorrow. We provide you with comprehensive support to ensure that you operate safely, sustainably and efficiently for many years to come.
This might also interest you
Last Visited Service Pages