Ensure high quality results from automatic measuring systems with our tests and calibrations
Industrial plants that require approval, and some that do not, generate pollutant emissions. In order to avoid an excessive strain on the environment, it is necessary to monitor the emissions that are generated. This monitoring is performed with the help of automatic measuring systems (AMS).
In order to prevent incorrect measurements and ensure the quality of the measuring results, it is essential to check the emission measuring systems at regular intervals. As a notified body in accordance with §29b BImSchG we assist you with the necessary testing services. Once a year, a surveillance test is performed to determine whether the measuring system is working (Annual Surveillance Test, AST). Every three years, we also perform a calibration according to quality assurance level 2 (QAL2).
Our experts have many years of experience in the field of emission measuring systems. Benefit from our extensive knowledge and the high quality of measurements, tests and expert reports.
Are you interested in function testing and calibration for AMS? Then contact one of our experts now!
Measure emissions from your system reliably with AST and QAL2
Benefit from our extensive expertise in the field of function testing and calibration for automatic measuring systems. With us as a notified measuring body you will be able to comply with legal requirements regarding the regular inspection of your automatic measuring systems.
You will also be contributing actively towards sustainable environmental protection – through continuous monitoring of the emissions from your systems.
Our testing services for your automatic measuring systems
Your automatic measuring systems will be put into service once an installation certificate has been issued. This includes:
Conformity check
Testing of the installation site
Testing of the installation
Testing of the comparison measuring point
Function check for the AMS
Document check
Afterwards, regular inspections must be performed to ensure that emissions are measured reliably. As a notified body according to §29b BImSchG we inspect emission measuring systems at defined intervals in line with the requirements specified in DIN EN 14181.

The annual surveillance test (AST) includes the following tests:
Visual test
Leakage test
Adjustment time
Checking of the zero and reference point
Linearity
Cross-sensitivities
Zero and reference point drift
Document check
Five comparison measurements by means of reference measuring procedure

Calibration is performed every three years and includes in addition:
Fifteen comparison measurements
Creation of a calibration curve
Definition of the necessary parameters
If there are major changes to the operating conditions of your system or the AMS, calibration must be repeated within six months.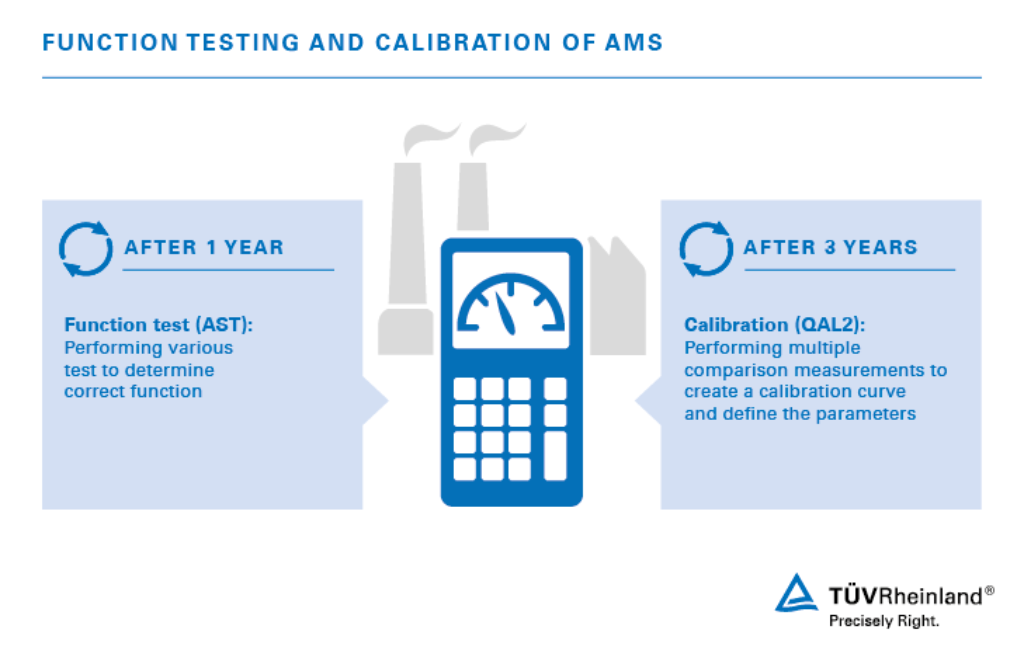 25 years' experience of function testing and calibrating your AMS
Rely on us as a competent partner by your side. We have more than 25 years of experience in the field of testing and calibrating measuring systems, and of approval measurements in Germany and abroad. As a notified body as per §29b BImSchG we are recognized by public bodies throughout Germany as technical consultants. In addition, we are accredited as per DIN EN ISO/IEC 17025:2005 in the fields of emission and immission measurements and in testing measuring systems for suitability as measuring points.
Do you have further questions? Our experts are happy to help.
Our Sustainability Initiatives
Nothing less than the future is at stake. Companies, institutions, public authorities and each and every one of us can play a positive role in shaping the path to tomorrow. We provide you with comprehensive support to ensure that you operate safely, sustainably and efficiently for many years to come.
This might also interest you
Last Visited Service Pages