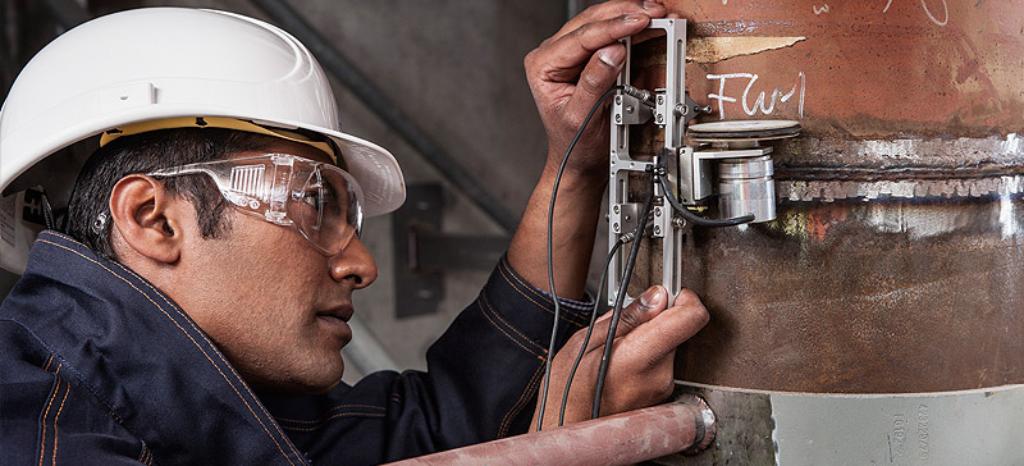 Ensure the Quality and Strength of Your Welds
TÜV Rheinland has highly qualified inspectors who can perform non-destructive testing (NDT) of welds – either in house or at field locations – to assure the safety and integrity of your welds.
Our inspectors are certified in accordance with the American Society for Non-destructive Testing (ASNT), ISO and EN (European Norms). They also have external accreditations from the National Aerospace and Defense Contractors Accreditation Program (Nadcap), the American Laboratory for Laboratory Accreditation (A2LA), and the American Welding Society (AWS). All to ensure that the applicable standards are being met by inspecting the surface and the subsurface of your welds.
In addition to weld testing using all conventional NDT methods, we offer high temperature pre-service weld testing using time of flight diffraction (TOFD) in order to detect flaws in partially filled welds. This enables early failure detection allowing necessary repairs to be done during the welding process.
Our experts can assess the degradation process in existing welds whenever required in order to avoid serious structural integrity problems such as weld root erosion. Weld root erosion is commonly known and practically unavoidable in pipe-works. However, when detected early, remedial action can be taken.
Benefits of our Non-Destructive Weld Testing Services at a Glance
With non-destructive weld testing from TÜV Rheinland, you can be sure of:
Compliance with local government and legal requirements.
Conforming to standards and specifications.
Quality control and high-quality standards.
Fast in-process inspection at field locations.
Finding and repairing flaws quickly on site before shipment.
Thorough, preparation and planning of the inspection procedure.
Digitized inspection records for future reference and verification.
Reduced risk of company liability with documented safety standards.
Accurate detection of weld root erosion in existing welds.
TÜV Rheinland's exclusive, one-stop service.
Please contact us at TÜV Rheinland to learn more about how our non-destructive weld testing services can benefit your company.
Our Non-Destructive Weld Testing Services
A welded structure is only suitable for a certain application when operational conditions are taken into account during design and fabrication. Inspections and testing can provide assurance that applicable standards are being met. Our weld testing is performed in accordance with the latest standards of the European Norm (EN), the American Welding Society (AWS), the American Petroleum Institute (API), the American Society of Mechanical Engineers (ASME) , and the military and aerospace industry, along with many other applicable standards.
NDT experts at TÜV Rheinland provide the following specialized weld testing services required to assure conformance and safety of welds:
In addition to the non-destructive testing of welds, we provide a number of destructive tests to examine the mechanical, chemical, and metallurgical properties of a weld by breaking, deforming, or chemically processing test specimens removed from the welded joint. These tests include: strength testing, load testing, bend testing, macro testing, tensile testing and impact testing.
Non-Destructive Testing of Partially Filled Welds
Having spent several years developing methods to carry out the inspection of partially filled welds during the construction process at the preheat temperature, we can now offer specific competences in the field of inspection under high temperature conditions. Our inspection services enable you to make informed decisions regarding necessary repairs and maintenance and assure you that the remaining weld fill can be completed while minimizing risk of expensive repair later.
Our inspection procedure is thoroughly planned and prepared with the highest level of respect for your health, safety and environment (HSE) rules.
Non-Destructive Testing of Weld Roots
We provide accurate detection of weld root erosion with a specialized technique based on time of flight diffraction (TOFD) in combination with our in-house developed ScanPlan® system. Our procedure provides you with an assurance of certainty and enables you to detect flaws early enough to take timely remedial action.
Our technique has demonstrated the proof of coverage, repeatability and accuracy required. In addition, inspection data can be easily exported to other maintenance software packages.
More Information about Non-Destructive Weld Testing
Non-destructive testing (NDT) of welds can be performed in-house or at field locations and may involve various NDT inspection services. Tests are determined by weld configuration and accessibility. By performing these inspections, we can assess welder performance according to welding procedure.
We also provide consulting and training in weld testing, allowing companies to achieve their goals in meeting industry standards for qualifications of welders and welding procedures for most materials:
Procedure qualification record
Additional Welding Technology Services
Our experts support you with comprehensive engineering services that cover the full range of welding activities:
Welding engineers on staff for consulting
Technical training and seminars
Witnessing
Failure analysis
Fatigue testing
Find out more about our welding technology services.
NDT Consultancy and Level III Services
Keeping in mind that the advantages of any particular inspection method can only be realized after having considered all important and relevant aspects, our NDT consultancy service ensures you the most appropriate solution. We help you select the method and application that fits best to your specific situation and project.
In addition, our Level III team can support you with ultrasonic procedure validation, ultrasonic technique modelling, dispute arbitration, preparing and managing written practices and expert analysis. We aim to achieve customer satisfaction by offering quality service.
Our Services for Non-Destructive Weld Testing
This might also interest you
Last Visited Service Pages