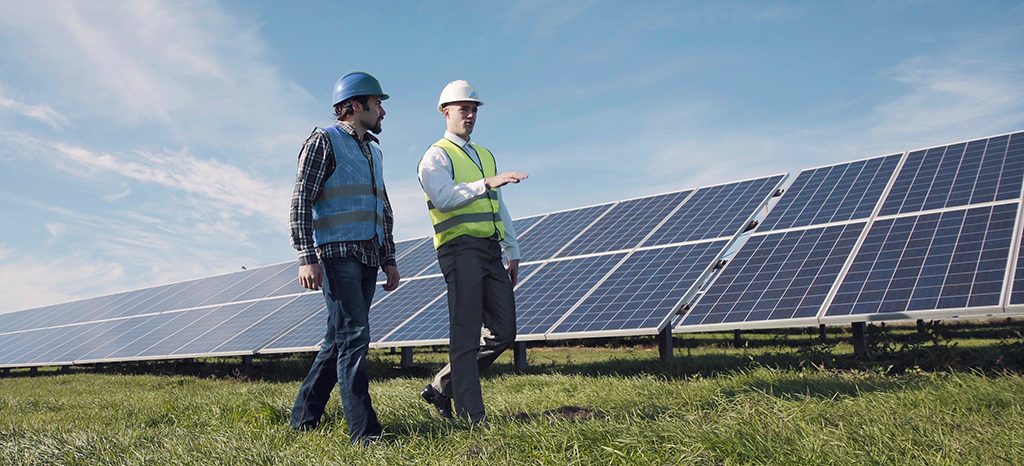 O&M contractor certification
Solid operation and management (O&M) staff, strategies and practices are essential to photovoltaic (PV) power plant reliability, performance and profitability. Solar Power Plant owners and investors depend on qualified contractors to provide qualified O&M services to keep plants up and running.
We certify O&M contractor companies to ensure the highest level of competence and award recognized credentials distinguishing quality O&M providers for the solar industry. Our experts conduct certification evaluations in 7 industry indexes, covering 30 main criteria and over 100 sub-criteria for comprehensive assessments according to international standards.
Reputable contractors providing O&M services for PV power plants are trained and certified to help maximize uptime and extend plant lifetime. Solar stakeholders seek qualified O&M contractors with certified competence to provide optimal technical services of their power plants.
Demonstrate your competence as an independent O&M service provider with certification setting you apart from competitors!
Increase confidence in your brand with contractor certification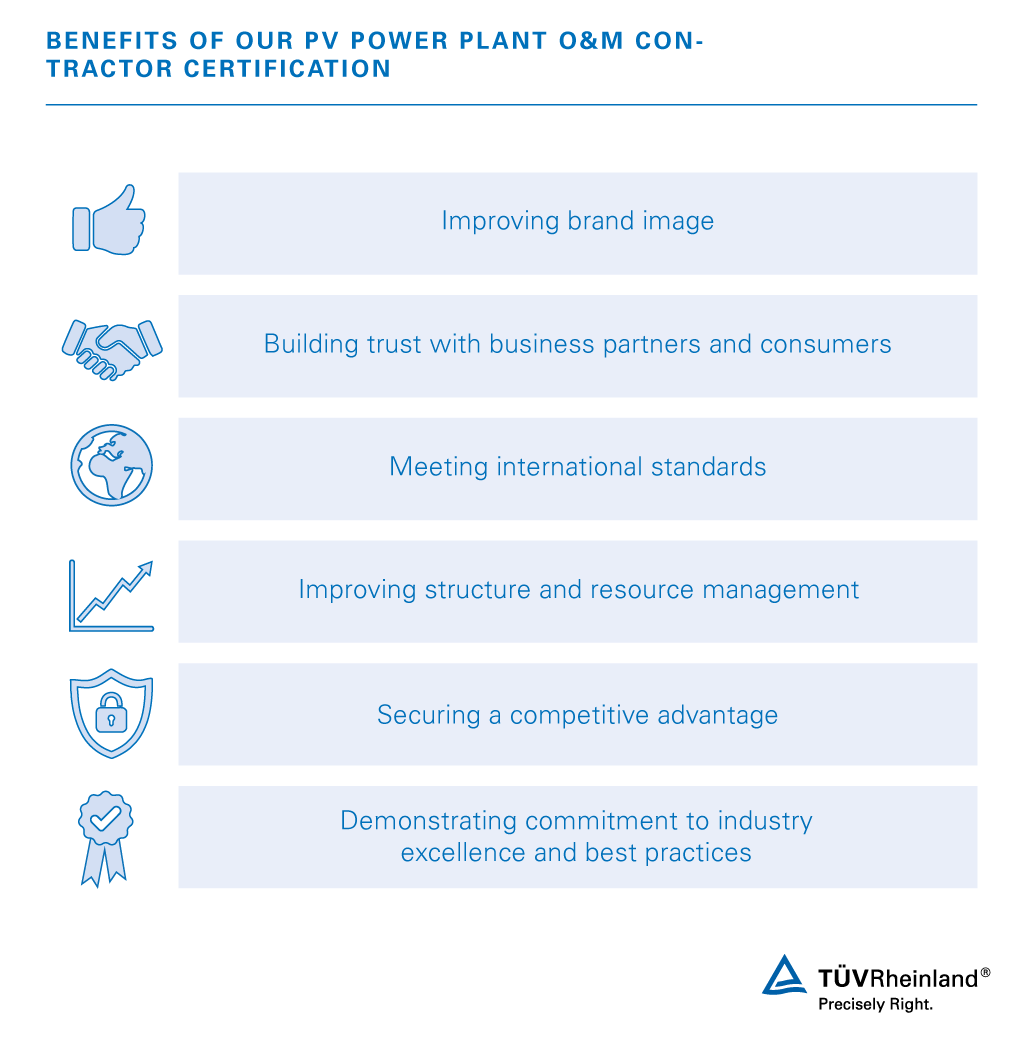 Certification highlights your commitment to excellence and industry best practice to both enhance your brand image and build trust with business partners and consumers. Meeting international requirement standards for specific O&M competences ensures better structural and resource management, technical assurance, effectiveness, and contractual conformity. Distinguish yourself as a quality O&M service provider with independent certification recognized throughout the photovoltaic industry!
Our certification services for PV power plant O&M contractors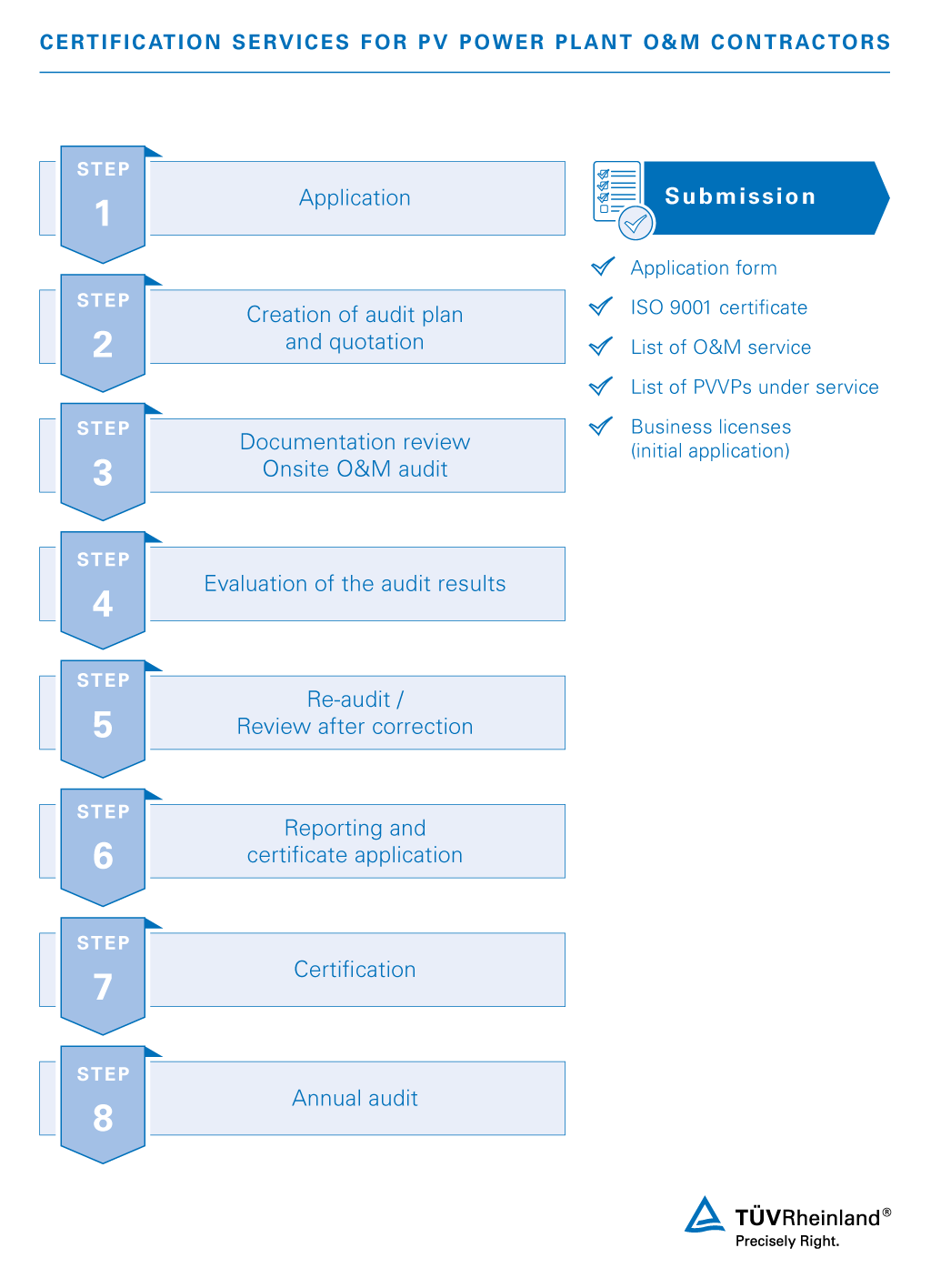 We provide O&M contractors with comprehensive certification services in 7 industry indexes, covering 30 main criteria and over 100 sub-criteria according to global standards. Certificates are valid for 3 years.
After receiving your application package consisting of a general form, your ISO 9001 certificate and business license, as well as listings of your O&M service(s) and information about at least 2 PV power plants currently under your service, our specialists will create a tailored audit plan and issue you a formal quote.
Documentation will be reviewed followed by an on-site O&M audit. Results of that audit are then evaluated and, if needed, corrective actions are determined. A re-audit is conducted to verify that corrections have been made. Our experts will generate complete and precise reporting for your certification. After you are certified, annual audits are required to maintain your certification status.
Your experienced partner for O&M contractor certification
We provide you with years of expertise working in the field of O&M services for PV power plants. We developed our first technical specification for certification of these services in 2014, two years before the IEC O&M standard of 2016. In order to adapt to industry best practice guidelines and subsequent international standard requirements, our specification was updated in 2018 to further ensure sound development in the PV industry. We are your trusted partner with a global reach, able to serve you at anytime, anywhere in the world.
Put our experience to work for you and achieve certified status to support your presence as a qualified PV power plant O&M provider!
Our Sustainability Initiatives
Nothing less than the future is at stake. Companies, institutions, public authorities and each and every one of us can play a positive role in shaping the path to tomorrow. We provide you with comprehensive support to ensure that you operate safely, sustainably and efficiently for many years to come.
This might also interest you
Last Visited Service Pages