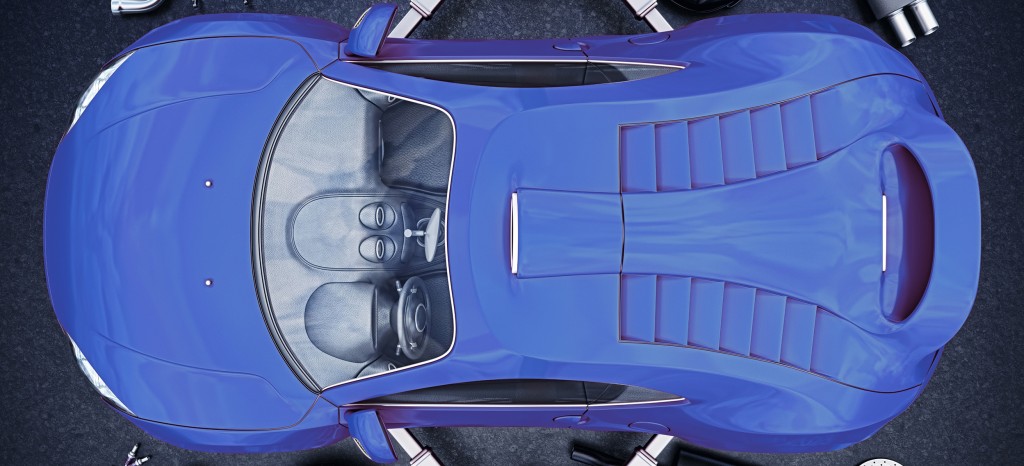 Test marks and test reports confirm product characteristics and quality
Type testing results and the subsequent approvals confirm that whole vehicles, assemblies, systems and components comply with legal regulations in specific markets. Often vehicle manufacturers, suppliers and importers also ask for proof of additional product characteristics. But how do you objectively document characteristics such as safety, efficiency, quality, environmental compatibility and compliance towards customers and business partners?
As a leading supplier of automotive testing services, we possess a global network of specialized test labs and facilities – which means you can benefit from our perfected processes and experience when exploring new markets. We conduct the necessary testing for you at our facilities and certify compliance with legal regulations, in-house standards, industry standards or OEM-specific standards. As a result, you receive detailed test reports and in certain cases, approvals with official and recognized test marks.
Contact us to learn more about our wide range of test and certification options. Use our good reputation as a neutral testing organization for your market success.
Contact us: our testing and certification specialists are happy to help.
Specialist institutes and test labs for vehicle and component testing around the world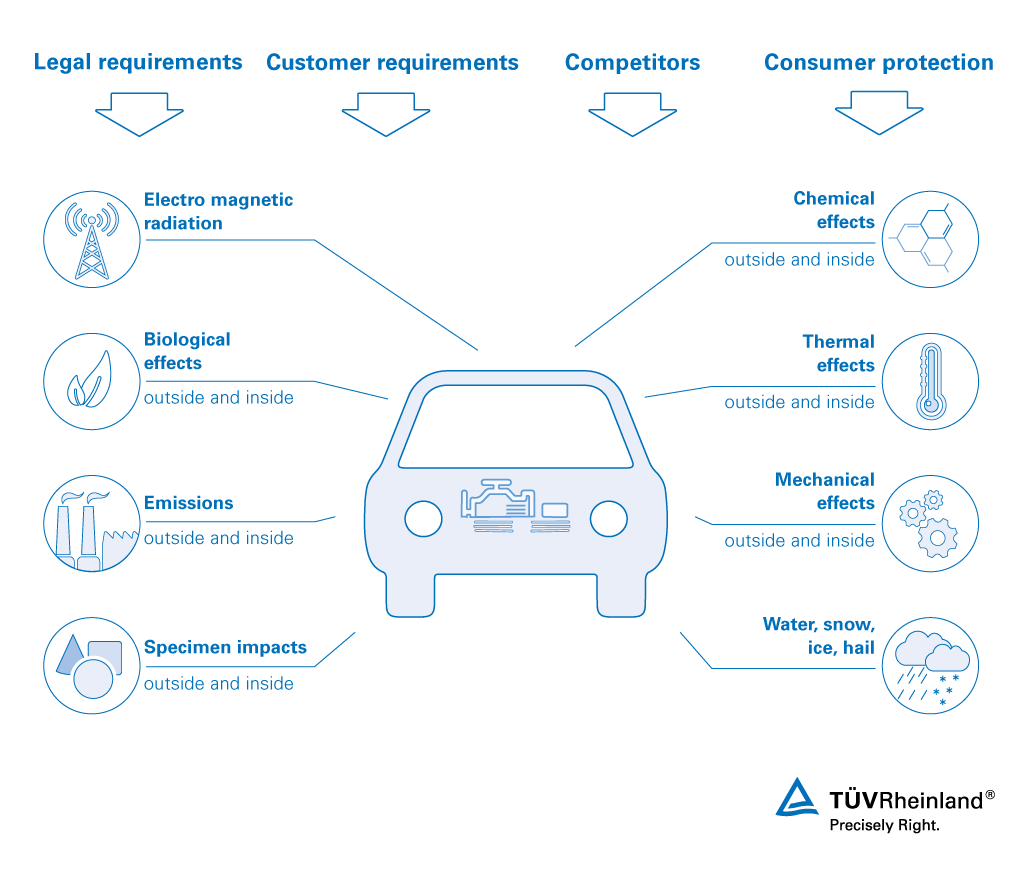 Test reports and test marks of TÜV Rheinland create trust among your business partners. Often you need this neutral certification to access new customers and markets. In addition, provable product quality and reliability have a positive impact on the reputation of your business or brand.
Carmakers with valuable brands benefit from our independence and objectivity. We are a leading global provider of comprehensive solutions for market access, vehicle testing and type approval. Our global network of test facilities allows suppliers to have important testing performed locally and then sell products globally. Importers demonstrate consistently high product quality through our documented test results or subsequently issued approvals.
Test marks and test reports confirm unique selling points
Our test procedures focus on physical effects on vehicles, systems and components. Neutral test marks and test reports allow you to demonstrate their specific qualities, highlight their unique selling points and increase sales.
Our qualified laboratories support you by a variety of tests, such as:
Lighting technology testing
Wheel and tire testing
Strength/material tests at vehicle and component levels
Simulation of environmental effects
Battery testing
Testing of electrical/electronic components
Testing of drive and vehicle components
Testing of interior and exterior equipment components
Testing of glazing materials
Testing of exhaust systems
Testing of seats and belt anchorages
Testing of fuel tanks
Testing of burning behavior of interior materials
In any case, our test procedures can go beyond legal requirements or deviate from them but are always based on precisely defined testing requirements.
Reliable partner for testing and test marks
Everyone involved in the worldwide automotive business needs neutral test reports to prove that products meet in-house standards or customer requirements.
We are a partner who will accompany you from development to market approval, whether in Germany, Europe or overseas. As a comprehensive provider we test and inspect the safety, usability and quality of vehicles, systems and components on your behalf.
Your TÜV Rheinland test mark can also be added to our certificate database. You will receive a personal Certipedia page that lists your test marks and can be accessed by the public as a neutral confirmation of product quality. In short: we help our customer launch automotive products on the market. You too can benefit from the expertise of a leader in the field.
Contact us and learn more about our tests and test marks!
Additional information
Our worldwide test labs and their specialized areas:
Helmond (NL), in cooperation with TASS International: passive safety, pedestrian protection, body structure, interior
Milan (I): wheels, EMC, environment simulation
Budapest (H): KTI, vehicle systems and components
Berlin (D): lighting systems, fuel tank testing
Cologne (D): passive safety, vehicle systems, body structure, vehicle systems and components, environmental simulation, helmets, interior material
Lambsheim (D): emissions, wheels
Guangzhou (CN): vehicle components, helmets, EMC
Shanghai (CN): vehicle components, on-board electrics and electronics, EMC, interior material, chemical analysis
Jakarta (ID): wheels and tires
Osaka (JP): traction batteries, CNG/LPG
Yokohama (JP): vehicle components
Kuala Lumpur (MAL): wheels, interior and exterior trims
Bangkok (TH): interior and exterior trims, chemical analysis
Arnheim (NL): vehicle glazing
Nuremberg (D): EMC testing
Lund (SE): Wireless
Fremont (US): EMC, Wireless
Pleasanton (US): EMC
Leek (NL): EMC testing
Our Sustainability Initiatives
Nothing less than the future is at stake. Companies, institutions, public authorities and each and every one of us can play a positive role in shaping the path to tomorrow. We provide you with comprehensive support to ensure that you operate safely, sustainably and efficiently for many years to come.
This might also interest you
Last Visited Service Pages