Compatible and secure with our wireless device testing
As Wi-Fi becomes the preferred mode of connectivity, both private and corporate consumers are choosing certified wireless products with more confidence. Wi-Fi certification according to the Wi-Fi Alliance testing standards is an internationally recognized seal of approval. Manufacturers of wireless devices sold in global markets rely on certification to demonstrate products have met industry standards for interoperability, security and application-specific protocols.
As an accredited Wi-Fi testing facility, we provide pre and official certification services compliant to Wi-Fi Alliance testing requirements for wireless devices using technology based on the IEE 802.11 specification. In addition, our experienced Wi-Fi engineers can guide you in developing application-specific device (ASD) test plans and conduct comprehensive ASD certification testing.
We provide independent, third-party testing to ensure demanding consumers quality products able to interact with other certified devices. Our experts can help you achieve Wi-Fi certification for all of your wireless products to ensure compliance, interoperability and increased consumer satisfaction.
Boost confidence in your wireless products with accredited Wi-Fi testing and certification! Speak with an expert today!
Gain an edge over the competition with Wi-Fi testing and certification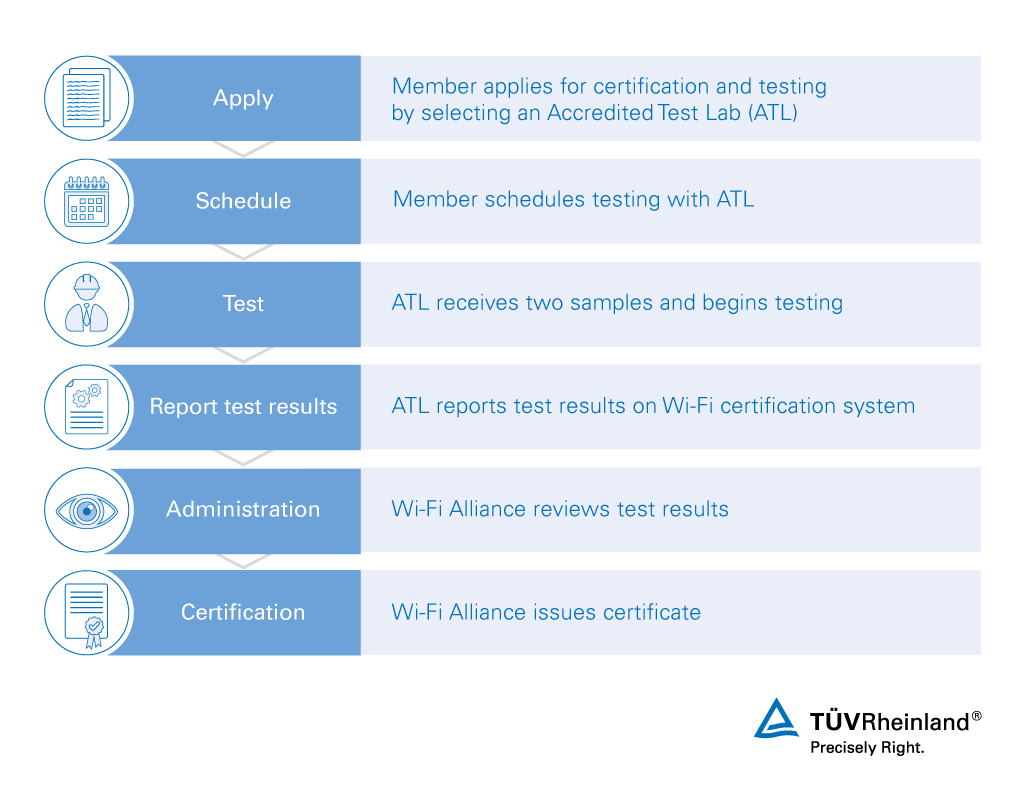 Rely on expert Wi-Fi testing services according to Wi-Fi Alliance standards to gain a lead against the competition with a neutral audit seal. Take advantage of our extensive experience and fast audit times to ensure a speedy and successful market entry. Make sure your products are able to interact smoothly with others within the network to improve the user experience and strengthen your brand. Use our comprehensive Wi-Fi testing services to achieve certification, benefit from lower return refunds, reduced support costs, higher customer satisfaction and increased sales volumes.
Our wireless device testing and certification services
Wi-Fi testing and certification leads to an internationally recognized "Wi-Fi Certified™" seal of approval. A Wi-Fi certification verifies that a product was tested in different configurations with a diverse sample of other devices.
After selecting TÜV Rheinland as an Accredited Test Lab (ATL) on the Wi-Fi Alliance website, manufacturers can determine a preferred testing location and submit our completed Wi-Fi questionnaire to retain our services. To obtain a Certification Identification Number (CID), documentation along with the application must be submitted to the Wi-Fi Alliance. Products are then assessed and tested according to the Wi-Fi Alliance test plan. Once a product test approval has been issued and testing has been successfully concluded, a report is generated for the Wi-Fi Alliance to review.
We provide accredited Wi-Fi testing services compliant with Wi-Fi Alliance test requirements. Our experienced engineers ensure the interoperability, security and compliance to industry standards with official Wi-Fi certifications for the following plans:
Baseline testing
Wi-Fi 802.11 a (WPA2)
Wi-Fi 802.11 b (WPA2)
Wi-Fi 802.11 g (WPA2)
Wi-Fi 802.11 h + d (WPA2)
Wi-Fi 802.11 n (WPA2)
Wi-Fi 802.11 ac (WPA2)
Baseline & ASD test by WTE
Baseline & ASD test by Sigma
Optional testing
Wi-Fi Direct
WMM (Wi-Fi Multimedia)
WMM Power Save
WMM by WTE
WPS (PIN, PBC, NFC)
Voice Personal
Extended EAP
Programs offered by TÜV Rheinland
Wi-Fi CERTIFIED n, including WPA2™ and WMM®
Wi-Fi CERTIFIED ac
Wi-Fi CERTIFIED 6®, including 6E
WI-Fi CERTIFIED 7® (in development)
WPA3™
Protected Management Frames
Wi-Fi Location™
Miracast®
Wi-Fi Aware™
Wi-Fi Agile Multiband™
Wi-Fi Optimized Connectivity™
Wi-Fi Easy Connect™
Wi-Fi EasyMesh™
WMM-Admission Control and Voice-Enterprise
WiGig™ and Wi-Fi HaLow™
Our Wi-Fi testing and certification is available for the following products:
Personal Computers (PC)
Notebooks & Laptops
Phones
Cameras
Networks
Medical devices
The certification can be granted only to members of the Wi-Fi Alliance. The Wi-Fi Alliance is an open, non-profit organization consisting of 600 members made up of developers, vendors and manufacturers of wireless device-to-device communication from around the world.
Accredited testing facilities and global network for your Wi-Fi certification
Our testing and certification services are compliant with Wi-Fi Alliance testing standards to demonstrate the ability of your wireless device to operate with other certified devices within a network or system using Wi-Fi technology. As an accredited Wi-Fi testing provider, we conduct independent pre and official certification testing to ensure your products are certified to successfully enter and compete in global markets. Our experienced engineers and global network of experts are available around the clock, any day of the week to assist you with your individual Wi-Fi certification needs. We have a global reach with multiple Wi-Fi accredited facilities worldwide.
If you have any questions concerning Wi-Fi, please do not hesitate in contacting us.
Learn more about our Wi-Fi testing and certification services
| | | | |
| --- | --- | --- | --- |
| pdf | Product sheet - Wi-Fi product certification | 574 KB | Download |
This might also interest you
Last Visited Service Pages