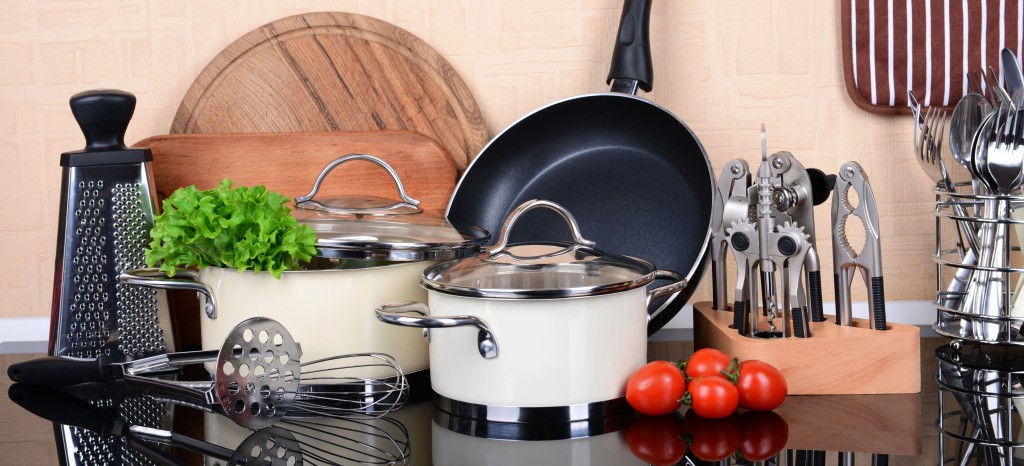 Ensure high quality standards through our inspection of your household goods
Whether cooking pots, bread tins or cutlery - consumers are increasingly placing great value on the safety and high quality of household goods. Health safety plays an especially important role in customer decisions when selecting goods that come into contact with foodstuffs. Companies can prove product quality and safety with the appropriate testing and distinguish their brand with a globally recognized test mark.
Our experts test your household goods according to criteria such as mechanical safety, usage properties, workmanship, harmlessness to health and hygienic aspects. In addition, we offer you comprehensive services for the optimization of your products.
We have many years of experience and high competence in the field of product testing. We provide optimal support in helping you offer your customers a reliable and neutral orientation aid.
Would you like to know more about our tests for household goods? Contact our experts right away!
Gaining customer confidence and securing competitive advantages with tested household goods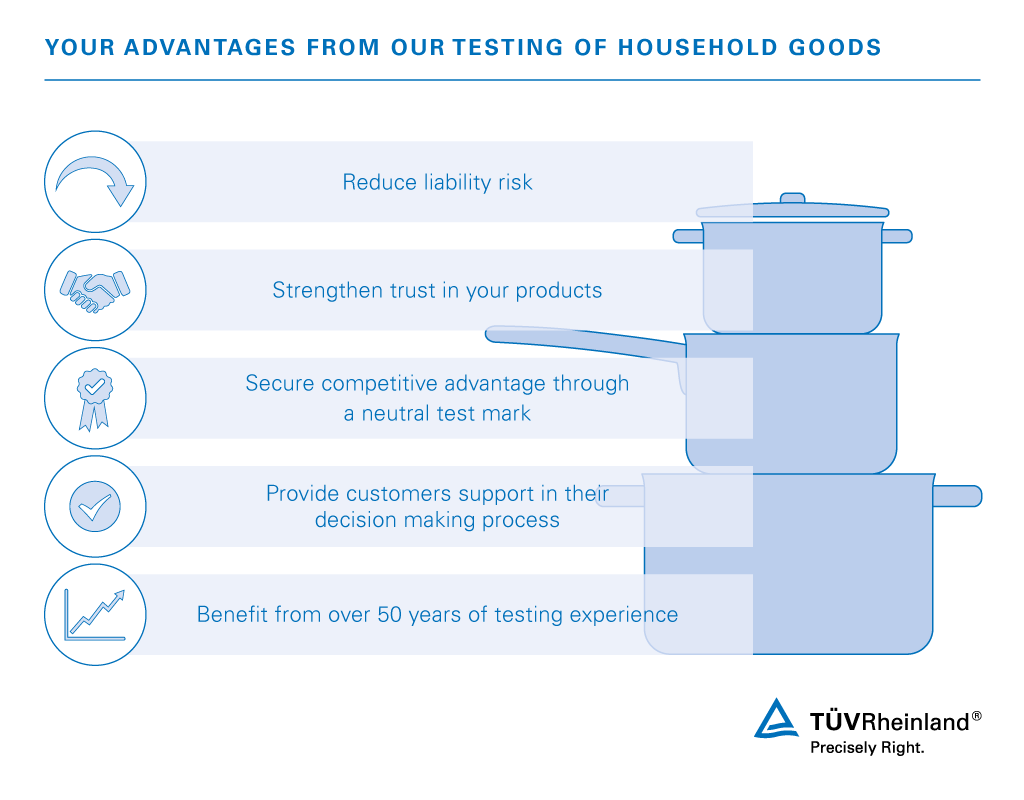 Our expert testing services prove the quality and harmlessness of your household products. With our neutral test marks, you can offer your customers a valuable decision-making aid in product selection and strengthen their confidence in your products. This enables you to successfully differentiate yourself from your competitors and secure your market position.
By complying with documented safety standards, you can substantially reduce your liability risk. In addition, we provide you well-founded advice on how to optimize your products according to recognized standards and consumer expectations.
Our services for the testing of household goods
Our experts test and certify your household and consumer goods. Strict European and national requirements regulating materials used in products coming into contact with food, skin or mucous membranes must be taken into account. All our tests are carried out in accordance with the applicable guidelines, laws, as well as quality and safety standards.
We can support you with additional services for the optimization of your products. This includes, for example, comparative product tests, instructions for product improvement, or checking operating instructions.
Criteria to which we test and certify your products include but are not limited to:
General product data and packaging documentation
Testing for harmful substances in accordance with the German Food, Commodities and Feedstuffs Code (Lebensmittel- und Futtermittelgesetzbuch, LFGB)
Conformity assessment for food contact plastics
Mechanical safety testing in accordance with the Product Safety Act and the individual product standards/directives
Functional testing on the basis of normative or internal test programs
Handling, cleaning, dishwasher suitable- and safe requirements
Technical documentation / operating instructions
Corrosion test
Material determination
After the successful testing of your household goods, you will receive our test mark.
Benefit from our experience in testing household goods
Thanks to their many years of experience, our experts can offer you competent support in the testing and certification of your household products. Our neutral and recognized test mark helps you secure the trust of your customers and business partners. Current corresponding proof of quality can be easily accessed and viewed in our online Certipedia certificate database.
Make an appointment now to test your household products!
Further information for download
| | | | |
| --- | --- | --- | --- |
| pdf | Flyer – Update EN 12983 | 1 MB | Download |
| pdf | Flyer – Products with food contact | 2 MB | Download |
| pdf | Flyer – Products in contact with mucous membranes | 1 MB | Download |
| pdf | Bisphenol A restriction for food contact materials | 402 KB | Download |
| pdf | Publication of 15th amendment of Commission Regulation (EU) No 10/2011 | 1 MB | Download |
Our Sustainability Initiatives
Nothing less than the future is at stake. Companies, institutions, public authorities and each and every one of us can play a positive role in shaping the path to tomorrow. We provide you with comprehensive support to ensure that you operate safely, sustainably and efficiently for many years to come.
Ensure the safety and compliance of your Food Contact Materials – across your entire value chains.

Legislation as well as consumer demands regarding food contact safety have become increasingly stringent and diverse. Let us support you with our comprehensive FCM compliance management services.
Product Examples
Dinghies
Folding campers
Garden furniture
Silverware
Grill equipment
Lighting
Air mattresses
Sun shades
Tents and pavilions
This might also interest you
Last Visited Service Pages