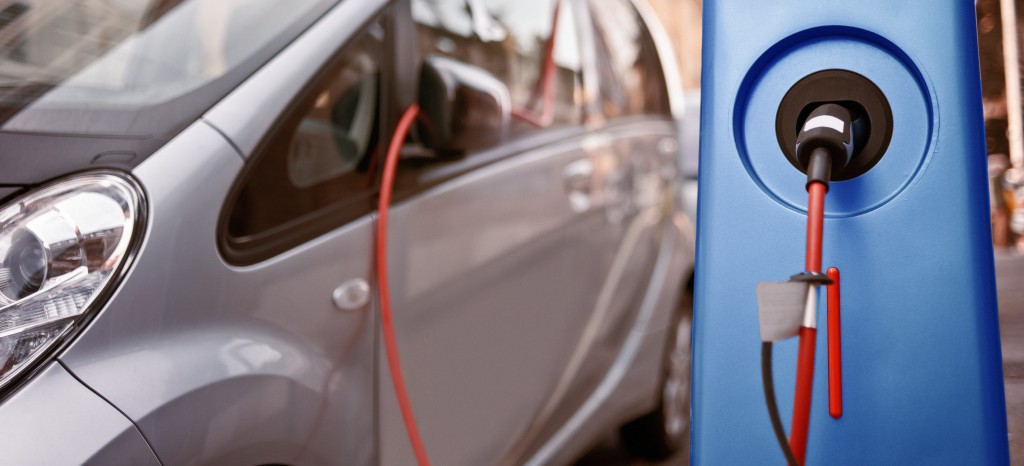 Certified safety with expert electric vehicle testing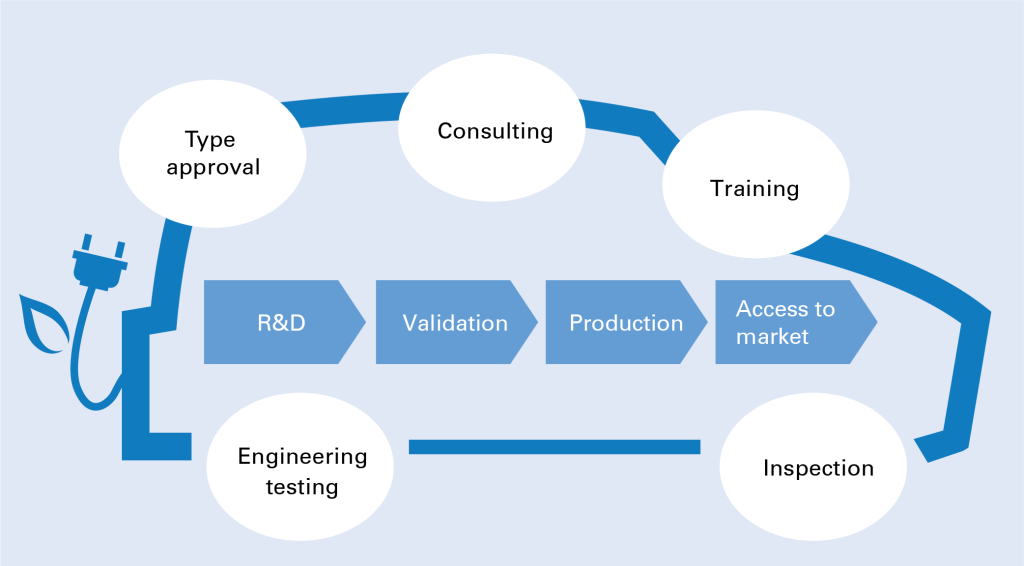 Manufacturers and operators of electrical vehicle (EV) charging systems and components must maintain high standards in a competitive market. Indeed, a reliable charging system backed up by an internationally recognized certificate of safety and performance is both a key selling point and an essential step in proving compliance.
We are the ideal partner for you, with services and solutions covering the entire EV value chain, including design reviews, , engineering testing, type approval, installation, inspection, market access services as well as training and consulting. What's more, our entire portfolio is available as a one-stop service with a single point of contact.
Our team of experts has been at the vanguard of electric vehicle testing and inspection from the industry's infancy, and we are still the only company capable of providing services for the entire EV supply chain. Industry leaders trust us with the testing and certification of their products, confident in our ability to demonstrate compliance with the full range of international regulations.
Request a quote from a service engineer today!
Market success with EV charging tests and more
Testing and certification by our experts opens doors wherever you produce and sell EV components, enabling faster time to market and guaranteeing access to markets in Europe, North America, South America, Greater China, Asia, and the Middle East. Keeping clients' needs at the forefront, our experts offer tailored research into requirements on request.
All-around services for electric vehicle equipment testing

Our state-of-the-art laboratories carry out a wide range of full system or component testing:
Electrical Safety testing
EMC / EMF, FCC / ISED testing
Wireless and IoT testing: e.g. Wi-Fi, Zigbee, Bluetooth, GDPR, IoT product certification
Functional safety testing
Durability testing (life cycle test)
Data communication / Protocol testing (CHAdeMO, CharIN)
Climate testing: IP test, UV radiation, corrosion test, etc.
Mechanical and material testing: flammability test, glow wire test, etc.
Field Evaluation Services
Our testing and certification services enable compliance with all major
international regulations and directives, including:
Low Voltage Directive (LVD) 2014/35/EU
Electromagnetic Compatibility Directive (EMC) 2014/30/EU
Radio Equipment Directive (RED) 2014/53/EU
Charging systems: IEC 61851 / IEC 62752/ UL 2202
Wireless charging system: IEC 61980
Protective Devices / Personnel Protection Systems: IEC 60755 / UL 2231
Plugs, Socket-outlets, Connectors, Inlets: IEC 62196 / UL 2251
Cables and Liquid cooled cables: IEC 62893 and 2PfGQ 2473
Low-voltage Switchgear and Controlgear Assemblies for Charging Stations: IEC 61439-7
National Standards for the above listed products e.g. JIS D1304
Once your product has been proven to fulfill a standard or guideline, you can showcase the safety and quality of your products with TÜV Rheinland Certification Mark on the product and in your promotional materials.
Pioneers in electric vehicle charging equipment testing
Among other "firsts" in the field of electric vehicles, we are the first Certified Body Testing Laboratory (CBTL) in the Asia-Pacific region and stand out globally as a forerunner and acknowledged leader in EV testing worldwide. We draw on a wealth of experience and knowledge, testing EV charging systems to European, American, Australian, Japanese and Chinese standards. We can issue a wide range of certificates, including the EU CE certificate, the TÜV type approved certificate, the Japanese PSE certificate, the EMC certificate and much more.
Find out how you can start testing and certification with us today!
A Global network of laboratories supports EV testing services
With sophisticated laboratory facilities, our global E-Mobility team plays an indispensable role in the sustainable development of the EV industry.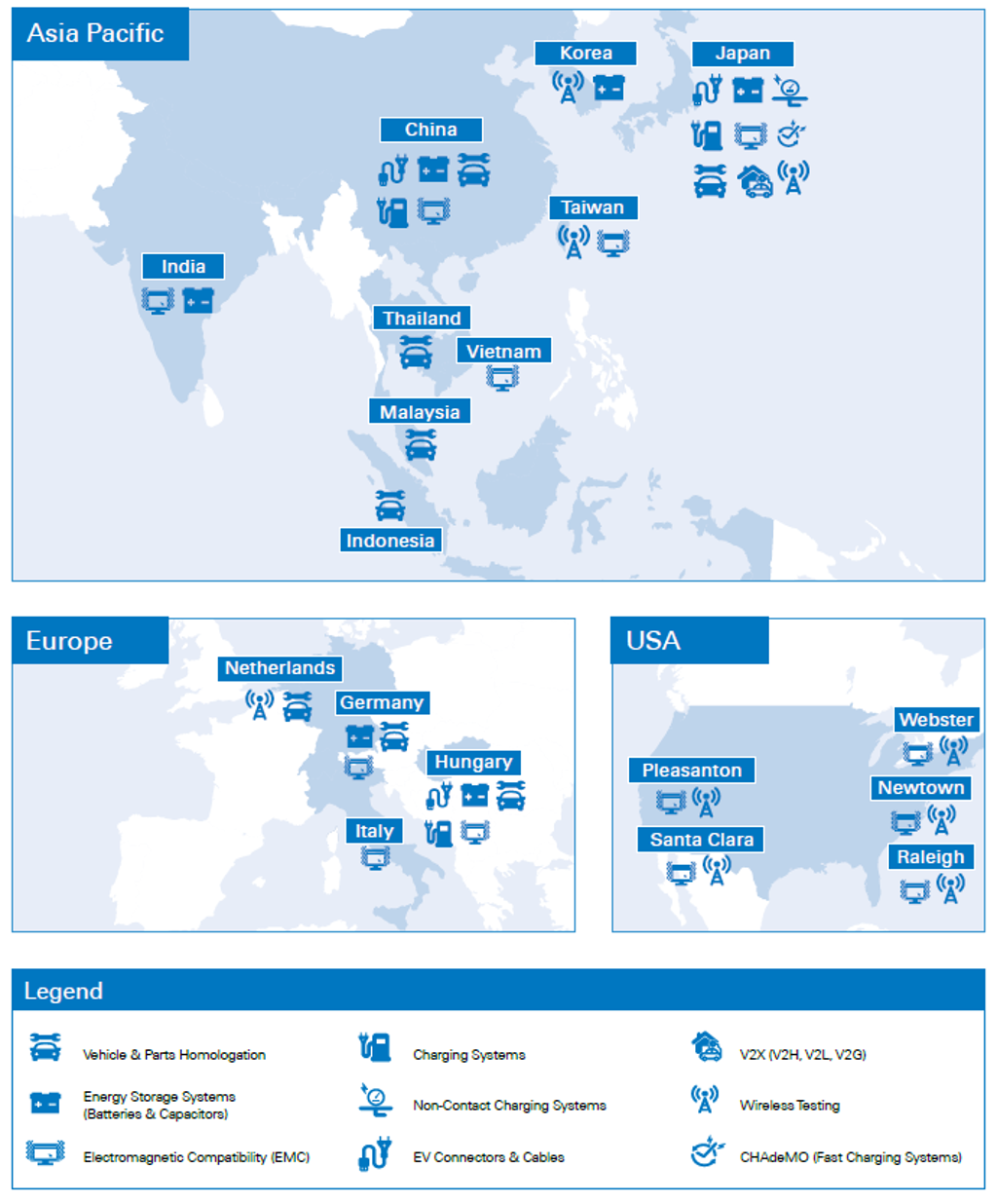 EV charging stations
Safety and high efficiency are the main topics for EV charging. As the important charging facility, the EV charging stations have been concerned by governments, the industry players and consumers in terms of their design safety, the usage safety and maintenance issues. TÜV Rheinland is able to address your concerns by providing professional testing, certification, consulting and trainings.
As the testing and certification leader in EV fields, we have been strengthening our cooperation with domestic authoritative laboratories. PAL and TÜV Rheinland handle most of the EV testing and certification business in China, and we have begun strategically cooperating with laboratory development and testing competence. Particularly, we have developed the value-added service as "one test, two certificates" for the China market. Once the testing has been passed, charging station manufacturers can be certified by PAL and TÜV Rheinland simultaneously, offering charging station manufacturers the chance for rapid market acceptance.
EV charging connectors
EV charging connectors are the most important components in the charging stations. Their reliability and quality directly affect the charging safety and even driving experiences of e-car owners. To ensure the product's safety and quality, we perform compliance testing and certification according to domestic and international standards.
EV charging cables
EV charging cables are the future trend for renewable energy cables, and thus have become the most important products for cable manufacturers. The first ever EV charging station standard 2 Pfg1908/05.12 was drafted by TÜV Rheinland. It regulates and promotes the development of the entire EV cable industry. We are devoted to providing one-stop testing and certification services for renewable energy cables, leading the study and advancement of EV charging cable technology and offering cable manufacturers the comprehensive solutions they need to access the European and Chinese markets.
The EV cable's European standard has been published officially, and the GB standard will be released soon. To better serve our clients, we offer a Sino-European certificate based on the three major standards (GB/T 33594-2017, 2pfg 1908 and EN 50620). Our efficient, high-quality services help you break into the Chinese and European markets.
Electric Vehicle Charging System Testing and Certification Service
| | | | |
| --- | --- | --- | --- |
| pdf | Electric Vehicle Charging System Testing and Certification Service | 1 MB | Download |
This might also interest you
Last Visited Service Pages