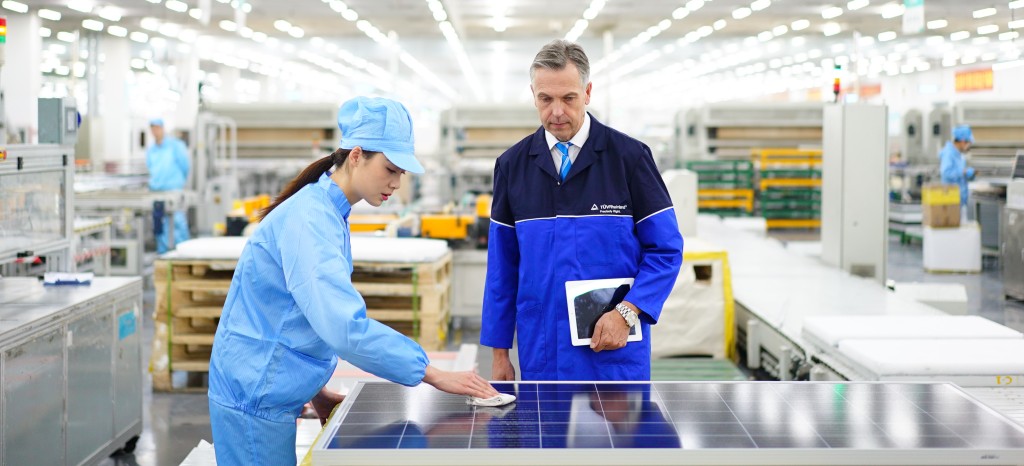 Safe and successful solar projects start with our PV supply chain services
As the solar industry as a whole has grown, so too have the size and scope of PV projects. From manufacturers to operators and those involved at every step along the way, ensuring the success of a solar power plant demands attention to detail and the coordination and oversight of a complex, international supply chain.
With, for example, PV module production in China, PV power plant project development in Spain, financing from a German lender and plant installation in Brazil, having an independent third party at your side makes the inevitable challenges easier to overcome.
We offer comprehensive PV supply chain services underpinned by an international network of experts and laboratories and developed over our 35 years in the business. We support you with the necessary know-how to apply best practices to each individual client's specific needs, designing customized service plans that take into account all the particularities of your project.
Speak to a service engineer to learn more!
Our PV supply chain services enable you to mitigate yield and quality risks
The success of your PV project depends on accuracy and the effective coordination of a series of moving parts. We support you with selecting reliable suppliers and products that best fit your site-specific requirements and project specifications.
Our audits and inspections of production lines identify potential weaknesses, promoting the precision of energy yield estimates. Moreover, we test components for durability, verifying that BOS components (i.e., PV modules, mounting structures, inverters ) match specifications and perform as expected. This helps to reduce unpleasant quality, performance or compatibility risks, serious defects and critical safety issues.
The result of this systematic quality assurance is not only a technically safe, effective PV power plant construction, but also bankability: investors and lenders can feel confident that your project is accounting for and addressing the inevitable risks.
Comprehensive PV supply chain services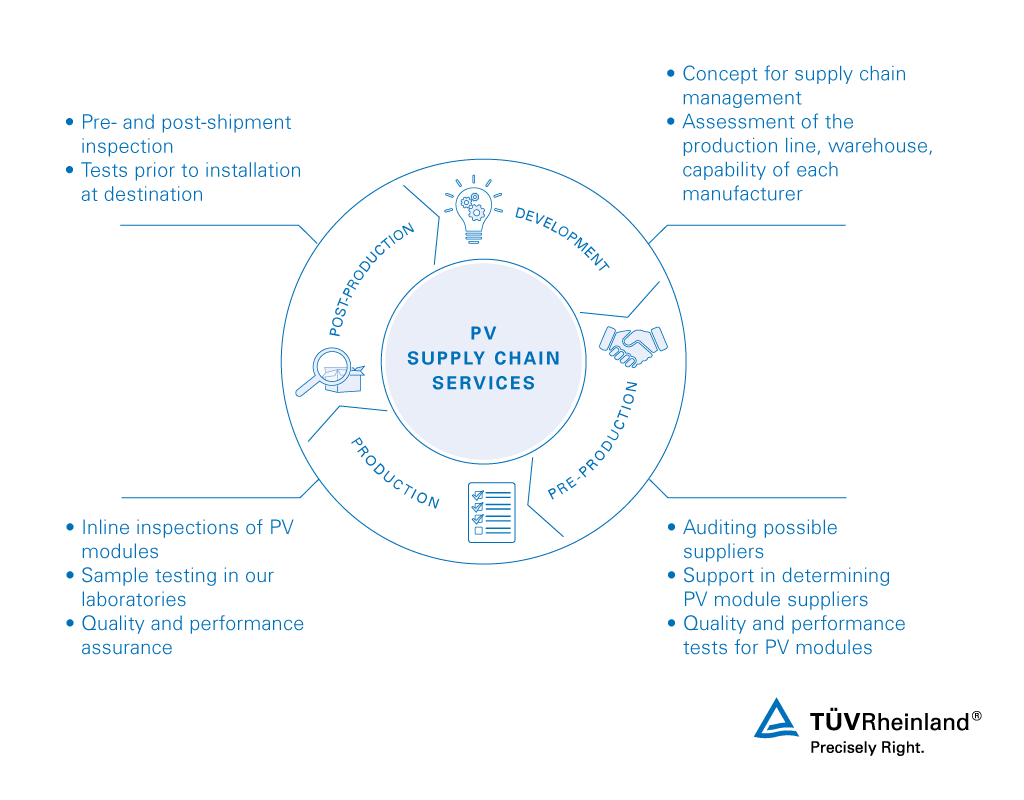 We analyze your PV supply chain from start to finish, from identifying the best suppliers through inspection at the installation site. The process can be broken down into four main phases:
1. Development: concept for supply chain management, examination of the production line and the capability of each manufacturer
2. Pre-production: potential supplier auditing and selection; PV module quality and performance testing
3. Production: testing of project-related components during production on a spot-check basis, quality and performance confirmation
4. Post-production: inspection before and after shipment, pre-installation testing
We accompany you through every project stage and customize our services depending on your specific requirements.
You can trust the market leader in PV testing and certification
For over 35 years, we have been providing services for the solar industry – testing, certifying, inspecting and auditing. At every step along the way, we have continued to learn, improve and refine our processes. We have decades of experience in conducting PV supply chain services for PV projects of different project sizes and members and have built a global network of laboratories designed to meet new challenges and specialists to support and advise our clients. We are therefore uniquely equipped to oversee the complex relationships and different interests in PV supply chains and enable you to master any challenge your PV project encounters.
Request a quote from one of our experts!
More about how our PV supply chain services can help you
Downloads
| | | | |
| --- | --- | --- | --- |
| pdf | PV Supply Chain Services Brochure (EN) | 10 MB | Download |
Our Sustainability Initiatives
Nothing less than the future is at stake. Companies, institutions, public authorities and each and every one of us can play a positive role in shaping the path to tomorrow. We provide you with comprehensive support to ensure that you operate safely, sustainably and efficiently for many years to come.
This might also interest you
Last Visited Service Pages