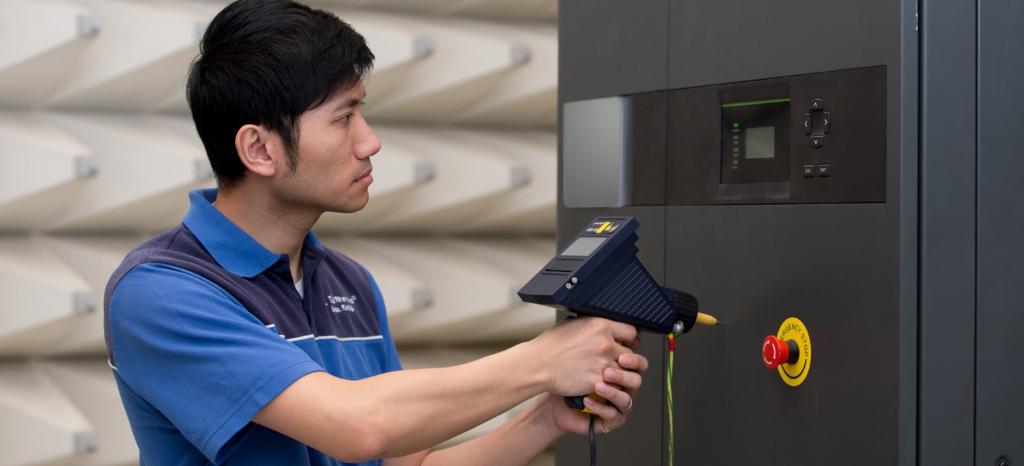 Safe, high quality and compliant PV inverters with our testing and certification services
Inverters and converters are the most important part of conventional and renewable power systems such as solar, fuel cell, electrical energy storage systems, wind power plants and gas turbine power systems. As competition in the renewable energy industry grows, companies strive to ensure their photovoltaic inverters and converters are safe, functional and compliant with relevant standards. Choosing to partner with us is the first step in meeting these goals. We offer the widest range of market access services for PV inverters, helping you to access all PV installation markets based on your focus requirements.
We test and certify your inverters and converters with AC output, either grid connected or in stand-alone operations, according to local and international specifications and standards to ensure their safety, quality and compliance. Successful test results can lead to certification and the right to use our internationally recognized test mark. In addition, our experts provide component evaluation services for certain unlisted or non-approved components used in inverters or converters.
Our experts enable you to access reliable, respected testing services for your photovoltaic inverters wherever your business is located. We provide more than 35 years of experience in the PV industry. Our PV network, with eight fully-owned PV inverter laboratories in all major production countries worldwide, lets us take the pulse of new product trends and makes us experts when it comes to local requirements. It also enables us to support you throughout the whole lifecycle of your PV inverter products.
Give us a call today and let us inform you on how you can benefit from our services and decades of expertise in PV inverter testing.
Opening access to world markets with PV inverter certification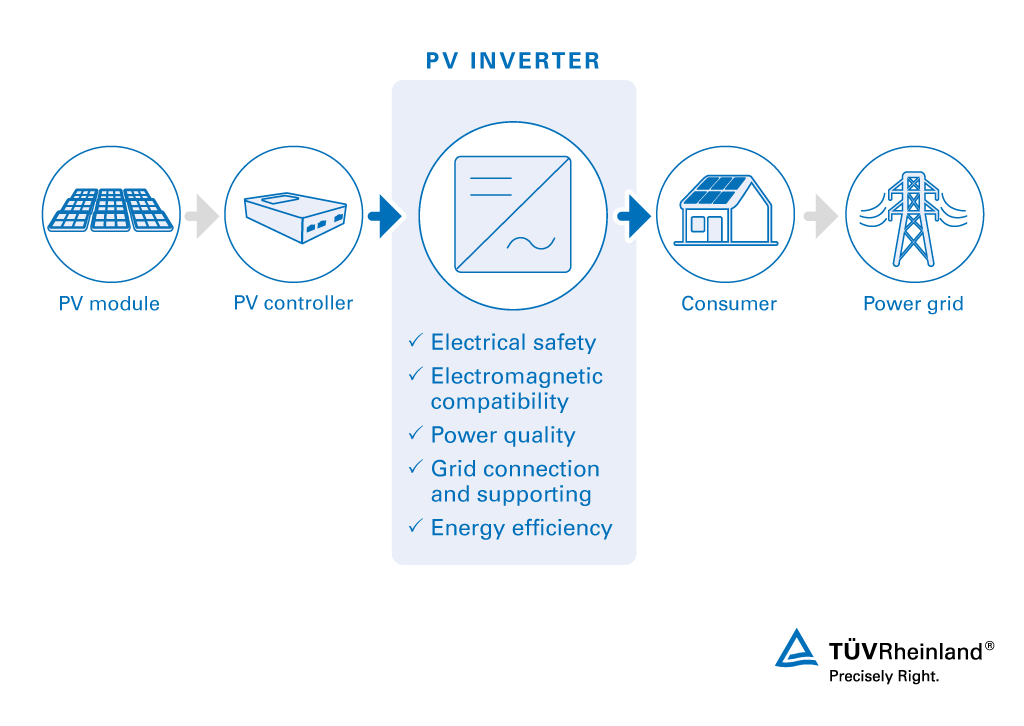 Demands for solar energy and PV systems span the globe, and you want to take advantage of every opportunity to expand your business and reach new markets. We provide the widest coverage of market access for PV inverters with services for all target countries and can advise and guide you when it comes to complying with requirements that differ from country to country. Our comprehensive, streamlined processes make testing and certification more efficient while providing transparent, reliable test results. Gain a competitive edge with our widely accepted and globally recognized test mark and certifications.
PV inverter global market access services
PV inverters are critical components of PV power systems and the key to ensuring that those systems have long and stable life spans. Your PV inverters must meet the related standards to perform safely and with a high level of efficiency, reliability and applicability. TÜV Rheinland's one-stop testing and certification services can improve the quality of your PV inverters and facilitate your access to global markets.
We offer the following services:
Electrical safety testing: IEC/EN/UL 62109-1/-2, IEC/EN 62477-1, UL 1741, C22.2 No. 107.1, etc.
Electromagnetic compatibility testing: IEC/EN 61000-6-1/-2/-3/-4, FCC, etc.
Grid connection testing: IEC 61727, EN 50438, IEEE 1547.1, UL 1741SA, VDE 0126-1-1, VDE-AR-N4105, VDE 4110/4120/4130, CEI 0-16/21, G83/G59, AS 4777.2, etc.
Performance testing: efficiency, power quality, duration, benchmarking etc.
Environment testing
Reliability testing
Penetration testing and cyber security service
Supply chain services: OEM assessment, lab testing, Factory Acceptance Testing (FAT) , Site Acceptance Testing (SAT) , OND/PAN-files, etc.
Leaders in inverter testing

"As an independent third-party institution TÜV Rheinland is staffed with numerous highly-qualified engineers becoming increasingly international in their approach with regard to their assessment or assistance during certification."
Dr. Hisayoshi Kobayashi (Toshiba Mitsubishi Electric Industrial Corporation)
Our solid reputation is reflected in the list of satisfied customers who have used our PV services. What stands out for these industry leaders is the quality and expertise of our engineering staff coupled with our international focus when it comes to assessment and assistance in the global marketplace.
Speak with one of our engineers about how we can meet your needs!
Ensure the Safety of your PV Systems
Discover the success story of a collaboration between TÜV Rheinland and the renowned photovoltaic manufacturer Fronius International! Download our case study now and learn how TÜV Rheinland tested and certified the safety and quality for photovoltaic array devices from Fronius. As a pioneer in PV technology, TÜV Rheinland is the first European certification body to offer its customers testing in accordance with the IEC 63027 guidelines. Learn more!
Learn more about our testing services for photovoltaic inverters
| | | | |
| --- | --- | --- | --- |
| pdf | Flyer – Photovoltaic inverters | 6 MB | Download |
Our Sustainability Initiatives
Nothing less than the future is at stake. Companies, institutions, public authorities and each and every one of us can play a positive role in shaping the path to tomorrow. We provide you with comprehensive support to ensure that you operate safely, sustainably and efficiently for many years to come.
This might also interest you
Last Visited Service Pages