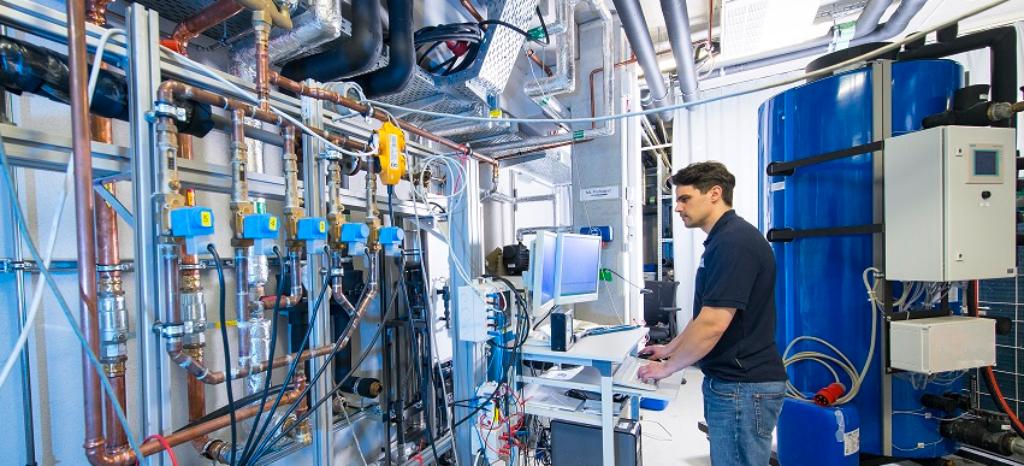 Reliable and eco-friendly energy and heating technology thanks to our services
Manufacturers of heat pumps and biogenic and fossil heating appliances must fulfill requirements regarding quality and reliability as well as environmental impact. It is also necessary to receive an international product approval in order to remain competitive in a changing market and against stronger competition.
With our extensive services we can assist you during the certification and product approval of heat generators and help you fulfill mandatory directives and regulations and verify an energy label. Our experts conduct testing, measurements and certification in line with the applicable norms and standards on your behalf. This applies both for individual appliances such as heat pumps, central heating boilers, wood-burning stoves, and for safety technology and entire heating and power generation systems.
Rely on the extensive know-how of our experts in the field of heating technology. Our specialists are happy to help with word and deed, so your energy and heating technology can operate in a safe, reliable and eco-friendly way.
Would you like to learn more about our testing services? Contact us .
Fulfill legal requirements – with the help of our services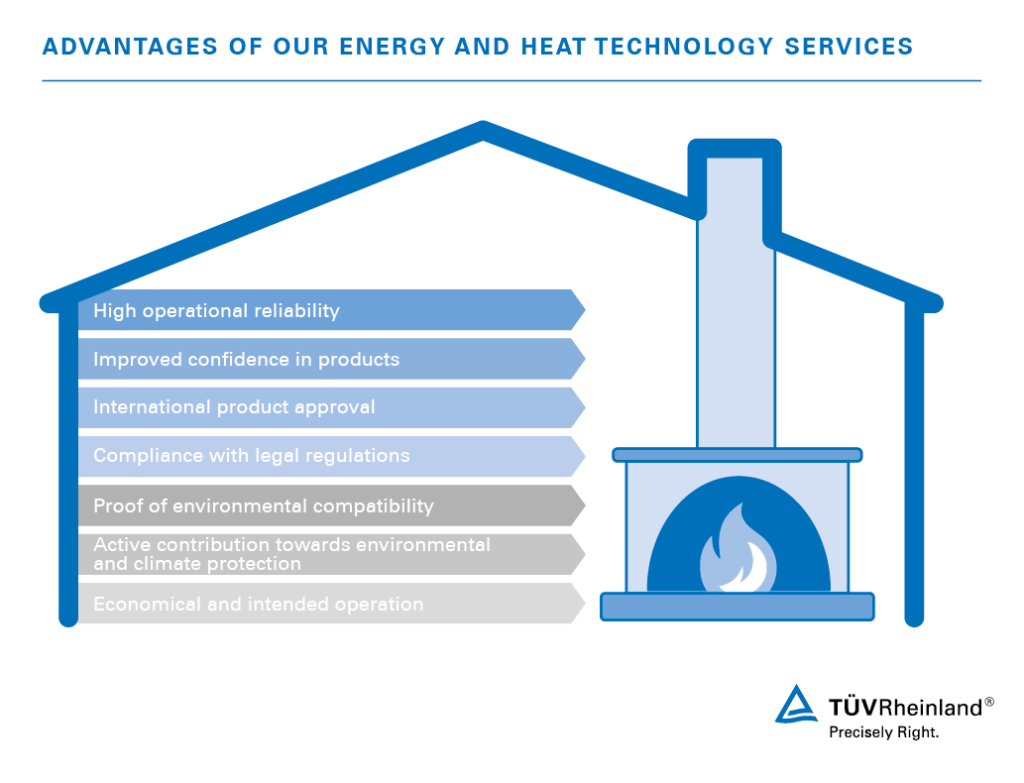 By having your heat technology products tested and certified, you ensure that the applicable directives, standards and legal regulations are observed. Meet the requirements to demonstrate the economic and intended operation of your heating appliances and also document the high level of operational reliability of your products.
With an energy label for heating appliances according to the relevant directives and regulations you also make an active contribution to environmental and climate protection. This gives you the opportunity to considerably improve your image and distinguish yourself from your competitors. In addition, this recognized label improves public trust in your products and your business.
Our services for energy and heat technology at a glance
Our range services includes
Internationally valid certificates and test reports, e.g. Flamme Verte certification
EC type testing
Project support
Production monitoring and testing in line with the Pressure Equipment and Gas Appliance Regulation as well as the Construction Product Regulation
Identification of tapping profiles and standby-losses for water heaters
Testing according to European Heat Pump Association (EHPA) test regulations and Heat Pump KEYMARK

Lab facilities
Our lab facilities offer the following capacities among others:
Efficiency measurements on heat generators:
Oil up to 400kW
Gas up to 200kW
Biogenic fuels up to 200kW
100kW for brine/water heat pumps
25kW for air/water heat pumps
Testing, certification and monitoring for your heating products – for your success
You want to sell heating appliances in the European Union or demonstrate the quality and reliability of your energy and heating technology? Our experts can assist you in all these matters. Benefit from our comprehensive testing, certification and monitoring services for heating appliances, all from a single source.
Contact us now to learn how you can benefit from our services.
Downloads
| | | | |
| --- | --- | --- | --- |
| pdf | Leaflet Heat Generators | 223 KB | Download |
KEYMARK for Heat Pumps - Whitepaper Download
Our Sustainability Initiatives
Nothing less than the future is at stake. Companies, institutions, public authorities and each and every one of us can play a positive role in shaping the path to tomorrow. We provide you with comprehensive support to ensure that you operate safely, sustainably and efficiently for many years to come.
Last Visited Service Pages