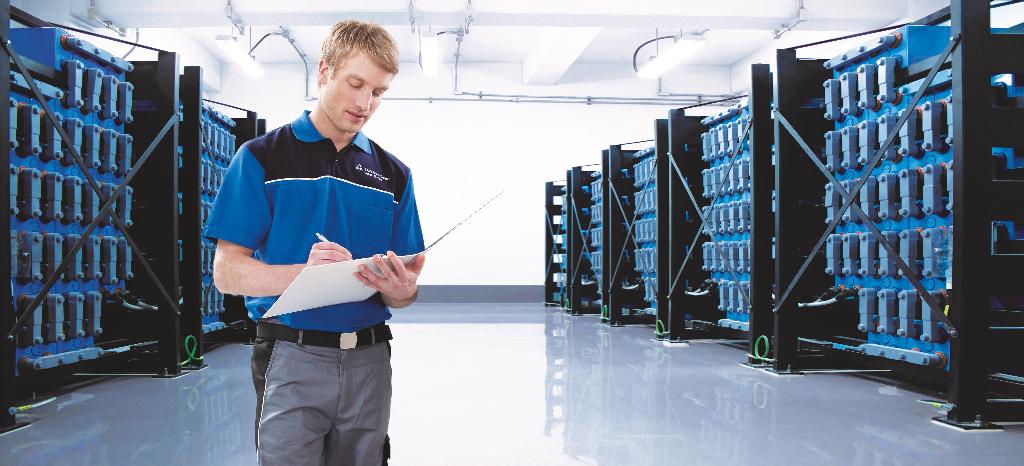 Safe, reliable and efficient with energy storage certification
Energy storage systems that have been tested and certified ensure reliable customers service, protect the natural environment and provide profits needed for business success. Selecting an experienced and recognized independent partner to certify energy storage systems and components demonstrates your corporate commitment to excellence.
We provide tailored comprehensive testing and certification in accordance with international standards, guidelines and quality regulations applicable to your individual needs. We conduct grid and photovoltaic installation simulation to examine conformity, functionality and productivity in various operating states.
We work to ensure your energy storage products and systems meet the highest market standards and quality expectations.
Tap into our vast resources to achieve recognized certification of your energy storage systems!
Our energy storage system testing – be compliant and competitive
We provide you project-specific services tailored to your particular needs to help you select suitable suppliers and reduce risk to maintain project quality. Our recognized certification and test mark are valuable indicators used to build confidence among financial and insurance partners. Our global team of experts and state-of-the-art local laboratories are capable of providing support at any time, anywhere in the world, from a single source.
We conduct standards-based testing from product development up to market approval. Our testing and certification increase your access to world markets. Our respected neutral test mark proves your quality commitment to boost consumer trust and gain competitive advantage.
Step by step to your energy storage system certification
Our services for the certification of energy storage systems and components, such as batteries, management systems, inverters and interfaces, have been designed according to international standards to assist various project partners including:
Manufacturers (ESS batteries, inverters, systems)
Power plant owners and operators
EPC contractors
Network operators
Planners, installers and developers
Investors, lenders and insurance providers
Government agencies
Utilities
Our comprehensive energy storage system certification is conducted according to the following five-step approach:
Document review
Standards-based testing
Test reporting
Factory inspection
Certification and awarding of the test mark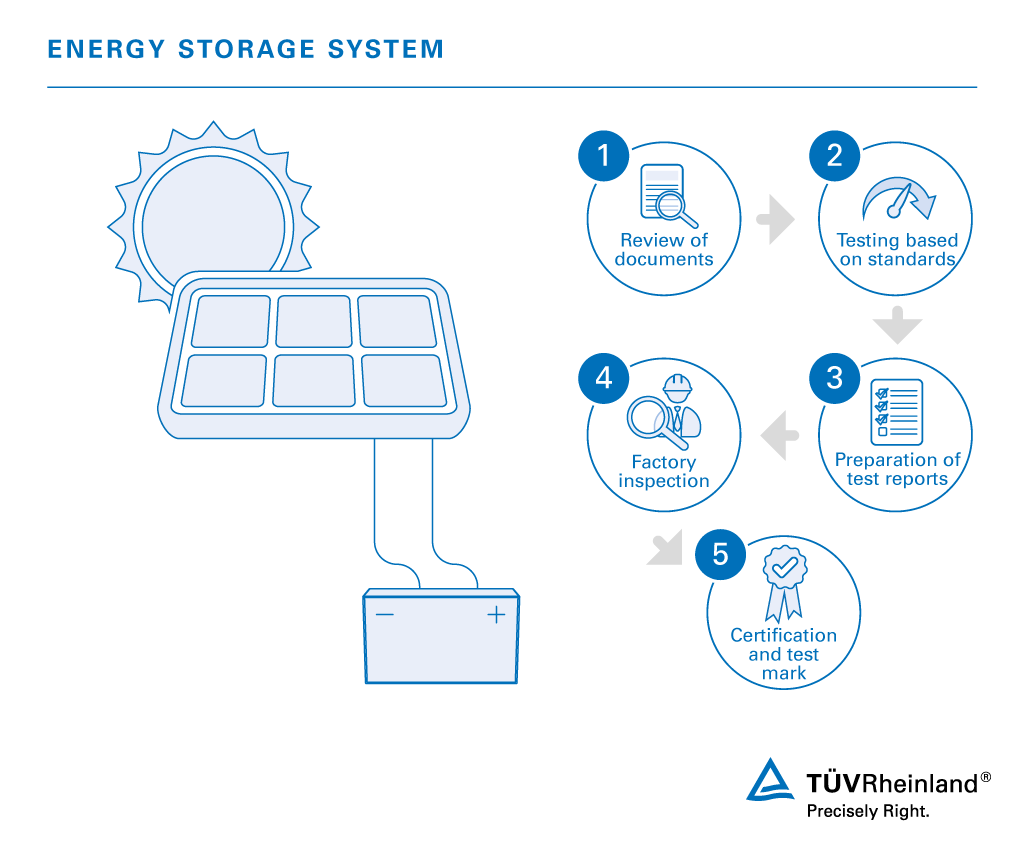 Our global network of experts is extensively experienced in the cross-industry inspection, testing and certification of energy storage systems. Our certification of stationary local battery energy storage systems is conducted according to these international standards:
UN 38:3 (Requirements for the safe transport of lithium batteries)
IEC 62619 (Safety requirements for secondary cells and batteries containing alkaline or other non-acid electrolytes as well as secondary lithium cells and batteries)
VDE AR 2510-50 (Application guide specifying safety requirements for energy storage systems with lithium batteries)
Pen tests for IT security of the entire system including inverters
IEC 62485-5 Stationary (Li-ion) secondary batteries and battery systems up to 1.5 kV DC
VDE-AR-E 2510-2 Stationary electrical energy storage systems provided for Connection to the low voltage network
IEC 62133-2 Current; Secondary cells and batteries with alkaline or other non-acid electrolytes - Safety requirements for portable gas-tight accumulators and batteries made therefrom for portable use - Part 2: Lithium systems;
IEC 62620 Accumulators and batteries containing alkaline or other non-acid electrolytes - Lithium batteries and batteries for industrial applications
We are also capable and authorized to conduct the following additional tests:
Inverter testing for safety and grid conformity (according to EN 62109-1/2, VDE-AR N 4105, VDE 0124-100 and more)
Individual testing (vibration, shock, climate, IP protection, EMC and electrical safety)
Furthermore, we support you throughout the entire production process, from design, development, manufacture and installation to testing and certification. We provide you comprehensive testing and certification for energy storage systems and components from a single source to lower cost and expedite success.
Pre-assessment, such as documentation
Technical support in research and development
Transport test
Certification or confirmation of conformity
Assistance with product liability issues
Your world-wide address for expert advice and solutions

Our name stands as a leading solutions provider for the renewable energy industry. We have conducted world-renowned quality assurance and certification services based on profound expertise and extensive experience for over 30 years. Our comprehensive portfolio of services test and certify your products, systems and solutions to help you enhance brand recognition and maintain a leading market position. Our test mark sets you apart from the competition and alerts customers to your commitment to safety and quality. Internationally recognized, our test mark reflects our unparalleled reputation for excellence.
Put our expertise and experience to work for you to increase trust and confidence in your energy storage systems and components!
| | | | |
| --- | --- | --- | --- |
| pdf | Learn more about our testing services for Energy Storage Systems and Components | 11 MB | Download |
Our Sustainability Initiatives
Nothing less than the future is at stake. Companies, institutions, public authorities and each and every one of us can play a positive role in shaping the path to tomorrow. We provide you with comprehensive support to ensure that you operate safely, sustainably and efficiently for many years to come.
This might also interest you
Last Visited Service Pages