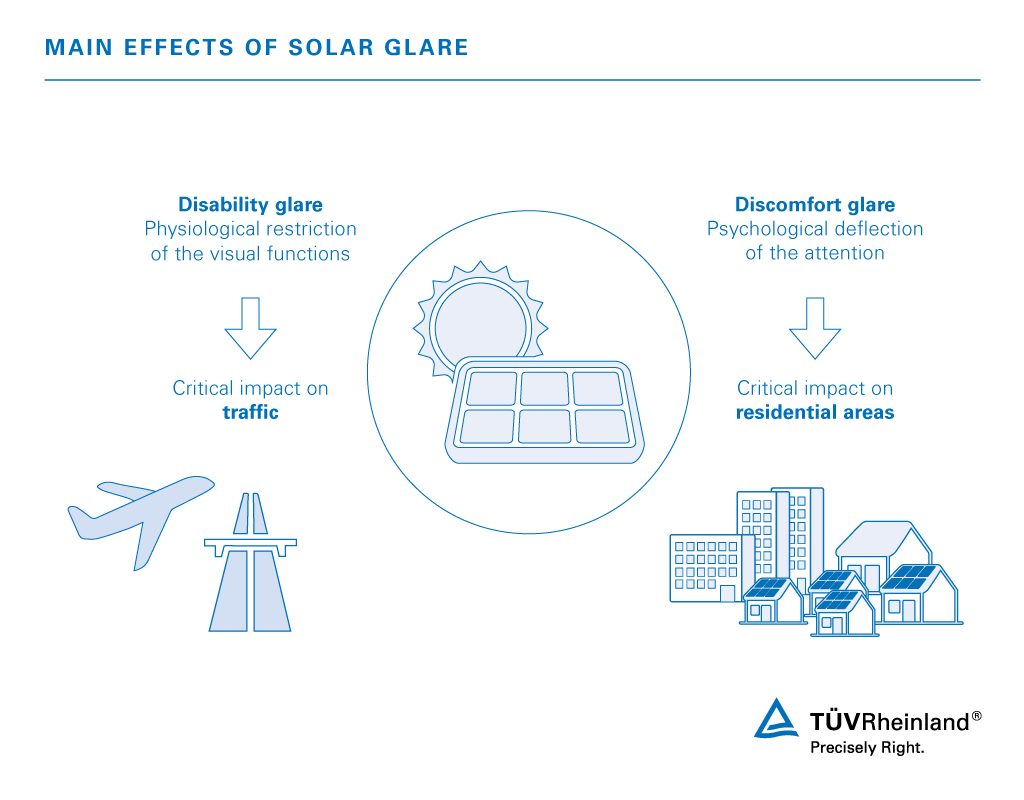 Sunrays reflecting off solar modules can unintentionally cause annoying and even hazardous glare. While no clear, generally applicable guidelines or regulations for the evaluation of glare exist as of yet, responsible systems developers, manufacturers and owners nevertheless aim to eliminate glint and glare wherever and whenever possible. Airline pilots, train conductors, highway drivers, workers in windowed buildings and people living in solar-supplemented neighborhoods can be affected and must be protected from unacceptably disturbing or even dangerous light immissions caused by sunlight reflections.
Voluntary and mandatory solar glint and glare assessments have proven extremely helpful in preventing sudden flashes of bright light, blocked vision, or temporary blinding. However, each individual case must be investigated and evaluated separately, as the extent of the disturbances depends not only on measurable technical parameters but also on concrete environmental features as well as subjective sensations.
Our glint and glare assessment addresses reflection safety issues early on. We conduct cutting-edge simulation to accurately identify and analyze reflection risks affecting people in the workplace, in both public and private spaces and on roadways and traffic hubs.
We are an independent service provider with over 30 years of experience in the solar industry. Partner with us and enjoy the benefits of working with our experts worldwide and gaining access to specially developed software tools designed to assess glint and glare.
Ensure the quality and safety of your PV solar system. Contact us now!