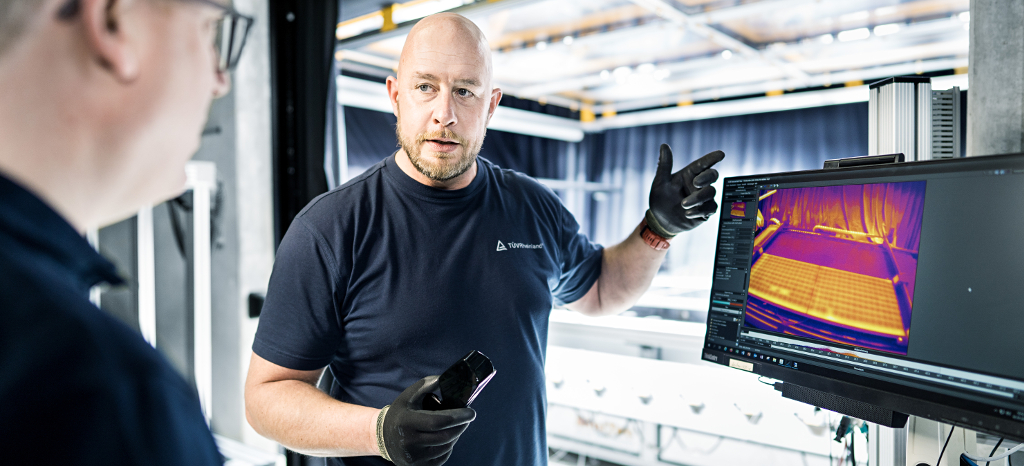 Success in the solar industry starts with testing and certification
To thrive in the solar energy sector, manufacturers and retailers need to ensure that their products meet established quality and performance standards. This means demonstrating that their PV modules are robust and able to consistently deliver the guaranteed rated power reliably even under more severe climactic conditions. They must also be safe and durable, ensuring the system's high yield over the long term, and still need to be commercially viable.
With more than 35 years in the solar industry, we have developed testing services that address your needs and enable you to meet your goals. At our ISO 17025 accredited laboratories around the globe, we test and certify PV modules according to national and international standards, including IEC 61215 and IEC 61730. Besides this we offer testing under special as well as more severe conditions, performance characterization and energy yield testing, just to name a few.
We have earned the trust of key players in the solar sector worldwide with our expertise and experience. By partnering with us, you access that know-how and benefit from our global network of state-of-the-art labs around the world and comprehensive, one-stop PV services.
Speak with one of our service engineers to find out how to get started. Make an appointment today!
Gain access to new markets with our PV module certification services
Our global presence benefits our partners in many ways. It means we are familiar and actively shaping national standards in countries across Asia, the Middle East, North and South America and Europe. We test as well to international standards (EN, IEC, ANSI) and keep abreast of changes and harmonizations that affect market access for PV modules.
In the solar sector, an international presence is not only a matter of convenience. With seven laboratories located in different climate zones and subject to varying weather conditions, we are able to offer our customers PV module testing that subjects their products to real-life challenges, not only simulations.
As the undisputed global market leader for PV module testing and certification, we have built a worldwide reputation for excellence reflected in the acceptance and recognition our quality mark enjoys. Upon successful completion of testing, our customers earn the right to display our test mark, a sign of quality, transparency and reliability.

Our certification services consist of the following process steps:
Laboratory tests on samples for a module family or type
Recurring factory inspection
Certificate and TÜV Rheinland test mark
Certificate of conformity (CoC) or declarations for individual markets
Bankability reports
In addition to our certification services we offer a variety of quality assurance measures, stress tests and value added services.

Quality assurance measures for PV modules such as:
PID – potential-induced degradation
Electro-luminescence and IR imaging
RoHS conformity testing
Pre-/Post-shipment inspections
Ageing of micro-cracks
LID test (light induced degradation)
LeTID

Stress tests such as:
Fire tests
Corrosion tests (e.g., salt mist, ammonia and Sulphur dioxide)
Outdoor long-term tests in different climate zones
Transport and environmental simulation on PV module shipping units
Sand abrasion tests
Snow load testing (non-uniform, heavy snow load)

Added value services such as:

BIPV – qualification of building-integrated PV such as:
Risk analysis
Roof integration
Facade integrated systems
Snow load testing
Expertise and experience count in PV module testing and certification
In an industry characterized by rapid technological changes and experiencing dramatic growth and high demand, relying on an experienced and true partner is essential for success. We have been active in the solar industry since its infancy and have built our reputation on ensuring quality, reliability and safety in the production and operation of PV modules. Prominent players in the solar sector trust us and our test mark, issued with a unique ID number and QR code that allows customers to check certification claims quickly and accurately.
Get in touch with us to learn more about our PV module services!
Read more about PV module testing and certification with us
Our Sustainability Initiatives
Nothing less than the future is at stake. Companies, institutions, public authorities and each and every one of us can play a positive role in shaping the path to tomorrow. We provide you with comprehensive support to ensure that you operate safely, sustainably and efficiently for many years to come.
This might also interest you
Last Visited Service Pages