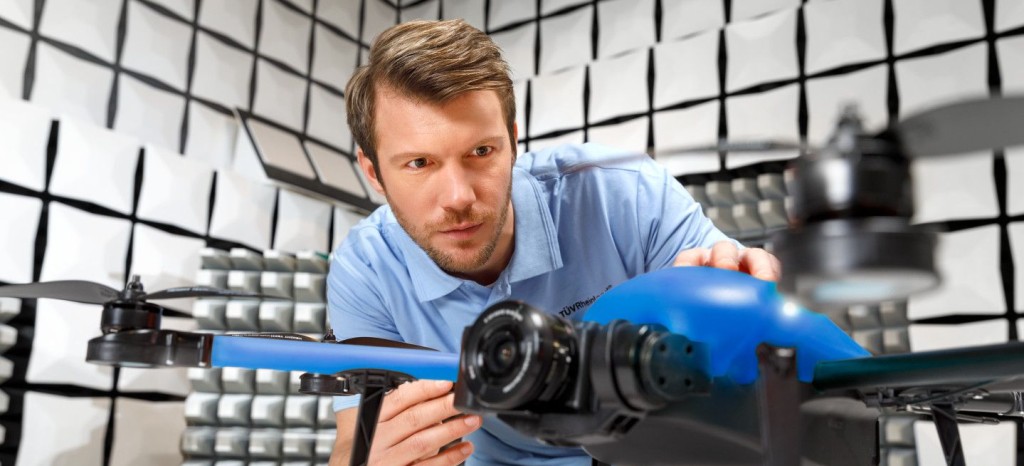 Top performance and product safety with comprehensive UAS testing
The uses and applications of unmanned aircraft systems (UAS), or drones, are manifold. Whether flying in commercial or private areas, the trend is rapidly moving toward this technology going online and becoming part of the Internet of Things. With the help of innovative cloud technologies, entire economic sectors such as the construction agricultural industries can be revolutionized.
As drones become more popular and affordable, comprehensive product testing appropriate for varying levels of technology ensures reliable performance and compliance to safety standards. We provide you the expertise you need to address all regulatory and normative questions and are already developing tailored test programs for unmanned aircraft systems (UAS) used in both the consumer and commercial sectors.
Our experts provide services relevant to every phase of your product, from development to market launch. Due to our many years of experience in the field of product testing, we are the ideal partner at your side. Our international network of specialists ensures optimal support with practical know-how, and a deep understanding of recognized testing according to established directives and newly developed guidelines.
Speak with an expert about testing of your Unmanned Aircraft System! Contact us today!
Strong, trusted, compliant and competitive with UAS testing
Our neutral tests for your unmanned aircraft systems or drones allow you to substantiate the safety of your products while boosting confidence among your targeted customers. Tested products strengthen both your brand and corporate image for an added edge against your competitors. Our internationally recognized testing services document your products are compliant with applicable legal regulations and meet the requirements needed to successfully access markets worldwide.

Our UAS services at a glance
Our experts provide comprehensive services relevant to every product phase - from development to market entry – for both small private drones and large commercial drones. We are happy to support you with:
Product development
Concentrating on regulatory and normative requirements, we offer technical meetings on various topics and support you throughout development.
Product testing
In our accredited laboratories in Germany, the Netherlands and Sweden we perform specialized UAS testing services. We are experts for radio, electromagnetic compatibility, battery safety as well as electrical and mechanical safety. In addition, we offer services in the area of IoT protected privacy and cybersecurity.
Product approval
We support you with our Market Access Services during the introduction of your UAS to worldwide markets.
Our experts have a deep understanding of and extensive experience in working within many regulatory guidelines and directives. Some of these include:
General Product Safety Directive (2001/95/EC)
Commission Delegated Regulation (EU) 2019/945
Radio Equipment Directive (2014/53/EU)
Electromagnetic compatibility directive (2014/30/EU)
Machinery Directive (2006/42/EC)
Toys Directive (2009/48/EU)
RoHS Directive (2011/65/EU)
Recognized drone test from the expert
Our experienced experts support you with comprehensive know-how and many years of experience in the field of product testing. We carry out our tests for you at various locations in Europe with the aid of state-of-the-art technology. You will prevail over competitors on the market with our neutral and internationally recognized services.
Make an appointment with our experts today to learn more about our UAS testing services!
New European regulation for UAV 2019/945/EU
The Commission Delegated Regulation (EU) 2019/945 of 12 March 2019 on unmanned aircraft systems and on third-country operators of unmanned aircraft systems was published in the Official Journal of the European Union. The regulation includes new rules for the affixing of the CE marking to Unmanned Aircraft Systems (UAS) intended for Open Category operations. The regulation has come into force. If you have any questions regarding product safety of UAS, please contact our experts!
Last Visited Service Pages