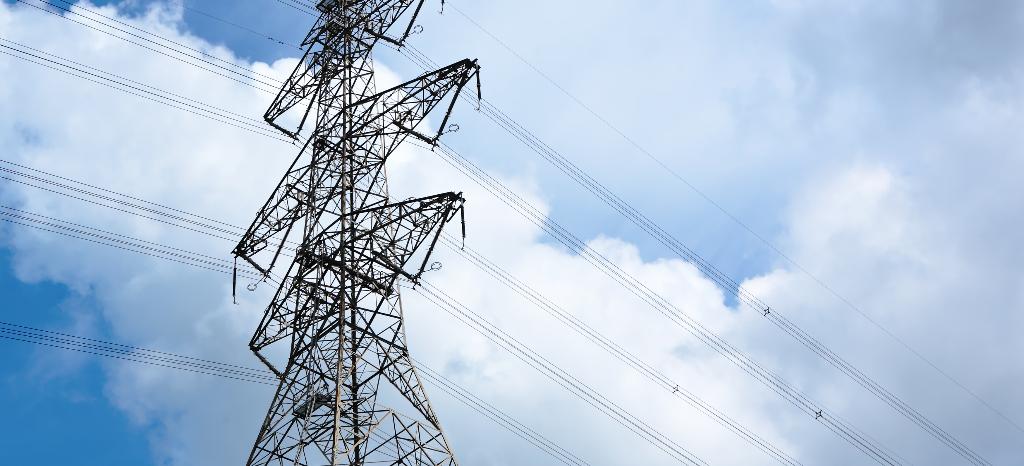 Interoperability and connectivity with Wi-SUN testing services
In the IoT era, today's successful business leaders strategically invest in effective and reliable interoperability and connectivity solutions that will stand the test of time. Based on the IEEE 802.15 standard, the wireless smart utility network (Wi-SUN) is an optimized mesh network providing low-cost, energy-efficient and secure radio communication technology with encryption and authentication mechanisms.
In an effort to achieve complete connectivity throughout smart utility networks, Wi-SUN supports common, certified standards to coordinate diverse wireless systems and components as well as standardize data rates, power levels, modulations and frequency bands. Pre-testing and certification testing according to IEEE 802.15.4g ensures interoperable equipment within the Wi-SUN community environment.
Our experts share extensive experience in smart utility networks to support you with pre-testing and testing services for your Wi-SUN compatible products.
Prove the interoperable capabilities of your products with Wi-SUN testing!
Compliant and compatible with Wi-SUN testing
Our qualified experts with comprehensive knowledge of wireless technologies provide you extensive Wi-SUN testing services from a single source. We test for interoperability as well as compliance with relevant standards and regulations. Our Wi-SUN testing services document the safety standards of your products to reduce your corporate liability risk. Our one-stop-shop services get your product to market faster, anywhere in the world. Our test harness for Field Area Network (FAN) product testing is being used widely in the Wi-SUN Alliance community. In FAN profile testing, we provide physical (PHY) conformance testing, PHY interoperability testing and FAN conformance testing (end product certification for Wi-SUN).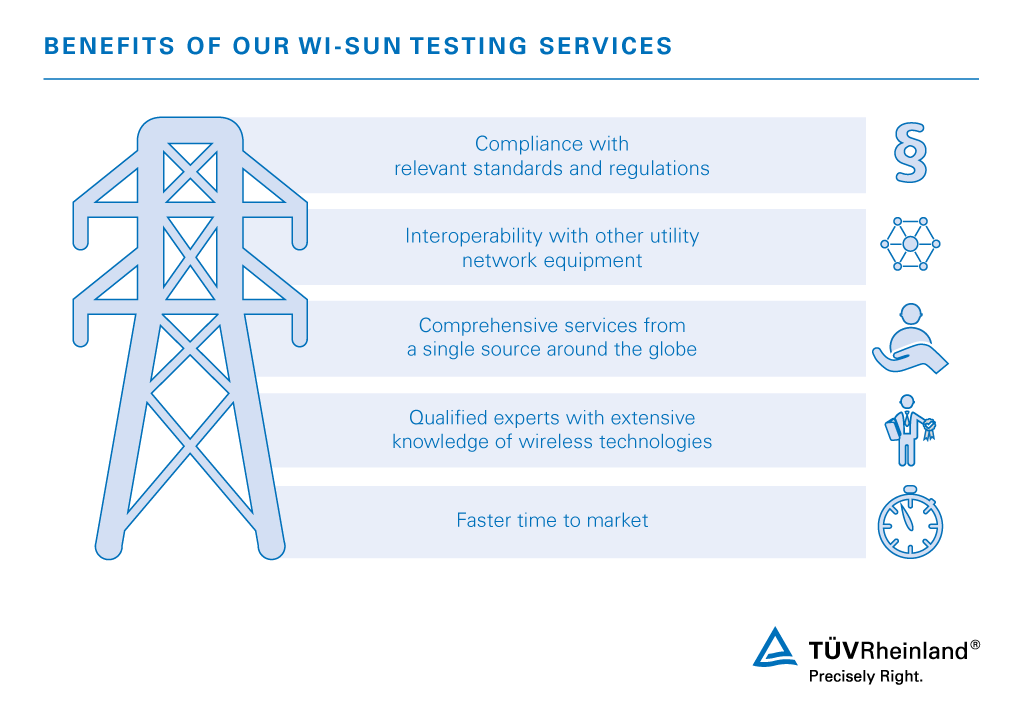 Testing services for Wi-SUN certification
We conduct comprehensive testing services required for Wi-SUN certification.
Prior to testing, the following documents must be provided:
Application
Certification testing application form
Complete operating manual including test modes and operational instructions
Completed Protocol Implementation Conformance Statements (PICS)
Completed Protocol Implementation eXtra Information for Testing (PIXIT)
An optional compliant portion description may also be submitted.
Our Wi-SUN testing process is as follows:
Review vendor application and PICS
Assess required scope of testing
Certification test run
Issue test report to vendor
Manufacturers whose products successfully pass all testing may apply to use the Wi-SUN logo or seal of approval. This internationally recognized mark demonstrates compliance with relevant standards and certifies interoperability with other products used in the wireless smart utility network.
Products using Wi-SUN applications and functions:
HEMS and BEMS controllers, HAN devices
AMI and DA components such as meters, reclosers, line sensors, capacitor banks, distributed energy resources, distribution automation elements
Smart appliances , thermostats, in-home displays
Load controllers, energy services portals and interfaces, inverters
Solar systems, energy storage systems , EV charging systems
Field area networks
Embedded radio modules
We provide testing services for the full range of Wi-SUN certification programs including:
ECHONET Lite Profile
Physical Layer (PHY) Conformance and Interoperability
Media Access Control (MAC) Layer Conformance
Interoperability and Interface Conformance
FAN Profile
PHY Conformance
Higher layers under development
Our experts are happy to answer your questions and provide you additional information on Wi-SUN testing and certification services.
Your recognized partner for Wi-SUN testing
As an observing member of the Wi-SUN Alliance and a designated Wi-SUN laboratory, we are able to support the full range of Wi-SUN certification programs. In addition, our global team of experts can provide you antecedent services to examine particular product features or fine-tune your application prior to certification testing. We are available to our customers from worldwide locations around the clock, seven days a week.
Let our global network of experts help you achieve Wi-SUN certification!
This might also interest you
Last Visited Service Pages