A High Degree of Safety and Security with the Testing and Certification of Your Alarm Systems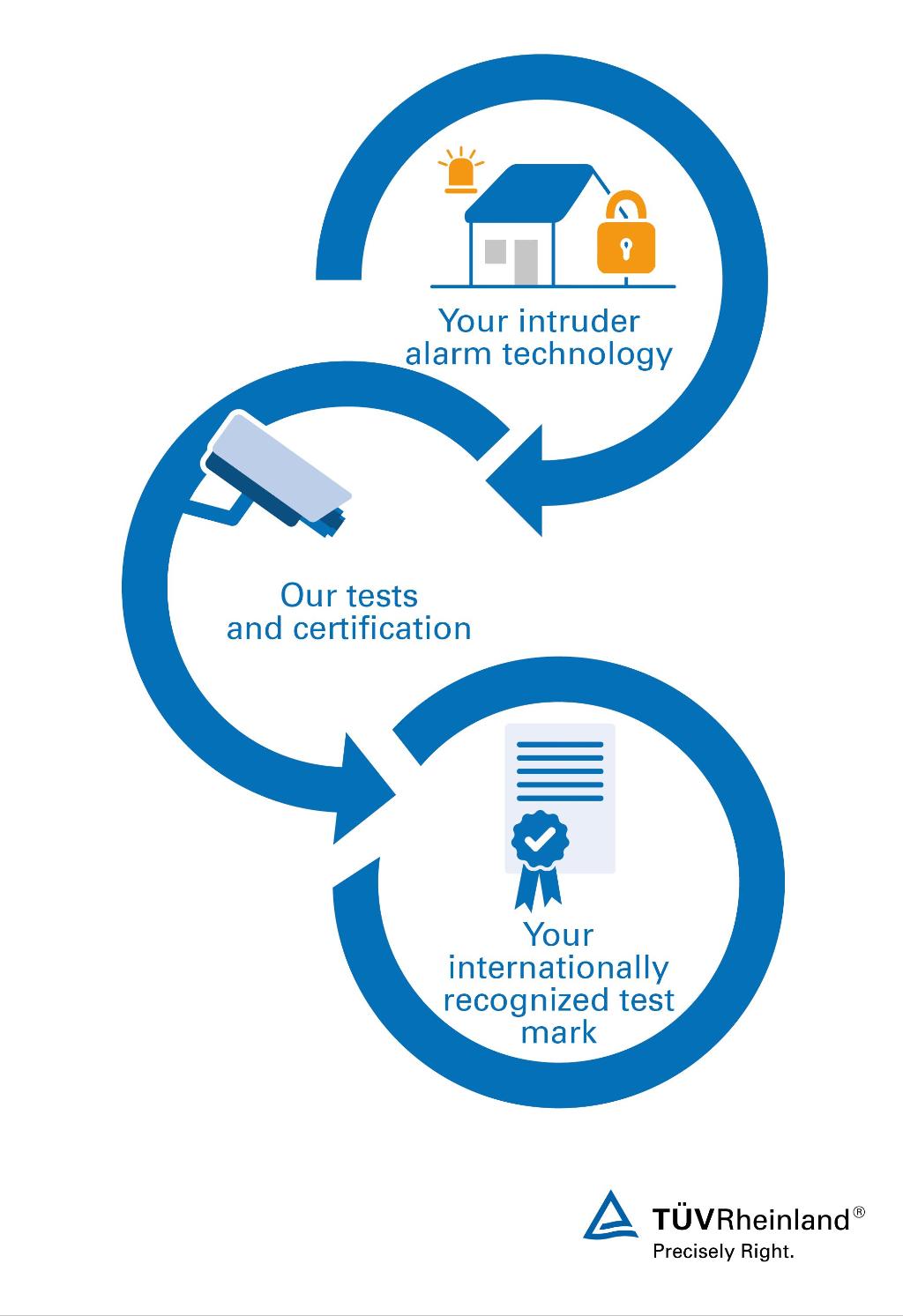 Your customers are looking for a burglary protection system that makes them feel safe and secure? With the testing and certification of your intruder alarm technology you demonstrate that your alarm systems meet strict quality requirements.
We offer comprehensive testing of all your products, which in addition to functional testing also includes a test for the environmental category and the safety level.
We will be happy to send you a customized quotation, which includes the fee for the testing and certification of intruder alarm systems. Contact us today!
Gain a Competitive Advantage With the Certification of Your Intruder Alarm Systems
Our internationally recognized test mark strengthens the trust and confidence of retailers and consumers in your intruder alarm systems. Professional testing conducted by an impartial third party will give you a competitive advantage. Because your products are tested beyond the compliance with regulatory requirements, you demonstrate that quality and usability mean more to you than just meeting the standards. It also minimizes the liability risk of your company and protects you against claims for damages.
Our Tests of Your Alarm Systems According to EN 50131 and DIN VDE 0833-3
There are four different safety levels for burglary protection systems. The higher the safety level of the alarm system the better the burglary protection and the higher the regulatory requirements with regard to the product. Our product tests for intruder alarm technology focus on the reliability and the tamper security of your product.
In addition to functional testing, we also test your alarm systems for their electromagnetic compatibility (EMC) to minimize the risk of malfunction.
For EMC and environmental tests, the standards for alarm systems and burglary protection systems EN 50130-5:2011 and EN 50130-4:11 are consulted in addition.
Depending on the environmental category, each product must be tested for compliance with these standards.
After successfully completing the testing of all criteria, your intruder alarm systems are certified and you will receive the internationally recognized test mark for your products.
Depending on the product characteristic, we certify your system or component according to EN 50131 (intruder alarm systems) and DIN VDE 0833-3. For this certification, we need the following information:
Specific configuration of the intruder alarm system with all components that need to be included in the testing
Environmental category of the system or component
Safety level of the system or component
Information about optional functions that are not required based on the safety level
Provision of test equipment/software for setting up the system and possibly quick training for the system
Our specialists professionally test the following products of your burglary protection systems for compliance with EN 50131:
Alarm systems
Magnetic contacts
Passive glass break detectors
Alarm trigger units
Power supplies
Access control systems (EN60839-11-2)
Capture Our Internationally Recognized Test Mark for Your Security Systems
Our highly qualified specialists offer all services as a one-stop solution. Because our certificates are recognized worldwide and stand for high quality, you will increase the trust and confidence of retailers and customers in your products and gain a significant competitive advantage. You will also receive an international market approval for your products.
The documentation of your certification in our certificate database Certipedia serves as a valuable aid for your customers and business partners when making a decision, because it provides an insight into the tested criteria.
Do you have additional questions about the certification of your products or would you like to request a customized quotation? Contact us for more information!
Last Visited Service Pages