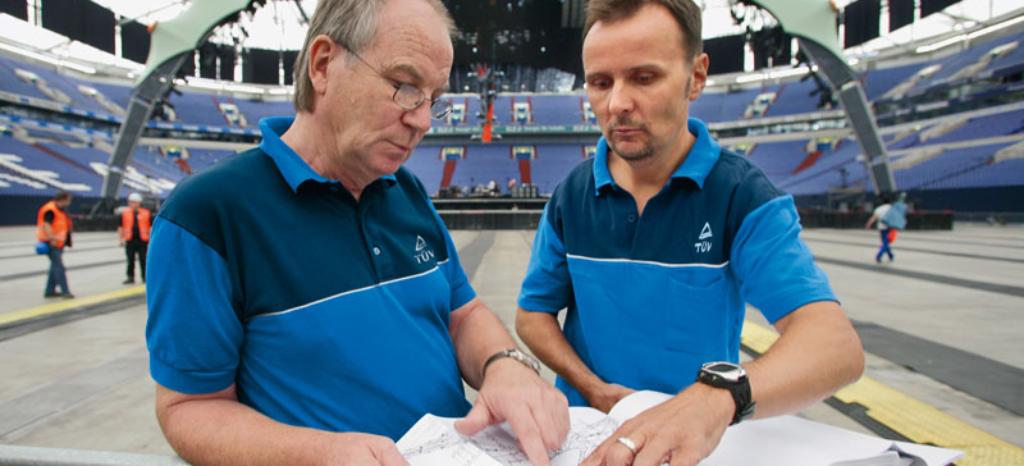 Safety takes center stage with our event technology testing services
So much goes into staging a successful event, as operators, organizers and manufacturers of technical stage equipment well know. Being certain that your equipment fulfills safety expectations as well as all applicable regulations allows the main event to occupy the spotlight. Our stage inspection and event technology testing services enable you to enjoy full confidence in your stage and event equipment.
Whether your technology is intended for small theaters or large events with thousands of spectators, our specialists ensure stage safety according to local and international regulations, and provide advice on all matters concerning CE labeling.
Known for our innovative approach to technically sophisticated projects, our experts are in demand in the event technology industry. You can experience what has brought us to the forefront by entrusting us with your event stage safety needs.
Get in touch to learn more!
Experience confidence, instill confidence with our event stage inspections
The stage is both focal point and interface in the world of event management, bringing humans and technology together. Whether you are involved in organizing and managing events or providing equipment for them, having absolute trust in the proper functioning and safety of the equipment you use, operate or produce is essential, and our specialists can help you achieve this.
By inviting our experts to conduct testing and inspections of your event stage and technology, you are actively contributing to accident prevention. We can verify fulfillment of relevant regulations, which in turn lowers your risk of liability. Official documentation of safety standards and third-party testing raises confidence in the quality and safety of your stage constructions and event technology.
Our specialists conduct acceptance tests and periodic inspections of event technology and stage constructions according to statutory regulations, including:
Local, regional and international standards related to stage safety
BGV C1 and BGG 912
Public Venue Ordinance (VstättV)
Testing and certification in the role of a notified body according to EC machine directive 2006/42/EC
We keep the spotlight on stage safety
The events industry looks to us for the most innovative and technically sophisticated solutions when it comes to event stage inspections and related services. Our world-wide presence means you will always find a local representative and speedy service, with short turnaround times. Our experts boast substantial experience in the field and are optimally equipped to provide support for event stage testing and inspections.
Request a meeting with one of our specialists now!
This might also interest you
Last Visited Service Pages