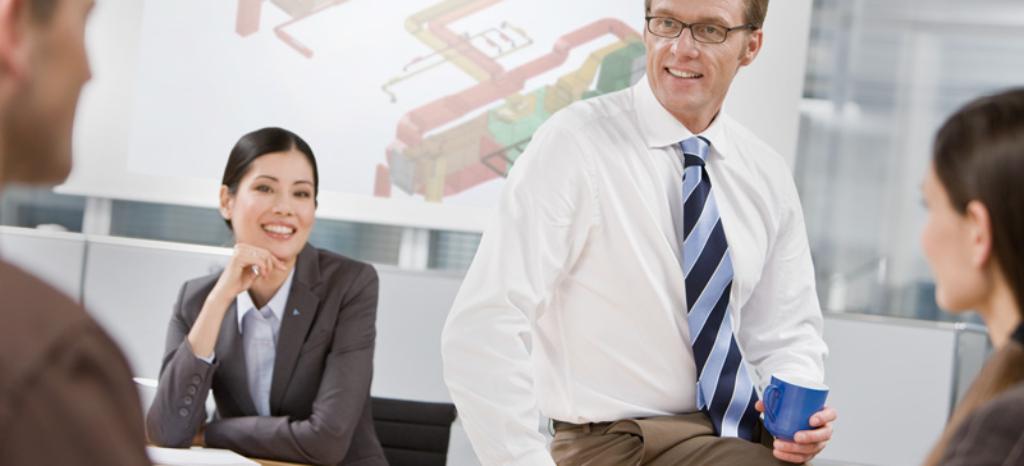 Individual in-house seminars tailored to your needs
A company's success hinges largely on the ongoing advancement of knowledge and competence in a given field of work. In-house seminars present a great opportunity to promote the advancement of your own employees without breaking the budget in terms of time and effort.
Our experienced specialists are there to support you in planning and selecting the optimal teaching methods for your teams. Our services can be tailored to match your requirements as needed.
With a global network of more than 2,500 trainers, we provide you in-house trainings for 72 different areas of interest. Put your trust in our longstanding experience and our comprehensive expertise in the field of staff development and advanced education.
Want to learn more about our in-house seminars? Contact us!
Custom in-house training conducted directly on site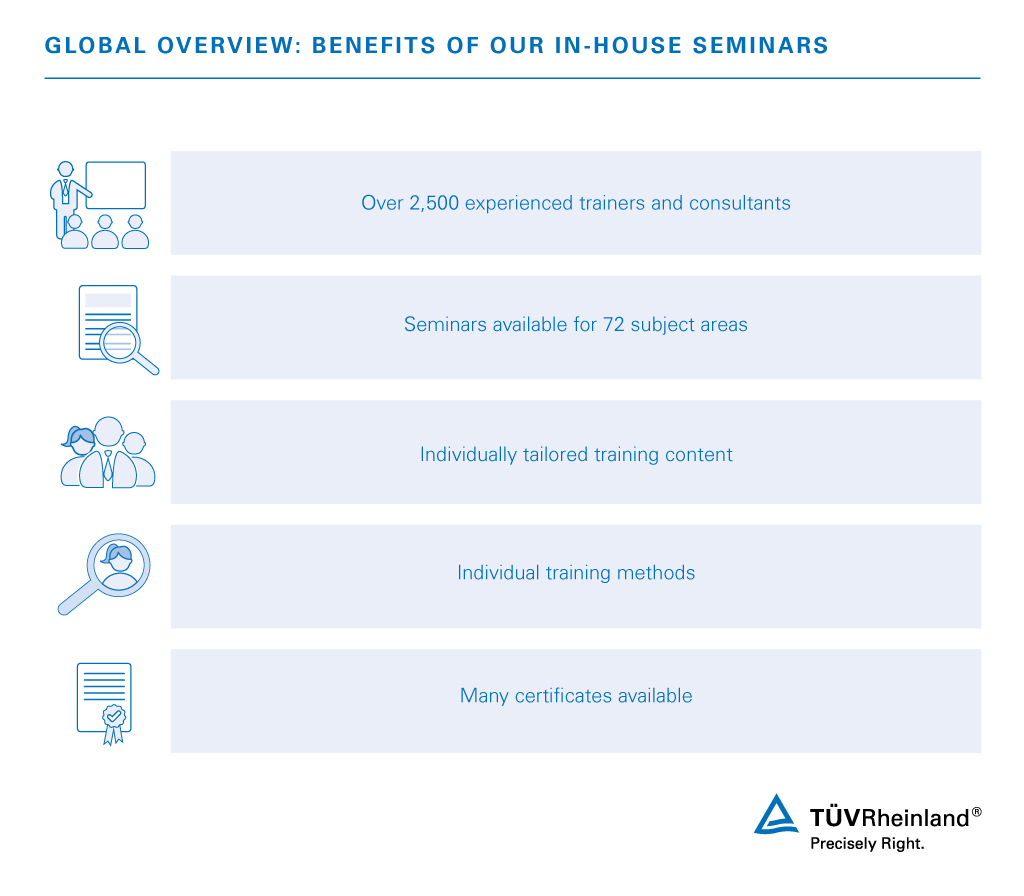 With our highly customizable in-house seminars, you gain access to solutions that are individually tailored to your needs and your company. Reap the benefits of training seminars conducted directly on site and adapted to your requirements. On request, our trainers and consultants bring their exclusive hands-on experience directly into your company to conduct on-site seminars, courses and individual training sessions for groups of up to 20 participants. This gives you the chance to minimize your costs while maximizing the capacity of your seminars.
Develop new competencies with first-class trainers
Our trainers and consultants provide you with a wealth of experience through in-house seminars for a total of 72 subject areas in multiple fields, including health (e.g., medical controlling, nursing and care); construction (e.g., building damages and building technology); energy and the environment (e.g., energy management and efficiency); mobility; purchasing; information technology; and many more. Our programs are individually customizable and can be directly tailored to your requirements on demand. As a business, you decide whether to actively engage in the planning process or to simply remain focused on your core competencies while we do everything else, from planning and execution to an evaluation of staff development and advancement.
Our services encompass individual training sessions as well as seminars and courses for groups of up to 20 participants. The choice is yours: Either our experts visit your company offices and conduct the training sessions directly on site, or you can use one of our training centers near you.
For several of our seminars, you have the opportunity to obtain a certificate upon successful completion of the course. Check our Certipedia online database of certificates to find out which seminars result in a PersCert qualification.
Optimal in-house training by the expert
We rely on an extensive network of more than 2,500 professionals and well-trained instructors for our in-house courses. This gives us the ability to provide you with seminars that have been individually tailored to your needs – in many different subject areas. Leverage our experience and know-how to optimize the vocational advancement of your employees. As an independent and neutral service provider, we are the right choice for all your in-house training needs.
Get in contact now to learn more about our in-house courses. Our experts are happy to assist you!
This might also interest you
Last Visited Service Pages