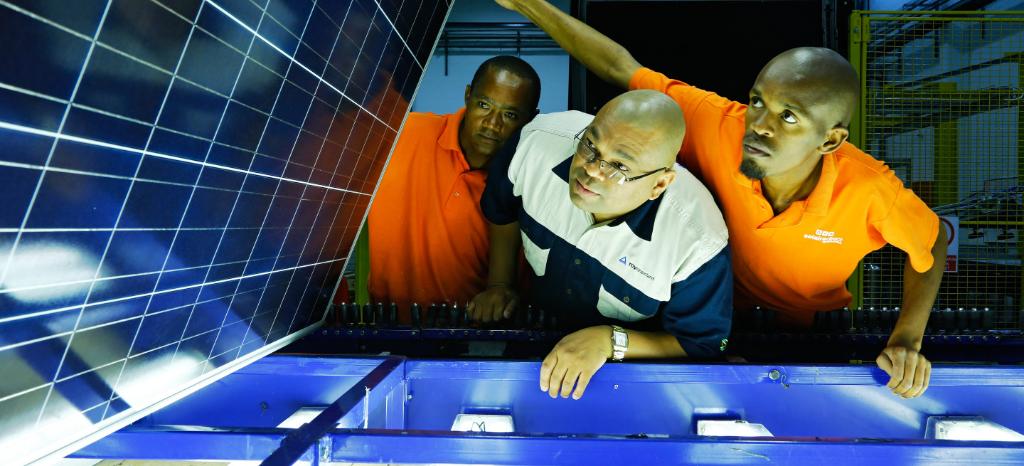 All relevant BOS components for PV systems – safe and reliable thanks to expert services
Manufacturers, suppliers and importers of photovoltaic (PV) components including connectors, junction boxes, cables and inverters must make absolutely sure that their products are tested and certified according to national and international expectations defined by established directives and standards.
Make sure your components for PV systems meet both quality and safety standards to ensure reliable and profitable solar technology for your customers. Establish your customer trust based upon tested and certified PV components necessary to sustain successful in the worldwide market.
We provide testing and certification for your company's PV components based on all the relevant international norms, guidelines and quality requirements, such as IEC/EN 62852, IEC/EN 62790, EN 50618, as well as national and TÜV Rheinland 2PfG standards.
Make sure your components have what it takes to perform safely and efficiently! Speak to an expert today!
Certified photovoltaic components from a leading expert provider
Our expert certification services will increase your competitiveness with our well-recognized neutral seal of approval. By documenting your commitment to established safety standards, you can substantially reduce your company liability. You benefit from short audit times and our extensive experience. Our one-stop-shop provides you access to all of our associations' competent services. Let our audit reports and certificates document your implementation of legal requirements. Our experts are on hand to assist you with all of your individual needs.
Our testing and certification services for solar technology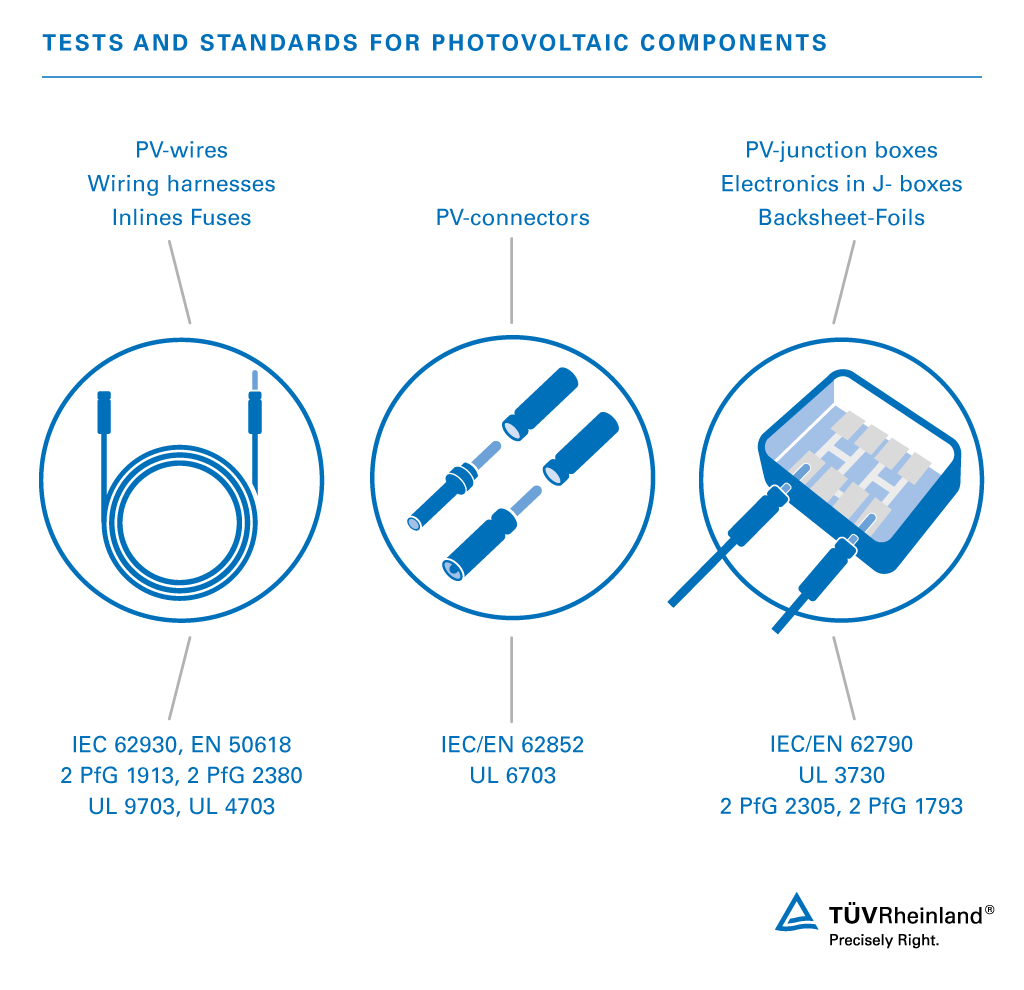 Proper operation of PV modules and other components like PV inverters depend on appropriate PV component properties as well as safety and efficiency documentation. Our experts are able to provide a wide range of versatile testing and certification services from one source – our own global test labs. Proper testing laboratories, which can both simulate distribution grids and PV generators, are needed to measure efficiency and network properties to deliver surveys of various operating conditions. We test your products' compliance with all common norms, guidelines and quality requirements.
In addition, our requirements such as 2 PfG 1940/12.11 and diverse UL standards designate the electrical, mechanical and construction requirements to which components must comply in order to guarantee sufficient long term safety against hazards such as electric shocks or catching fire. They also lay out specific material requirements for fireproofing and resistance against environmental stress like UV radiation.
Upon successful testing, a certificate will be issued and the right to use our globally recognized test mark can be awarded.
Product
Applicable Standards and Specifications
PV Connector
IEC/EN 62852
UL 6703
PV AC Connector
2 PfG 1915
PV Junction Box
IEC/EN 62790
UL 3730
Smart PV Junction Box
2 PfG 2305
PV Cable DC
EN 50618 or
IEC 62930
PV Cable AC
2 PfG 1940
PV Aluminum Cable
2 PfG2642
PV String Fuse
2 PfG 2380
PV Back sheet
2 PfG 1793
IEC 62788-2
Wiring harness
2 PfG 1913
UL 9703
PV components resistance against ammonia.
2 PfG 1911
Cabling and electrical system components for Floating PV
2 PfG 2731/02.20
Testing and certification for PV components through your internationally respected partner
We provide you comprehensive expert services from a single source. Whether for a medium- or low-voltage power grid, we test and certify in compliance with all applicable national and international norms, guidelines and quality standards. Our DAkkS accreditation allows us to offer a wide variety of services aimed at ensuring maximum levels of safety and performance. Our extensively experienced experts assist you in testing and certifying your crucial PV components. We support you in proving your commitment to safety and quality.
Put our expertise to work for you to ensure quality photovoltaic components with proven test results. Call for more information!
Learn more about our testing services for photovoltaic components
| | | | |
| --- | --- | --- | --- |
| pdf | Flyer - Photovoltaic Components | 2 MB | Download |
Our Sustainability Initiatives
Nothing less than the future is at stake. Companies, institutions, public authorities and each and every one of us can play a positive role in shaping the path to tomorrow. We provide you with comprehensive support to ensure that you operate safely, sustainably and efficiently for many years to come.
This might also interest you
Last Visited Service Pages