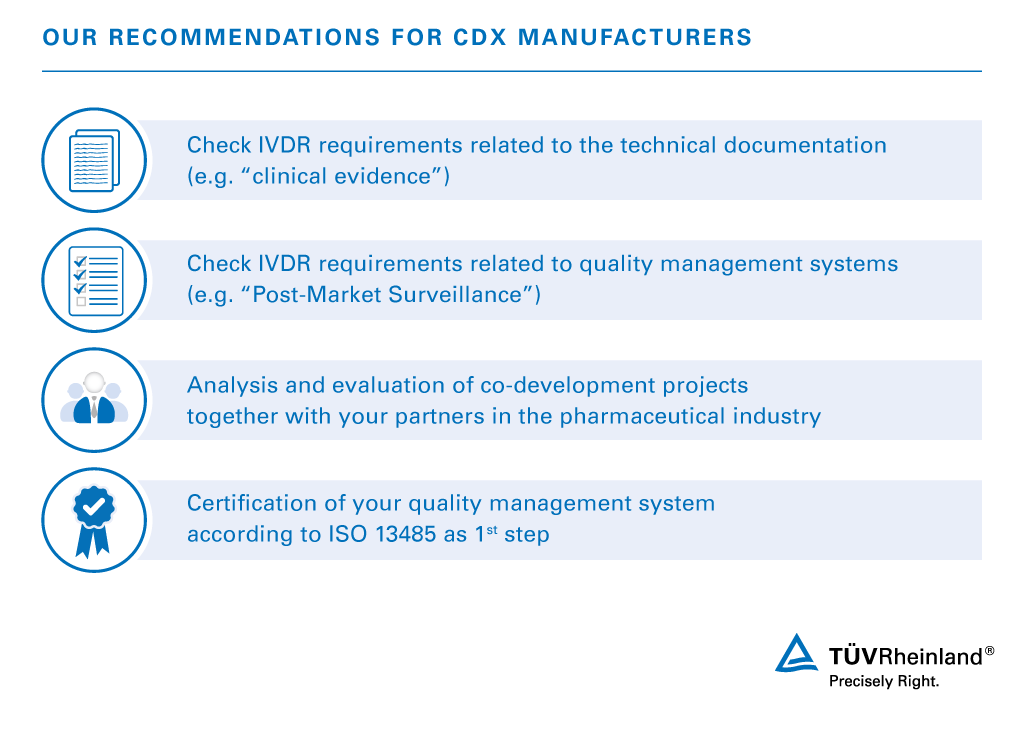 Companion diagnostics (CDx) are typically developed in close collaboration with drug development companies to support doctors in selecting or excluding specific patients for treatment (personalized medicine). Providing practitioners with critical information on how a drug performs according to unique human biological traits of the patient, CDx can help predict positive and negative responses based on the personal characteristics of each individual patient, before being prescribed with a chosen therapy. Health care professionals increasingly rely on companion diagnostics to provide information essential for the safe and effective use of a certain drug or therapeutic products.
Our experts will provide conformity assessment of CDx products according to the new in-vitro diagnostic regulation (IVDR 2017/746). Replacing the 98/79/EC directive, the new IVDR came into force on 25th May 2017 and will be singularly applied as of 26th May 2022. These conformity assessments will include on-site audits of your quality management system (QMS) as well as reviews of your technical documentation.
As a first on your way to IVDR compliance, we can provide you with a QMS certification according to ISO13485 / ISO 9001 already today.
We have worldwide acting highly skilled experts and auditors who support your transition to the new regulation with their comprehensive knowledge in the field of companion diagnostics and conformity assessment procedures under the IVD directive 98/79/EC.
Certify your CDx products according to IVDR with our accredited services. Contact us now.