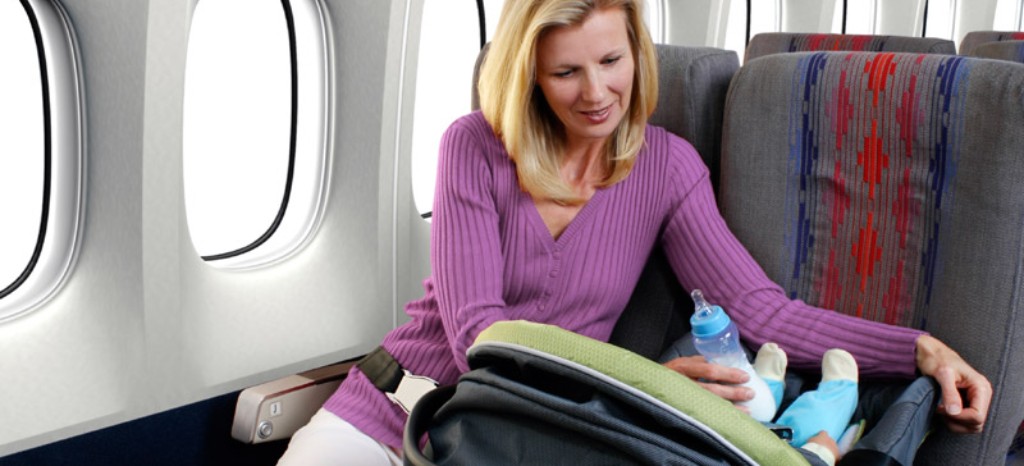 Safety for Children on Airplanes
Nowadays, airline passengers are increasingly aware of security. Many parents these days want to take their own child seats on board planes, because they are fully aware of the possible dangers involved in transporting children in aircraft. You simply don't want to subject your children to the risks of loop belts, or have to keep them on your lap throughout the flight. Our staff can provide comprehensive consulting on all safety issues to do with carrying minors in aircraft. In addition, we can certify child restraint systems, and airlines too. We can also write assessments on transports of disabled children. So you comply with all applicable rules stipulated by national and international aviation authorities.
Benefits for Child Seat Manufacturers, Airlines, and Passengers at a Glance
The TÜV label "FOR USE IN AIRCRAFT" for child seat manufacturers confirms that your child seats are suitable for use in aircraft.
The TÜV label "Child Seats Welcome" for airlines allows parents to bring their own child seats your aircraft – provided the seat adheres to current standards, measurements, and functionality.
Certifications of child seats and airlines gives parents access to an online list, where they can check which seats can be used on board an airline .
TÜV certification stands for certified security and is widely recognized all across Europe.
Looking for solutions? We are happy to get together with you to discuss your needs and your requirements. Contact us, we look forward to talking with you.
Support for More Child Safety in Aircraft
Our experts provide airlines, seat manufacturers, and aviation organizations comprehensive services to help improve transport safety for children in airplanes. These include:
TÜV FOR USE IN AIRCRAFT – Certification of child seats for child seat manufacturers. Certified child seats are entitled to use and advertise the TÜV FOR USE IN AIRCRAFT label for an unlimited period.
TÜV CHILD SEATS WELCOME - Certification for your airline. Your airline will receive full rights to advertise with the TÜV CHILD SEATS WELCOME label.
Assessments for transporting disabled children.
Passive safety consulting.
Crash safety consulting.
Consulting on energy absorption for components and complete systems.
Seat design consulting.
Restraint system design consulting.
Training for cabin staff on transporting children in airplanes.
Looking for solutions? We would be happy to get together with you and discuss your requirements. Get in touch. We look forward to hearing from you.
This might also interest you
Last Visited Service Pages