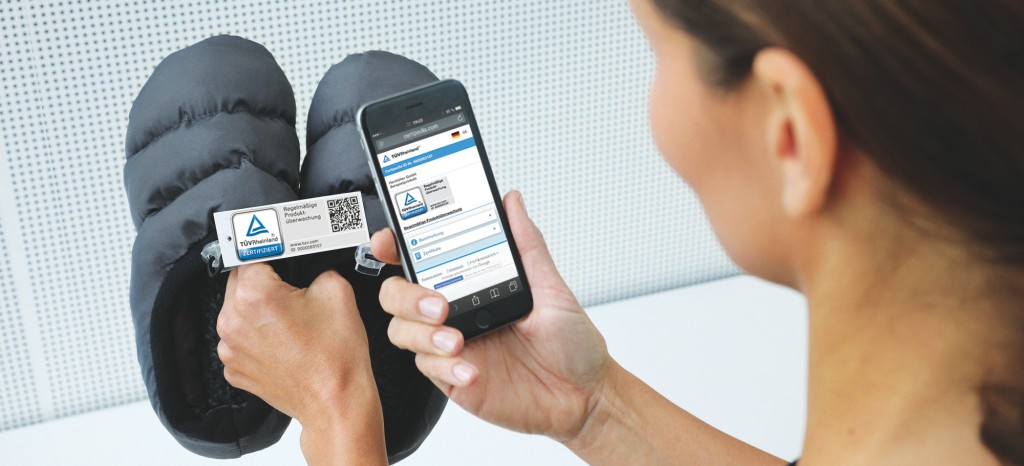 Benefit from our test mark and our certification database
Studies show that every second consumer pays attention to test marks when buying products. This applies to almost all retail sectors. Product certification plays a decisive role for consumers' purchase decisions, particularly in the areas of toys, household, children, sports & leisure and tools. Consumers demand neutral, independent and clear test marks that quickly and transparently display comprehensive testing criteria and results.
Our test mark is a valuable tool that can be used to boost brand confidence and strengthen market share. With individual test mark identification numbers (ID numbers), an integrated QR code and a neutral, easy-to-find reference, our test mark provides access to your test contents at all times. Impartial, independent and trustworthy.
Together with Certipedia, the digital certificate database, it forms a trustworthy system of test mark validity, reference and proof of certification.
According to a decision by the German Federal Supreme Court dated 21 July 2016, test marks used in consumer advertising must always display a reference. This reference must include a summary of the applied test criteria that the consumer can easily understand. Moreover, it must always be possible to assign the mark precisely to the corresponding product.
The TÜV Rheinland test mark meets these criteria, and Certipedia is an ideal reference. It presents certificates, test contents and products to consumers in an impartial and independent way.
Our experts will be pleased to inform you about our TÜV Rheinland test mark and our Certipedia certificate database. Please contact us!
Our TÜV Rheinland test mark - Amazingly flexible and versatile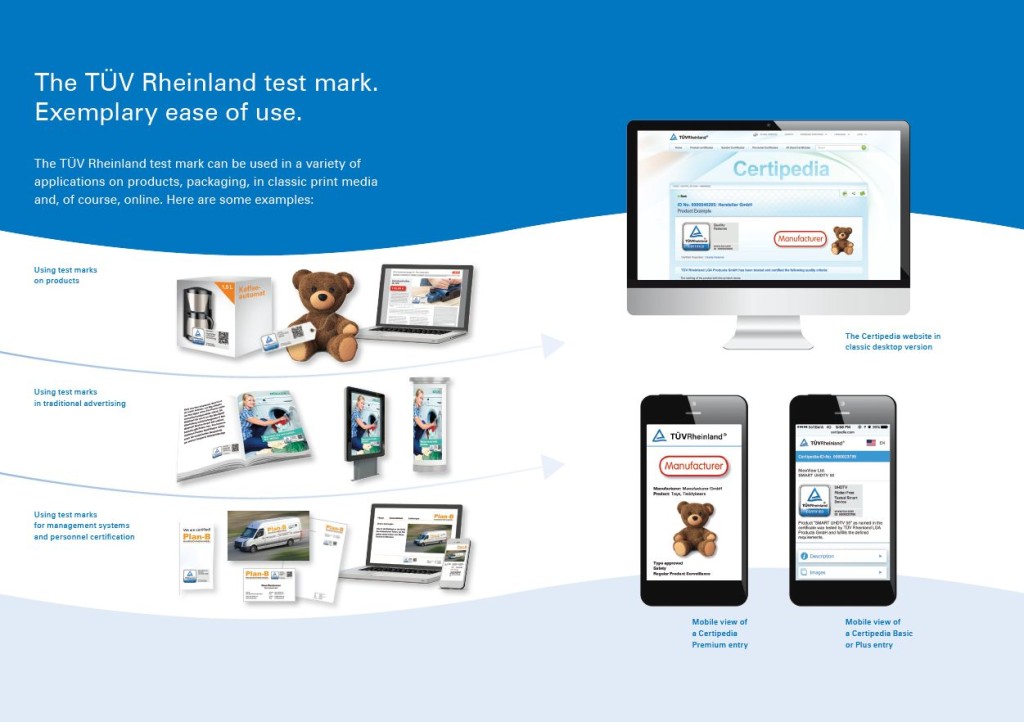 Your test mark can be easily and effectively integrated into your corporate communications.
For product certifications:
On products and packaging
On hang tags
On websites and web banners
In conventional print advertising
For system certifications:
On business papers and in presentations
On flags and roll-ups
On exhibition stands
In emails
On websites and web banners
On vehicles
Remarkably well thought-out - Our individual IDs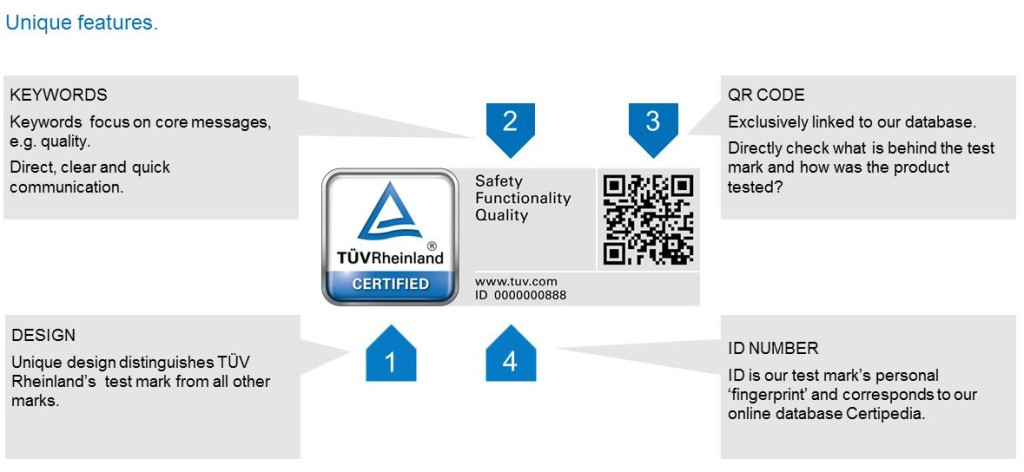 Each test mark is given an individual ID number. By entering the number at www.certipedia.com , consumers can directly view the test contents of the certificate.
Upon successful certification, the Certipedia entry is automatically published in Certipedia. In addition to the test mark shown it contains a comprehensive summary of the criteria used for the testing.
In cases in which several certificates are held by a single license holder, test marks can be combined.
A so-called "Parent ID" can be assigned if...
Several certificates with different scope have been issued for a certain product and these are to be grouped (e.g. Tested for Harmful Substances and Quality).
Or if, for several similar products, similar certificates have been issued (e.g. a toy series with only GS-tested elements).
Parent IDs also receive a Certipedia entry in which all assigned products and certificates are published.
Benefit from more transparency
Our TÜV Rheinland test mark has stood for quality and safety for over 140 years. That means more trust and consistency for your company today.
Our online Certipedia database allows your customers and partners easy and transparent access to your individual entry, showing which of your products have been tested and certified. Linking the test mark with Certipedia enables users to review your testing performance within seconds, at any time and from anywhere in the world.
An individual ID number is assigned to protect the authenticity of your certification. At your request, we can also tailor the design of your Certipedia entry according to your specific needs, e.g. with your logo and other customer-relevant information.
The fact that your entry on Certipedia is always up to date is also the best proof that your certificate is valid. Simply link it to your online presences!
Our Certipedia certificate database
With one click, the online certificate database brings your certified products, processes and qualifications to the Internet. Offered exclusively to our customers, Certipedia provides you a designated entry so that your customers can learn about your certifications – at any time from anywhere in the world.
You want to improve the display of your test mark on Certipedia?
When the test mark is published automatically, a matching Certipedia entry is created simultaneously. It contains an easy-to-understand summary of the criteria used during testing. Each entry includes an easy-to-understand summary of all the criteria used in the relevant testing.
Certipedia provides three display options:
Basic version:
This basic version covers the relevant legal requirements and can be extended at any time.
The Certipedia entry
Is exclusive to TÜV Rheinland customers
Serves the validation of your certification
Shows all your TÜV Rheinland-certified products and services in direct access
Creates transparency and trust with customers and partners through neutral and independent review and presentation
Supports purchase decisions by providing consumer insight into the neutral test and its result
Each entry contains:
The test mark with ID number
An overview of your valid TÜV Rheinland certificates
The address of the certificate holder
A short description of the certificate and test mark
The basic version can be extended at any time on request.
Plus version:
Upgrading the basic version to "Plus" will include more than just the required information, such as added product images, customer logo, contact information, and web links.
Premium Version:
The "Premium" version contains even more added functions, such as links to other certified products, comprehensive descriptions of certified services, customer feedback and company portraits.
Helping consumers decide: Our TÜV Rheinland test mark
Use the neutral Certipedia platform to highlight the certified characteristics of your product! Learn more now!
FAQ - Frequently Asked Questions
Here you will find further information about Certipedia and the TÜV Rheinland test mark
| | | | |
| --- | --- | --- | --- |
| pdf | TÜV Rheinland Test Mark Advertising Guideline | 5 MB | Download |
| pdf | Brochure: "Transparency creates trust." | 9 MB | Download |
| pdf | License Agreement for Test Marks | 314 KB | Download |
| pdf | Important Changes regarding TÜV Rheinland Certificates | 878 KB | Download |
| pdf | Introduction: The new Certipedia | 1006 KB | Download |
This might also interest you
Last Visited Service Pages